Dir: George Tillman, Jr. US. 2010. 98mins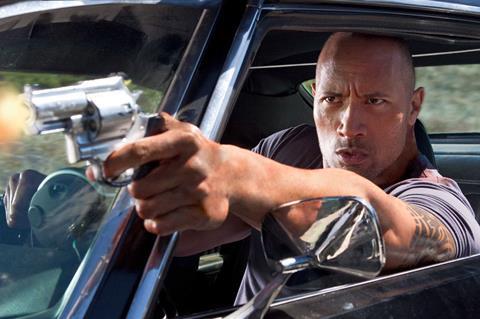 Trying to marry a stylish B-movie revenge actioner to a more thoughtful exploration of forgiveness and guilt, Faster ends up a well-intentioned muddle. After years of focusing on benign comedies and family fare, Dwayne Johnson's return to tough-guy mode is more than welcome, but director George Tillman, Jr.'s inability to reconcile the duelling impulses of his high-minded, faintly ludicrous character-driven thriller almost makes one wish that the filmmaker had simply embraced the story's gritty, pulpy appeal.
Tillman, Jr. (Notorious, Men Of Honor) sets up the audience to assume that Faster will be an adrenalised B-movie.
Opening November 24 in the US, this CBS Films entry will be the only R-rated action film in a busy Thanksgiving weekend frame. Considering that Johnson has never carried a film that's done better overseas than in the States — and that his family comedies have been his strongest performers — it seems likely that Faster will be another mid-level offering from the former wrestler that will please curious action fans but have little chance of breaking out to a larger audience.
After being incarcerated for 10 years, Driver (Johnson) leaves prison in search of the men who killed his brother. Hunting the murderers down one by one, he is pursued by both a drug-addicted cop (Billy Bob Thornton) close to retirement and a suave assassin (Oliver Jackson-Cohen).
Tillman, Jr. (Notorious, Men Of Honor) sets up the audience to assume that Faster will be an adrenalized B-movie in which Driver will plough through anyone who gets in his way, utilising his big guns, large muscles, and kick-ass car. And while that's what happens on the surface, Faster turns out to be a deeper film underneath, presenting three characters who are each haunted by their past and looking for some sort of redemption.
Johnson and Thornton are able to lend the right amount of weight to their roles, but the problem is that their gravitas is undercut by a story that hints at intriguing themes but ultimately resorts to unearned plot twists to garner its emotional effects.
Of a mostly solid cast, Jackson-Cohen is the one clear weak link, never able to gain much traction with his utterly unbelievable character of a hitman who treats his profession like a religious calling, unable to give up the life even for his beautiful new bride (Maggie Grace). While the rest of Faster exists in a pungent world of men's men, Jackson-Cohen's heavily affected performance seems beamed in from another, more comically exaggerated film.
Even though Faster may be a rather unsophisticated morality tale about the ethics of eye-for-an-eye justice, Tillman, Jr. and cinematographer Michael Grady compensate a little by staging some effectively suspenseful action sequences involving Driver squaring off mano-a-mano with his enemies. Despite the fact that Faster has all the sleekness of a car commercial, the filmmakers' colourful visual palette helps ratchet up the urgency without succumbing to hyperbolic overkill.
Production company: TriStar Pictures, Castle Rock Entertainment, State Street Pictures
Domestic distribution: CBS Films, www.cbsfilms.com
Producers: Martin Shafer, Liz Glotzer, Tony Gayton, Robert Teitel
Executive producers: Joe Gayton, Dara Weintraub
Screenplay: Tony Gayton, Joe Gayton
Cinematography: Michael Grady
Production designer: David Lazan
Editor: Dirk Westervelt
Music: Clint Mansell
Website: www.fasterthemovie.com
Main cast: Dwayne Johnson, Billy Bob Thornton, Oliver Jackson-Cohen, Carla Gugino, Maggie Grace, Moon Bloodgood, Adewale Akinnuoye-Agbaje, Tom Berenger, Mike Epps