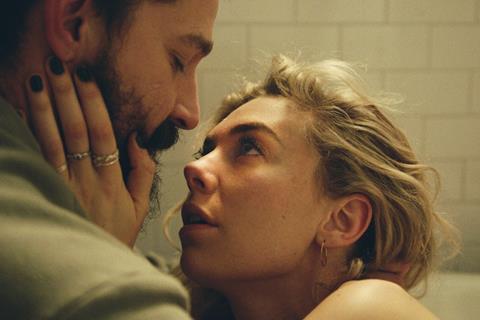 It is a slimline Toronto International Film Festival (TIFF) this year but there are still plenty of acquisition titles on offer for distributors looking to fill 2021 and 2022 slots.
Here we take a look at some of the available films that are likely to be among the more sought after prospects.
TIFF runs from September 10-19 and opens on Thursday with David Byrne's American Utopia directed by Spike Lee. Click here for Screen's report on the line-up, and here for the TIFF Industry Selects roster.
Good Joe Bell (Gala: P+I Sept 14, 11am; public Sept. 14, 9pm)
Dir: Reinaldo Marcus Green
In a much anticipated drama, Mark Wahlberg stars as a man whose perspective is challenged when he sees how his gay son is treated at high school and decides to walk across America speaking about the perils of bullying.
Sales: Endeavor Content worldwide.
Bruised (Gala, Sept. 12, 6pm)
Dir: Halle Berry
Halle Berry's feature directorial debut sees the Oscar winner play a washed-up MMA fighter who resolves to reboot her career and get back custody of her son.
Cast: Halle Berry, Adan Canto, Sheila Atim, Stephen McKinley Henderson, Shamier Anderson
Sales: Sierra/Affinity international; Endeavor Content US.
Concrete Cowboy (Gala, TIFF Next Wave: public Sept. 13, 9pm; P+I Sept. 14, 11am)
Dir: Ricky Staub
Idris Elba plays a taciturn urban cowboy in a vibrant Philadelphia sub-culture who is forced to get to know his estranged teenage son when the youngster appears on his doorstep. The film is screening at TIFF as a work in progress.
Cast: Idris Elba, Caleb McLaughlin, Jharrel Jerome, Byron Bowers, Lorraine Toussaint, Clifford "Method Man" Smith
Sales: Endeavor Content US.
I Care A Lot (Gala: public Sept. 12, 9.30pm; P+I Sept. 13, 11am)
Dir: J Blakeson
Rosamund Pike leads an impressive cast that includes Peter Dinklage, Dianne Wiest and Eiza González in the story of a legal guardian who defrauds her elderly clients and falls afoul of a gangster.
Cast: Rosamund Pike, Peter Dinklage, Eiza González, Dianne Wiest, Chris Messina, Isiah Whitlock Jr., Macon Blair
Sales: STXinternational; CAA Media Finance US.
Pieces Of A Woman (Gala: P+I Sept. 11, 11am; public Sept. 12, 12pm)
Dir: Kornél Mundruczó
Martin Scorsese serves as an executive producer on the grieving parents drama starring Vanessa Kirby and Shia LaBeouf that has earned strong reviews in Venice.
Cast: Vanessa Kirby, Shia LaBeouf, Ellen Burstyn, Benny Safdie, Sarah Snook, Molly Parker, Jimmie Fails, Iliza Schlesinger
Sales: Bron Releasing worldwide.
Penguin Bloom (Special Presentations: P+I Sept. 11, 11am; public Sept. 12, 12.30pm)
Dir: Glendyn Ivin
Naomi Watts stars in the adaptation of a beloved Australian book based on a true story about a family woman who recovers from a traumatic accident with the help of an unexpected friend. Producer Bruna Papandrea says Sam Bloom is the role her friend Watts has waited years to play and marks one of her finest performances.
Cast: Naomi Watts, Andrew Lincoln, Jacki Weaver
Sales: Endeavor Content worldwide.
Shadow In The Cloud (Midnight Madness: public Sept. 12, 11.59pm; P+I Sept. 16, 11am)
Dir: Roseanne Liang
Chloe Grace Moretz is a Second World War pilot with y on her mind: a secret cargo, a sinister presence on board the plane, and an imminent Japanese ambush.
Cast: Chloë Grace Moretz, Nick Robinson, Beulah Koale, Taylor John Smith, Callan Mulvey, Benedict Wall, Joe Witkowski, Byron Coll
Sales: Endeavor Content worldwide.
New Order (Contemporary World Cinema: P+I Sept. 13, 11am; public Sept. 15, 9.15pm)
Dir: Michel Franco
Mexican enfant terrible Michel Franco's shocking cautionary tale also plays in Venice and explores wealth inequality, civil unrest, and abuse of power as a harrowing series of events plays out in an unspecified Mexican setting.
Cast: Naian González Norvind, Diego Boneta, Mónica del Carmen, Fernando Cuautle, Eligio Meléndez, Darío Yazbek
Sales: The Match Factory international; ICM Partners US.
Beans (Discovery, TIFF Next Wave: P+I Sept. 12, 11am; public Sept. 13, 12pm)
Dir: Tracey Deer
Indigenous filmmaker Tracey Deer's drama is based on true events and follows a young Mohawk girl who comes of age during the 1990 Oka Crisis armed stand-off over land rights.
Cast: Kiawentiio, Rainbow Dickerson, Violah Beauvais, Paulina Jewel Alexis, D'Pharaoh Mckay Woon-a-Tai, Joel Montgrand, Jay Cardinal Villeneuve, Taio Gélinas
Sales: WaZabi Films international.
Violation (Midnight Madness: P+I Sept. 13,11am; public Sept. 14, 9pm;)
Dirs: Madeleine Sims-Fewer, Dusty Mancinelli
Madeleine Sims-Fewer and Dusty Mancinelli co-directed the buzzed-about story of a troubled woman on the edge of divorce who embarks on a vicious revenge mission.
Cast: Madeleine Sims-Fewer, Anna Maguire, Jesse LaVercombe, Obi Abili
Sales: Altitude Film Sales international; XYZ Films US.