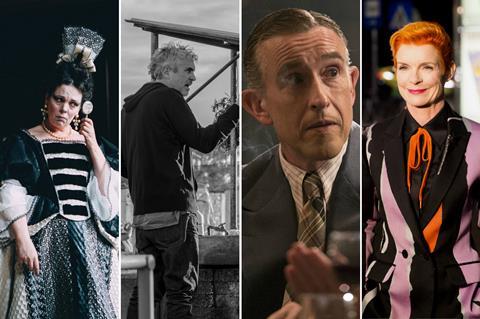 Is The Favourite the favourite?
Yorgos Lanthimos' period comedy is the film to beat with 12 nominations. This is equal to The Shape Of Water last year that was itself the most for a single film since the 14 nominations for The King's Speech in 2011. In the major categories, The Favourite has a real chance of winning best British film and best actress for Olivia Colman, although best film and best supporting actress are arguably more open. It has also been nominated for original screenplay, cinematography, production design, costume design, make up & hair, and editing. Interestingly, both The Favourite and The Shape Of Water are Fox Searchlight films. It is not clear if a Disney-owned Searchlight will exist to do the triple in 2020.
A big night for Cuaron and Netflix?
Alfonso Cuaron's Spanish-language homage to his childhood is the first foreign-language film to be nominated for best film at the Baftas since Amelie in 2001. It is also Netflix's first nomination for a best film Bafta. Of ROMA's seven nominations, six were for Cuaron personally, the highest any individual has received from Bafta for the same film. The nominations are for best film, foreign-language film, director, original screenplay, editor and cinematographer. The seventh ROMA nomination is for Eugenio Caballero and Bárbara Enríquez for production design.
No women directors in key categories raise familiar questions…
A depressingly familiar talking point Bafta rightly attributes to the huge structural challenges facing the entire film industry/most of society. However, given the broad spread of Bafta's approximately 6,500 voting members, it is possible to surmise a fair amount of those not working directly in the film industry (Bafta members who work in the TV, craft and games industries in the UK are eligible to vote in the main film categories including best film) might have preferred to pick up a mainstream feel-good film such as best film nominee Green Book over the festive screener season ahead of a more chewy arthouse title such as Debra Granik's Leave No Trace of which they might have heard less. Lynne Ramsay is nominated in the best British category for You Were Never Really Here, a likely inclusion via that category's dedicated jury. (See British film talking point below). Marc Samuelson, chair of the Bafta film committee, has said Bafta is open to considering introducing some kind of 'unconscious bias' training for its voters, as the British Independent Film Awards did in 2018. "Everything is always up for review," he told Screen just after the nominations.
…but foreign-language, doc categories are more diverse
Two of the five nominated documentaries are directed by women: Elizabeth Chai Vasarhelyi (with Jimmy Chin) for Free Solo and Julie Cohen and Betsy West for RBG. Nadine Labaki has snagged a foreign-language nomination for her Cannes title Capernaum, while writer-director & Screen Star of Tomorrow 2017 Leanne Welham (with producer Sophie Harman) has been nominated for outstanding British debut for Pili, her film about a woman struggling to feed her two children in rural Tanzania while keeping her HIV-positive status a secret.
Acting snubs and surprises
If Beale Street Could Talk's Regina King is the most notable absence of the actors this year. King has appeared regularly throughout the awards season to date, winning multiple critics' awards as well as the Golden Globe, but missed out with Margot Robbie making an unexpected appearance in the supporting actress category for Mary Queen Of Scots. The UK's Emily Blunt (Mary Poppins Returns) and Rosamund Pike (A Private War) are both absent from the best actress list, as is 2003 best actress winner Nicole Kidman for Destroyer. Instead Viola Davis has been nominated for Widows, the only Bafta nomination for Steve McQueen's Chicago-set thriller. Davis was previously nominated in 2012 for The Help and won the supporting actress Bafta for Fences.
Awards recognition for Cold War?
As a minority UK co-production with Poland and France, and directed by a filmmaker who has worked extensively in the UK, Pawel Pawlikowski's Cold War has Bafta appeal to burn. Although the film missed out entirely at the Golden Globes, Cold War previously won four European Film Awards in December, as well as best director for Pawlikowski at Cannes. It is nominated for foreign-language film this weekend, as well as best director, best screenplay for Pawlikowski and Janusz Glowacki, and cinematography for Lukasz Zal.
Director race takes on international accent
Both Pawlikowski and Cuaron are competing for best director, making this the first time two films with dialogue predominantly not in the English language have been represented in the category since 1989. In that year, Gabriel Axel for Babette's Feast, Bernardo Bertolucci for The Last Emperor and eventual winner Louis Malle for Au Revoir Les Enfants made up three of the four nominations.
Hotly contested British film categories
This best British film category is the arguably the most interesting category for the local industry and it is worth repeating how it is judged. In the first round of voting, a chapter of Bafta voters - any voter who commits to seeing all the eligible titles - will vote for the top 15 films. The top three are automatically nominated. A jury of around 14 non-conflicted members, led by the chair of BAFTA's film committee, presently Marc Samuelson, goes on to select the final three films from the remaining 12 films. The whole chapter then votes for the winner.
Of the nominees this year, an educated guess would put the top three as The Favourite, Bohemian Rhapsody and Stan & Ollie, and the jury nominations as Michael Pearce's Beast, Ian Bonhôte, Peter Ettedgui's documentary McQueen and Lynne Ramsay's You Were Never Really Here.
The outstanding debut for a British writer, director or producer category is entirely voted on by a jury, including the winner. Interestingly, McQueen, although eligible, didn't make this line-up, nor did Three Identical Strangers although it has been nominated for best documentary. Both Idris Elba's Yardie and Rupert Everett's The Happy Prince are examples of local films that connected with UK audiences but were overlooked here.
Which public funder will come out on top?
In the realm of public funders, Film4 has 21 Bafta nominations this year, the company's biggest haul for five years. A total of 12 of those were for The Favourite, while four came for Cold War. A further two were given to Beast, and one apiece to You Were Never Really Here and Widows.
The BFI secured 10 nominations. Four of those were for its involvement in Cold War, two for Beast, and one for You Were Never Really Here (all alongside Film4). It received further nods in the Outstanding Debut category for Apostasy writer-director Daniel Kokotajlo and Ray & Liz filmmakers Richard Billingham and Jacqui Davies, and a solitary nod for short film The Field.
BBC Films received four nominations, three for Stan & Ollie (Outstanding British Film, Leading Actor, and Make Up and Hair), and one in the Outstanding Debut category for Apostasy writer-director Daniel Kokotajlo (with the BFI).
The power of Powell
Sandy Powell leads the charge for UK talent in the craft categories. Powell has two nominations for best costume design - this year for The Favourite and Mary Poppins Returns – for a remarkable third time. Powell has previously won the award in 2010 and 1998. She was nominated twice in the latter, and then again in 2016.
Mark Coulier is another Brit with two nominations this year – in make up & hair for both Bohemian Rhapsody (with Jan Sewell) and Stan & Ollie (with Jeremy Woodhead).
Bohemian Rhapsody, a US-UK production that shot in the UK with a majority UK crew, scored further nods in cinematography, editing, costume design and sound. UK craftspeople were rewarded with nominations for films not nominated elsewhere such as the visual effects nod for Fantastic Beasts: The Crimes Of Grindelwald.
However, all nominees in both the original music and cinematography selections hail from outside the UK, with ROMA's Adam Gough (alongside Alfonso Cuarón) the only UK name in the editing category.
A version of this article was first published on January 9.