Locarno Pro's incoming head Markus Duffner talks about assembling a hybrid edition, creating a year-round community and fostering discussion around sustainable production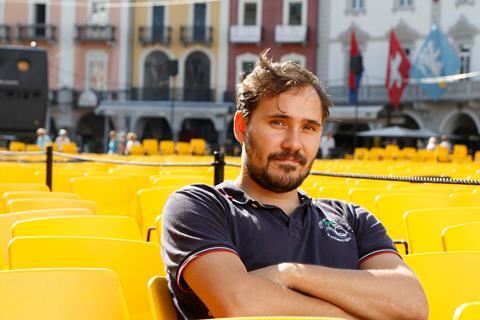 The Locarno Pro industry programme returns as a hybrid event this year after being forced online in a reduced version in 2020 due to the Covid‑19 pandemic. The 2021 edition reinstates a number of longstanding activities and introduces new initiatives. Notably, there will be an online industry accreditation for professionals unable to attend physically, and a suite of online tools in a dedicated Locarno Pro Reserved Area on the festival website.
Incoming Locarno Pro head Markus Duffner says the pandemic has changed the festival's industry-focused events forever, and for the better: "Our focus will remain on the on-site activities, especially the informal events because you can't replace them with online gatherings. At the same time, a hybrid structure offers a democratic tool, which gives other professionals an opportunity to engage with the Locarno world during the festival.
"The online dimension is likely to play an increasingly important role during the rest of the year," he continues. "The idea is to stage other activities to create a community as well as accompany younger participants with the development of their projects."
Born in Germany, Duffner grew up in Italy. He previously worked with Italy's MIA Market in its early days when it was known as The Business Street, and has collaborated with a number of film festivals, including Monte-Carlo Film Festival de la Comédie and the Voices Festival in Vologda, Russia. He is no stranger to Locarno Pro, having first worked with the event in 2014 as a project manager for the works-in-progress showcase Carte Blanche, now called First Look.
Duffner subsequently developed the Match Me! networking platform for emerging producers in 2015. He worked closely with Locarno Pro creator and former head Nadia Dresti on the project, which also forged deeper relationships with cinema institutions worldwide. Last year, he spearheaded the Heritage Online digital rights platform, which aims to extend and increase the distribution of classic films on video-on-demand (VoD) platforms.
Although Duffner has only had since the beginning of January to prepare this year's edition of Locarno Pro, he is keen to see its programme complement and enhance the direction now being followed by the festival's new artistic director Giona A Nazzaro.
"I share both Giona's particular editorial line and his taste in films as well as his desire to expand the discussion of what the industry needs and to bring the streaming platforms into the fold," Duffner explains.
In another nod to the events of the past 18 months, this year's edition of StepIn, Locarno Pro's think tank exploring contemporary issues affecting the film industry, will look at what the audiovisual industry can do to create a healthier working environment following the experiences of the pandemic. The invitation-only event, running on August 5, will address issues such as mental health, gender equality, inclusion and diversity. US producer Gale Anne Hurd will also give a talk about her efforts to push for greater gender equality in Holly­wood. Hurd is attending Locarno this year to receive the Premio Raimondo Rezzonico for figures who have played a major role in international production.
Industry badgeholders will be able to follow this opening keynote and the wrap session on live streams in the Locarno Pro Reserved Area.
First Look at 10
Other highlights of this year's industry programme include the 10th edition of First Look, which will put the spotlight on six works-in-progress hailing from Switzerland after past focuses on territories such as Colombia, Chile, Israel, Poland and Serbia. The titles include hybrid documentary The Mies Van Der Rohes, revolving around the wife, daughters and lover of German modernist architect Ludwig Mies van der Rohe, and experimental work De Noche Los Gatos Son Pardos by Valentin Merz.
The selection will be presented to buyers and festival programmers from August 6-8. Duffner says it marks the beginning of a long-term collaboration with Swiss Films, and plans are afoot for a regular showcase of upcoming titles from the territory as part of Locarno Pro from 2022.
Match Me! also returns as a physical event with participants hailing mainly from Europe, due to ongoing long-haul travel restrictions, although Filipina producers Patti Lapus (Epicmedia Productions), Sarah Pagcaliwagan Brakensiek (Blue Heaven's Best Productions) and Micah Tadena (108 Media) will join online.
European participants include the UK's Lorine Plagnol (Sungazer), Poland's Marta Gmosinska (Lava Films), Latvia's Raitis Abele (Tritone Studio) and Portugal's Tathiani Sacilotto (Persona Non Grata Pictures). This year's edition will consist of tailor-made one-to-one meetings online from August 2-4, followed by face-to-face meetings in Locarno from August 6-8.
Co-production support
Alliance for Development (A4D), aimed at encouraging co-productions between Switzerland and neighbours France, Germany and Italy, is also back. The submission process has been tweaked so applicant projects are no longer obliged to have the backing of one of the initiative's film agency partners, comprising France's National Cinema Centre, Germany's Federal Film Board, Italian cinema body DGCA-MiC and Switzerland's BAK cultural body and Media Desk Suisse.
Nine projects have been selected from a record 75 submissions. These include Swiss producer/director Samir's Stranger In A Village, inspired by an essay by James Baldwin; Brazil-born Joao Paulo Miranda Maria's Bandeira, his second feature project after Cannes 2020 label selection Memory House; and documentary filmmaker Jacqueline Zünd's Catch You Crying (working title), described as "a delicate drama about the fragility of relationships in a post-digital world."
The participants will attend three days of pitching sessions and one-on-one meetings from August 6-8.
In keeping with Locarno Film Festival's spirit of nurturing the next generation, Locarno Pro will be supporting emerging film professionals through the Industry Academy training programme and the U30 discussion forum.
The 2021 Industry Academy participants are drawn from international sales, marketing, traditional and online distribution, exhibition and film programming. They include Wayne D'Cruz, distribution and sales manager at the UK's Dartmouth Films; Oana Furdea, distribution manager of Romania's Transilvania Film; and Laura Thomsen, marketing and event manager at the Cologne-based agency Kern Des Ganzen.
Locarno Pro's think-tank initiative U30 — aimed at fostering discussion between young professionals around the future of the film industry — also returns having been put on ice following its 2019 launch. The eight participants include Brazilian distributor Bernardo Lessa of Vitrine Filmes, French sales agent Jean-Benoit Henry at Les Films du Losange, and Berlin-based Emma Caviezel, VoD services co-ordinator at Indy Cinema Group and a managing partner of the collective international film agency Morethan.
Duffner also wants to promote discussion around the Heritage Online platform, with a public roundtable entitled 'Heritage (is) Online — options for classic film distribution' on August 6. Organised in collaboration with the International Federation of Film Archives and the Programming and Access to Collections Commission, panellists will include US restorationist Ross Lipman, Swiss Cinematheque director Frédéric Maire, Czech National Film Archive head curator Matej Strnad and National Film Centre of Latvia head Dita Rietuma.
Another public roundtable, entitled 'Green screen', will look at strategies for sustainable film production. Among the speakers will be Ludovica Chiarini, project manager of EcoMuvi, the international protocol for sustainability on film and audiovisual sets established in 2014.
"There are several different protocols currently existing for sustainable shooting," explains Duffner. "Maybe it would be a good idea to have a single standard, at least in Europe. That's what we would like to achieve through this discussion in Locarno."