The UK has some of the world's highest cinema ticket prices. Are price increases sustainable when consumers have cheaper forms of entertainment?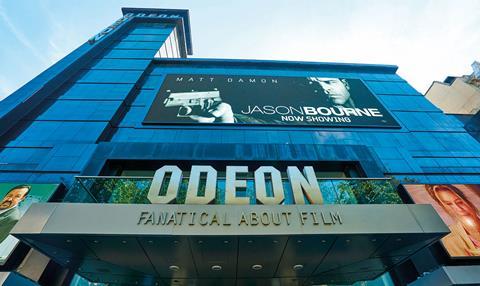 It has long been cheerfully claimed, mostly by exhibitors, that film-going is one of the least expensive forms of 'out of home' entertainment. And they are right: to pay $10.40 (£8) or less for what is likely to be a three-hour cinema programme is still good value.
But new research reveals swathes of the UK population are asked to pay a far higher ticket price than the national average suggests, and that cinema is no longer regarded as a cheap evening out. With admissions plateauing, are exhibitors facing an audience backlash in the UK?
The average price of a cinema ticket in the UK is estimated to be between $9.10 and $10.40 (£7 and £8). The UK Cinema Association puts it at $9.38 (£7.21) while other organisations suggest the figure is higher. However, when UK-based money-saving website Voucherbox.co.uk conducted research this year into ticket prices across the Vue, Odeon and Cineworld chains, some startling variations in pricing became apparent. When Voucherbox compared the cost of a standard 2D ticket for the screening of X-Men: Apocalypse on the same day and at the same time in nine cities around the UK, it revealed the same film that cost $20.80 (£15.99) in London could be seen for $5.20 (£4) in Cardiff.
In fact, $20.80 (£15.99) is by far the cheapest ticket in central London, thanks to a West End premium. At the time of writing, a single Friday-night ticket to watch Jason Bourne at Odeon Leicester Square was a hefty $24 (£18.50). To watch Star Trek Beyond in 3D across the road at the Empire Leicester Square would cost an adult $29.25 (£22.45) - more than three times the average ticket price.
"While some variation in costs across the UK is to be expected, consumers don't expect a 300% increase," suggests Shane Forster, UK country manager of Voucherbox. "This is just not comparative to the cost of living."
What is happening in the UK is hardly unique. Box-office grosses are increasing more quickly than admissions. According to global cinema research carried out on behalf of accountant PwC, the number of tickets sold in North America will fall during the period 2016-20, but box-office revenue will rise as ticket prices creep upwards. Cinema admission prices are also rising in Latin America, Asia Pacific and EMEA.
There is a perception among some that film-going is becoming an increasingly expensive and rarefied pastime in the age of IMAX, superhero movies, event cinema, virtual reality, surround sound and luxury seating.
UK trade body Film Distributors' Association (FDA) regularly commissions research from market research company Ipsos to track levels of customer satisfaction. "Consumers have noticed the increase over the past five years or so as ticket prices have nudged up and up," says FDA chief executive Mark Batey. "[Cinema-going] is not seen as being as inexpensive as it was a generation ago."
Exhibitors, however, wince at the suggestion they are squeezing customers or running their businesses at huge profit margins. They do not see it as surprising that there should be stark variations in what consumers pay to watch the same movie, depending on where and when they see it, speaking about "dynamic pricing models" and their use of highly sophisticated algorithms to set ticket prices.
Tim Richards, CEO of leading chain Vue, cites the exhibitor's Westfield site, which offers tickets at everything from $2.60 to $26 (£2 to £20). "We aim to cater for our customers who may be a bit more price sensitive," he says. "We try to offer different seats and options, whether it be 2D or 3D or big screen or IMAX."
Odeon & UCI Cinemas Group, which was sold in the summer to Dalian Wanda-owned AMC, makes a similar claim. "Since 2014, we've been offering guests a wide choice of films and entertainment with a flexible pricing policy," says Andy Edge, commercial director at Odeon UK & Ireland. "So, like many cinemas, theatres and leisure venues, our ticket prices vary depending on location, the type of entertainment we're showing, seat type, time since release, the age of our guests and the number of people booking at one time. For example, family tickets are cheaper than buying separately.
"This gives our guests plenty of choice and the opportunity to enjoy discounts and promotions during quieter periods, with all pricing options clearly listed in our cinemas and online."
Operating costs
Just as airlines offer everything from first class to economy, Vue caters for different segments of the audience with its standard seating, VIP seating and "fully reclining, electric lazy-boy seats".
And cinemas are prepared to offer flexible pricing for off-peak screening times, when attendance is likely to be low anyway. "The ticket price reflects the cost of operation of the cinema in a particular location," says Phil Clapp, chief executive of the UK Cinema Association. "Running a cinema in a city site, particularly a city-centre site, is a more expensive operation in terms of business rates and a whole range of other costs than it is in a suburb or a non-urban site."
Asked about increasing ticket prices, exhibitors point to increasing costs. Everything from the national living (minimum) wage - which has bumped up staff costs - to energy and utility bills are on the rise. Cinemas equipped with state-of-the-art sound systems, projectors and air-conditioning systems are huge consumers of electricity, and their owners are under constant pressure to continue upgrading facilities. "No industry keeps its ticket prices flat," says Vue's Richards, adding the chain has not passed all its increased operating costs on to customers.
Perceived value
With so many offers for ticket pricing, and such regional variations, it is becoming increasingly difficult to assess what is the price of a cinema ticket - or what it should be. "That doesn't really matter, provided the perceived value matches the experience," Batey comments.
As of early 2016, exhibitors were doing mixed business. In its statement for the first quarter of 2016, Odeon & UCI reported attendance as being up by 8.4% and total revenue up by 10.1%. EBITA (earnings before interest, taxes and amortisation) was 21.9% ahead of the previous year and the statement referred to the "strongest start to the year since 2010".
In August, however, Cineworld reported a drop in profits of 35% in the first half of 2016, blaming the fall on currency fluctuations (exacerbated in the UK by Brexit), the Euro 2016 football tournament and the slate of films. Total revenue in the six-month period to June 30, 2016, was $464.2m (£356.7m). On a constant currency basis, this equates to an increase of 6.8%. Overall, admissions increased by 2.7%, with box office revenues increasing by 3.1%.
On a national level in the UK, however, the first half of 2016 does not look as rosy. Although exhibitors note admissions rose by 9% during 2015 - driven by Star Wars: The Force Awakens, Spectre and Jurassic Park - and box-office revenue in the same period went up by 16%, admissions dropped 4% in the first six months of the year, with box-office takings declining by 0.3% compared with the same period in 2015.
There is little sense, at least yet, that the public feels exploited or is staying away because of the cost of a cinema ticket. It may be cheaper to watch films at home on VoD but the number of cinema screens in the UK is on the increase - hardly the sign of a sector in retreat (there were 4,115 screens at the end of 2015, up from 3,947 screens in 2014). "There is no desire on anyone's part to price customers out of the cinema-going experience," says Clapp, making the point every exhibitor would endorse.
Even so, UK audiences are paying considerably more to see films than their counterparts elsewhere in Europe. In France, for example, the average ticket price in 2015 was $7.45, whereas in the UK it was $10.38 (source: PwC). Ask exhibitors why tickets are cheaper in France and no-one seems quite sure. They suggest the lower pricing is historical and there is more state support for cinemas in France.
In terms of box-office revenue, the UK is a bigger market than France - largely thanks to higher ticket prices - although the French posted 206 million admissions in 2015, whereas the British figure was only 172 million. Box-office revenue in France in 2015 was $1.4bn, while in the UK it was $1.8bn.
The main French cinema chains offer subscription cards as well as reduced price admission to students and young adults, a way of holding on to a part of the audience most likely either to be priced out of film-going or distracted by digital alternatives to movies - and who also may watch pirated movies.
Freedom from regulation
It seems fairly likely ticket prices in the UK will continue to rise. The film industry has no equivalent to regulatory bodies such as Ofgem and Ofcom that oversee the pricing of gas, electricity and broadcasting. It is therefore left to the commercial departments of the exhibition chains to set ticket prices. "It is entirely down to each individual company to decide what that ticket price is," says Clapp.
If a chain wants to charge a 'blockbuster price' for certain movies early in their run, adding £1 or £1.50 to its standard ticket price for a film such as Star Wars, Spectre or Captain America: Civil War, the only option for customers is to shop around and work out whether they can see the same film less expensively somewhere else. Or watch a pirated version online. Or wait to see it on DVD or VoD.
The theatrical window - the period during which films can be seen only in cinemas - was on average just over 15 weeks in 2015, although it was closer to 17 weeks for big studio movies. As recently as 1999, it was 27 weeks.
If the window shrinks further, and exclusivity can no longer be guaranteed, there could be pressure on exhibitors to reduce ticket prices. That is why Clapp refers to initiatives such as Napster founder Sean Parker's Screening Room scheme - for movies to be available to watch at home on the day of their theatrical release for a premium price - as representing a "nightmare scenario" that could cannibalise and even destroy the cinema audience.
Philip Mordecai, director of Curzon Home Cinema, takes a different view. As an independent exhibitor, Curzon offers day-and-date releases of its films on its home cinema platform, but at a premium price of $13 (£10). "What we believe in is that the choice to go and watch the film is the driver," says Mordecai. "It's not, 'Oh, I'm going to watch it at home, it's cheaper'; it is, 'I want to see that quality film, where can I watch it?'"
Last year, Curzon grossed close to $2.6m (£2m) at the theatrical box office alone with 45 Years, starring Charlotte Rampling and Tom Courtenay. The film, which was available on the home cinema platform simultaneously, opened on 60 sites and then expanded to 100 sites. That, Mordecai suggests, dispels the idea that day-and-date releasing was only for 'failed' films. Curzon will not reveal viewing figures, only that 60% of the audience watching the film on VoD were from the regions, not London.
In spite of this success, the big cinema chains are not minded to change their releasing patterns. They still regard the exclusive theatrical window as sacrosanct - one reason why so many big movies are released in mid to late August. If distributors delayed any longer getting the films into theatres, they would not be eligible to release on DVD in time for the all-important Christmas season.
There is no sign ticket prices will come down in the UK. What is likely, though, is that exhibitors will become yet more sophisticated about how they 'segment' their audiences and offer dedicated and dynamic pricing for senior citizens and students for example, while continuing to charge far heftier prices at premium times. The risk they face, as the Voucherbox research attests, is that cinema-going will eventually lose its very long-standing reputation as the UK's most affordable national pastime.