Australia boasts diverse locations - from rain forests to deserts - and established studios that attract a string of international productions. Sandy George reports.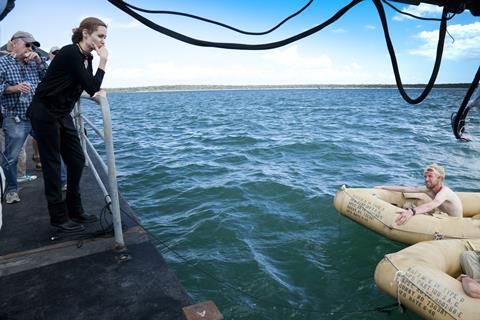 When Angelina Jolie's Unbroken opens in December, audiences watching scenes set at the 1936 Olympic Games in Berlin will actually be looking at Blacktown International Sportspark in western Sydney. And when they see the horror of the prisoner-of-war camp in Japan, they will be watching the picturesque Cockatoo Island in Sydney Harbour.
The film is a biopic of Olympic athlete Louis 'Louie' Zamperini, who survived 47 days in a life raft after his plane crashed into the sea during the Second World War. He subsequently spent two-and-a-half years in a Japanese prisoner-of-war camp. The small town of Werris Creek, 370 kilometres north of Sydney, stood in for Zamperini's home town of Torrance, California.
Large-scale Australian films also regularly take advantage of the country's enormous diversity. Broken Hill's eerie, dry landscapes in New South Wales were used this year for Strangerland and Last Cab To Darwin, and producers often look to Queensland for rainforests and palm-fringed beaches. Queensland also has the Village Roadshow Studios, Australia's oldest studios, which are located in the southeast corner of the state.
"The water tanks have been a major selling point," says long-term studio president Lynne Benzie. Unbroken used the tanks (with much of the filming on location in New South Wales), as did US action thriller San Andreas.
Two other major studios are on Australia's east coast, Sydney's Fox Studios Australia and Docklands Studios Melbourne, although a boutique facility opened in 2011 as part of the South Australian Film Corporation's new Adelaide premises.
'Australia has expert crew, amazing visual effects and loves challenging films'

Paul Currie, producer
Fox Studios was the base for Alex Proyas' Gods Of Egypt, one of the biggest films made in Australia this year and a US-Australia joint venture. Australian companies are alert to films of this size because of the opportunities they generate. This time around, Spectrum Films, DDP Studios and visual-effects companies Iloura and Rising Sun Pictures were among the beneficiaries.
A 30% rebate applies to post, digital and VFX work no matter where a film is made or its nationality. Iloura is currently sole vendor for the computer graphics on The SpongeBob Movie: Sponge Out Of Water, while Rising Sun Pictures has been working on non-Australian films including Francis Lawrence's The Hunger Games: Mockingjay - Part 1, Sergey Bodrov's Seventh Son, Joe Wright's Pan and David Yates' Tarzan.
Another noted player, Animal Logic VFX, worked on Joss Whedon's Avengers: Age Of Ultron, Phil Lord and Christopher Miller's The LEGO® Movie, Robert Schwentke's Insurgent and Chen Kaige's The Monk.

The complete package
While the strength of the Australian dollar and the rise of highly competitive financial incentives elsewhere may have dampened interest for a few years, the market appears to be recovering.
Decisions about where to locate a film are always based on the total package. Paul Currie, a producer on Sean McNamara's The Moon And The Sun, considered Romania, France, Germany and the US before convincing his colleague, Bill Mechanic, to pick Victoria in Australia. It was both an intuitive and a numbers-based decision, said Currie, who accessed cash from a federal government fund in place to attract big-budget films on a case-by-case basis and, on completion, will also claim the 16.5% location rebate. "The rebates are great and Australia has expert crew, amazing visual effects and is a country that loves challenging films," says Currie.
Melbourne's Docklands Studios were used recently to recreate a piece of Victoria's coastline for the Australian feature Oddball. For two weeks the facility was home to six fairy penguins and two Maremma sheepdogs. Since they were built a decade ago, the studios have generated around $460m (a$500m) from productions that have used the facility. This month it plays host to director Jocelyn Moorhouse and producer Sue Maslin's The Dressmaker, which also shoots in Horsham and other places in Victoria's Wimmera region.
US science fiction TV series Childhood's End, based on the Arthur C Clarke novel, will also begin filming in Melbourne this year, thanks to backing from Film Victoria, together with Victorian government support. Produced by Universal Cable Productions (part of NBCUniversal), the six-hour mini series will premiere in the US in 2015. Meanwhile, UK comedy The Inbetweeners 2 shot in Queensland, South Australia and New South Wales last year.
Each of the state agencies help to support their own film-makers and projects but also try to create a good film-making environment for all. In Victoria the Filming Approval Bill 2014, a new legal framework for commercial filming on public land, has recently passed through the Victorian Parliament, potentially making the state even more film friendly.
When the creative team behind Jolie's Unbroken wanted to close Pitt Street, one of the busiest streets in central Sydney, ScreenNSW brought together major stakeholders, including fire and traffic authorities, to make it happen.
That The Moon And The Sun is conducting all its post in Australia (Deluxe Digital Pictures for picture post, Luma for VFX) underlines the quality of the facilities. The Dolby Premier 7.1 Mixing Theatre at South Australian Film Corporation's new Adelaide premises - the only other in Australia is at Deluxe StageOne Sound in Sydney - was used for the post on Rolf de Heer's latest feature Charlie's Country.
Other films to have used the facilities include All This Mayhem, Wolf Creek 2, The King Is Dead! and Sophie Hyde's 52 Tuesdays.
Meanwhile, post company Cutting Edge, which has facilities right down the east coast, is abuzz about the visual-effects work it has been doing on Luke Sparke's supernatural action film Red Billabong. Sparke is producing alongside his father, Ian Sparke, a costume designer and military adviser. The UK's Manifest Film Sales is handling sales.
When it comes to attracting international productions to Australia, long-established Ausfilm - a partnership between government agencies and private companies that aims to connect the international film and television community with Australia's screen incentives, talent and facilities - is helping to put the country even more firmly on the map as a filming location. Kate Marks last month moved to Los Angeles to head Ausfilm's US office, leaving a similar role at Film Victoria.
Australia's studio facilities
Adelaide Studios
Two sound stages (the biggest is 35m x 28.5m x 15m high), production offices, ADR/foley studios, a Dolby Premier 7.1 mixing theatre, 100-seat screening theatre. The onsite tenants provide audio post, editing and casting services.
Recent films The Water Diviner (production offices only), an untitled Jim Loach project, The Babadook
Contact Sharon Cleary, communications and marketing manager, sharon.cleary@safilm.com.au
Docklands Studios Melbourne
Five purpose-built sound stages (the biggest is 57m x 41m x 15m high and has an 18m x 12m x 3m floodable pit), a 6,000 sq m workshop with eight bays, production offices, wardrobe and laundry facilities.
Recent films The Dressmaker, Oddball, The Moon And The Sun
Contact Rod Allan, chief executive officer, rod.allan@dsmelbourne.com
Fox Studios Australia
Eight sound stages, five of which are purpose built (the biggest is 86m x 41m x 20m high), production offices totalling 3,250 sq m, workshops including a 3,350 sq m building. The 32-acre site also includes a 100-seat orchestral recording soundstage.
Recent films Gods Of Egypt, The Water Diviner, Unbroken
Contact Morgan Hunwicks, production manager, morgan.hunwicks@foxaus.com
Village Roadshow Studios, Southeast Queensland
Eight purpose-built sound stages (the two biggest are 59.2m x 35m x 15.3m high), three water tanks (biggest outdoor tank is 40m x 30m x 5m deep, and the indoor tank is 24m x 19m x 2m deep), production offices, workshops, screening and editing facilities.
Recent films San Andreas, The Railway Man
Contact Lynne Benzie, president, benzie@villageroadshowstudios.com.au
Key Contacts
Ausfilm
Financial incentives, locations, facilities and services
Los Angeles contact Kate Marks, executive vice-president, international production, kate.marks@ausfilm.com.au
Sydney contact Debra Richards, CEO, debra.richards@ausfilm.com.au
Screen Australia
Producer offset, co-production programme
Contact Alex Sangston, senior manager, producer offset and co-production unit, alex.sangston@screenaustralia.gov.au