With Brazilian film-makers on the rise, Elaine Guerini rounds up a quintet of the country's most exciting talent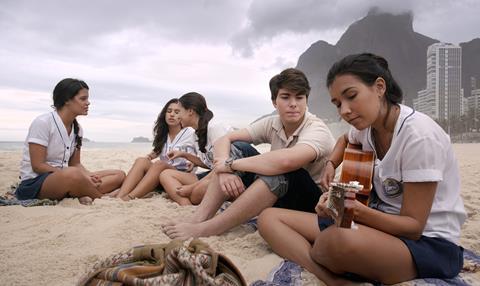 Fellipe Barbosa
'We must move forward and show all the colours of Brazil'
Fellipe Barbosa never understood why there has been a taboo in Brazilian cinema about addressing the lives of the country's rich, as if it were wrong or superficial. Tackling this prejudice head on, he depicted the fall of a family from Rio de Janeiro's elite in his 2014 feature debut Casa Grande. "I always thought it was a shame not to explore the desires and frustrations of the Brazilian bourgeoisie,'' says the 34-year-old film-maker.
In Barbosa's coming-of-age tale, a teenage boy is forced to adapt to reduced circumstances when his family faces bankruptcy. While it is a compassionate look at the country's privileged class, it also reveals some of their reactionary ideas and deep contempt for the poor, disguised as benevolence. "It is a very personal film, given the fact my parents lost a lot of money when I was studying in the US," admits Barbosa, who attended Columbia University's film programme.
Among the director's upcoming projects is a drama about an aristocratic family up in arms about the inauguration of president Luiz Inacio Lula da Silva in 2003. "I understand that during the '90s, when Brazil used to make only a few films per year, there was an ethical responsibility to show the poverty and the violence the country was facing," says Barbosa. "But this historic moment has passed. We must move forward and show all the colours of Brazil.''
FERNANDO COIMBRA
'It took Brazil a long time to turn to genre films'
Brazil doesn't have a strong tradition in horror films, despite the works of Jose Mojica Marins, a cult figure for genre fans the world over. But that didn't discourage Fernando Coimbra from making his feature debut in 2013 with the horror fable A Wolf At The Door. His tale of a child abduction told from three different perspectives — each of the girl's parents and the father's mistress — kept audiences riveted.
"It took Brazil a long time to turn to genre film. The public enjoys them very much. The problem is that local distributors often don't know how to sell them,'' says the 39-year-old film-maker, winner of a Horizons award in San Sebastian and best film and best director prizes in Miami. Coimbra's film sold across the majority of Latin America, along with Portugal, Spain, Turkey, Korea, the US and Canada (A Wolf At The Door had its world premiere at TIFF).
Coimbra is a graduate of the cinema programme at the University of Sao Paulo — one of Brazil's most prestigious educational institutions — and is currently writing his second feature. Selected for the Sundance Institute's 2015 Screenwriters Lab, The Hanged trains a lens on the tensions between the rich and the nouveau riche in a wealthy neighbourhood of Rio de Janeiro. "It's an ironic thriller that shows the conflicts between two privileged classes," says Coimbra. "International audiences are used to seeing the fight between Brazil's upper and lower classes, but I think it's important to reveal what's going on now."
Anita Rocha da Silveira
'I have an obsession with death and violence'
Anita Rocha da Silveira turned to a world she knew well for her feature debut Kill Me Please, which was selected for the Horizons section at this year's Venice Film Festival. The film is a teen horror set in a school in an up-and-coming neighbourhood of Rio de Janeiro.
"I have a certain obsession with death and violence in the transitional stage from childhood to adulthood. Certain rituals that I present in the film are things I experienced in this phase of life," says the 30-year-old film-maker, who had already explored the theme in her shorts The Noon Vampire (2008), Handball (2010) and The Living Dead (2012). The latter played in Directors' Fortnight at Cannes.
Set against the backdrop of a serial killer who is murdering and dismembering young women, Kill Me Please follows two teenage brothers: Bia, who finds love on encountering a corpse, and Joao, obsessed with the fate of a girl who disappeared. "I am interested in what happens to the human psyche when women are in constant danger,'' says Da Silveira, who studied cinema at Pontifical Catholic University of Rio de Janeiro.
Currently writing her second feature, Da Silveira will again present strong female characters in a plot punctuated by sordid humour. "But this time I'll raise the age of the protagonists," she says. "I've stayed too long in adolescence."
Gabriel Mascaro
'I am happy to see the projection of diversity'
In the opinion of some, Gabriel Mascaro appears to be more interested in provoking strong reactions than telling good stories. So it seemed with August Wings, which was given a Special Mention at the 2014 Locarno Film Festival, and now with Neon Bull, selected for both Venice and Toronto this year.
What isn't in question, however, is Mascaro's position as an exciting new talent. "Even if I have no generational fetish, I am happy to see the new Brazilian film-makers projecting diversity,'' says Mascaro.
Described by the 31-year-old director as "a study of the body, light and the transformation of the human landscape after rapid economic growth", Neon Bull follows a group of vaqueiros (cowboys), using the Vaquejada rodeo — one of the largest agro-business events in Brazil — as an allegory for recent transformations in the country. "It's my attempt to renovate the political and symbolic understanding of contemporary human relations in the north-east of Brazil, where I have always lived,'' explains the film-maker, who graduated from the University of Pernambuco in Recife with a degree in social communication.
Neon Bull is a companion piece to August Winds, his essay about life and death in which the winds and nature guide the characters along their own paths. Selling to Spain, Argentina, Portugal and France, August Wings was Mascaro's first foray into fiction, following several award-winning documentaries including High-Rise (2009) and Housemaids (2012).
DANIEL RIBEIRO
'Gay Brazilians are not used to seeing themselves on screen'
Daniel Ribeiro has always believed Brazilian cinema needs to reflect the continental dimensions of his country, exploring a variety of themes, aesthetics, languages and accents. Perhaps this attitude explains the enthusiastic reception for his debut feature, The Way He Looks, which was Brazil's submission for best foreign-language film at the 2015 Oscars.
"Although everyone grows up today with gay references in mind, I think Brazil lacked a film that spoke with delicacy and sensitivity about the internal conflicts of being gay in adolescence, which is common subject matter in American and European films,'' says Ribeiro, who, like Fernando Coimbra, is a University of Sao Paulo cinema graduate.
Ribeiro's film followed a blind teenager from a middle-class Sao Paulo family striving for independence from his overprotective parents while discovering his sexuality. "Gay Brazilians are always eager for content but are not used to seeing themselves portrayed on screen,'' says Ribeiro, whose film took the Teddy Award at the 2014 Berlinale, as well as several further festival prizes as it screened at San Sebastian, San Francisco, Seattle, Chicago, Los Angeles, Honolulu, Guadalajara, London and Athens, among others. Ribeiro's debut was released theatrically in the US, UK, France, Spain, Germany, Hong Kong and Taiwan.
The 32-year-old director is hard at work on new projects, writing two scripts concurrently. One will return to the LGBT world, focusing on the friendship between two transgender people, while the other explores a Brazilian family living in Portugal who return home because of the economic crisis in Europe. "My idea is to shuffle the heads of the international audience who may have their preconceived ideas of Brazil,'' he says.