Director Zhang discusses the project's origins and shooting on a tight schedule.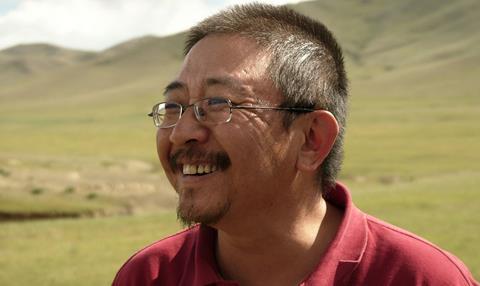 Korean-Chinese director Zhang Lu is back at the Busan International Film Festival (BIFF) with the world premiere of his latest film, A Quiet Dream, opening the fest tonight (Oct 6). His previous films include Grain In Ear (2005) which won BIFF's New Currents Award, Desert Dream (2007), which screened in Berlinale Competition, and Gyeongju (2014), which was in Locarno Competition.
In A Quiet Dream, Han Ye-ri (Haemoo) stars as a young woman running a tavern while caring for her paralysed father and dealing with three neighbourhood suitors who are played by local director-actors Park Jung-bum (Journals Of Musan), Yang Ikjune (Breathless) and Yoon Jong-bin (The Unforgiven).
It's been a tumultuous year for BIFF. How do you feel about being the opening film for the festival with the partial boycott and all?
I'm not sure it was that complicated. It's the opening film and has its theatrical release right after – on the 13th, during the festival. The opening film of any festival gets more interest from audiences. One way to look at it is that I've been coming to this festival for a long time. They screened all of my films, starting with my short film Eleven, which went to Venice. Even if the films premiered elsewhere like Desert Dream or Dooman River, which were both at Berlin, they screened in Busan, too.
Your films up until now have generally been serious and heavy, even if they did have some wry moments. This is the first time you had laugh-out-loud scenes. Why the sudden change?
I think it's because I'm old now. When you're young, you can't help but show seriousness. People who know me usually say I'm a funny person and I think that came out more in this film. People get softer as they age. I wasn't trying to be funny. That's just a part of the kind of person I am. At some points in time, you can show a certain softer side of yourself and then at others, you might go back to the other sides.
How did you develop the film?
I didn't actually start with a story. I developed it because of the actors. The three directors - Yang Ikjune, Park Jung-bum and Yoon Jong-bin. There's a bit of an age difference between us, but we met often for drink and chats and I got very curious about these three friends. 'What are these guys? They are good directors. They are even good actors.' And I'm not a good director and I can act even less. When a film-maker is curious about something, they have to shoot a film.
Even then, I started with the thought of a place rather than a story. The environs of Susaek Station. If you go to the Digital Media City (DMC) in Sangam-dong, there are broadcasting stations and many high buildings – it's not an atmosphere of a place where people live. If you look at the people in the streets, their expressions are always prepared. They are prepared. You can't see joy, anger, sadness or happiness.
But on the other side of the tracks near Susaek Station, about 15 minute from where I live, it's completely different. No big buildings. It's the kind of neighborhood that is gradually disappearing from Seoul. People are not prepared there. You can see their emotions. It feels like a place where people live. I feel at ease. The place where you feel at ease is your hometown, and your hometown is where you feel at ease.
Starting with the place, looking at the three people, their appearances and their personalities are similar to the texture of Susaek. It wouldn't be strange for them to appear in Susaek, the kind of middle-aged guy that would be wandering around without much to do. So I started with those three characters, but thought if it were just them in the film, audiences would run away. At least a beautiful woman should appear. So I asked Han Ye-ri, who was in Love And…, a film I made for the Seoul Senior Film Festival. This started out as a film about the three guys, but eventually became more about her character.
What was it like directing the three directors?
We had 15 shooting days, a tight schedule. But they're good actors. They understood what I wanted and knew exactly what to do - demons at it.
Your films usually premiere at international film festivals and do the rounds a bit before theatrical release, but this time, the release is right away.
I thought it was important to meet with local audiences quickly. The investor/distributor, Storm Pictures, was with us from April and the release date was set from the time we were shooting. Han Ye-ri has become well known these days and there are a lot of cameos by actors the public know. Since Gyeongju, I've been thinking more about meeting with regular audiences.