UPDATED: The key issues at Cannes are Netflix and Amazon, TV series in official selection and staying relevant in the small-screen era.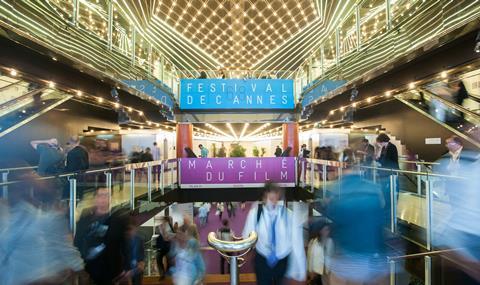 The disruptors-in-chief Netflix and Amazon Studios continue to shake up the old order with their furious activity and spending power.
In the case of Netflix, the streaming giant's running battle with French exhibitors has forced the hand of Cannes Film Festival delegate general Thierry Frémaux to effect a historic rule change as the storied festival celebrates its 70th anniversary.
France's cinema owners are incensed over Netflix's preferred streaming-first business model, which eschews the traditional theatrical release and is incompatible with the country's strict media chronology laws that demand a 36-month lag-time between theatrical and online distribution.
Netflix said last month it was mulling over a limited theatrical release for its first two films ever to play in competition – Okja and The Meyerowitz Stories – but that did not placate the defenders of cinema's old realm and ultimately forced Frémaux's hand. [After this piece first appeared, Netflix confirmed it would stage day-and-date limited theatrical and streaming launches for Okja and War Machine in the US and the UK.]
The new ruling stipulates that from 2018, all Cannes competition submissions will need to commit to a theatrical release in France. Where that leaves Netflix and, by extension Amazon Studios (back in competition this year with Wonderstruck) and other emerging streaming giants remains to be seen.
Hollywood writers and their paymasters have smoked the pipe of peace, which strikes one item off the list of talking points as the industry heads to the Croisette. Cannes' top brass and authorities have ramped up security for the festival, mindful of last summer's Bastille Day attack in Nice and the attack on police in the Champs-Élysées in April.
It seems unlikely that the issue of safety will dampen the mood and dilute attendance and so the usual litany of industry-related concerns will prevail.
Currency fluctuations, a strong US dollar, and the ebb and flow of trade in certain territories are expected to fuel conversations.
Battle-hardened content executives recognise such challenges come with the territory and have learned to roll with the punches.
How the industry ducks the challenge posed by Netflix and Amazon Studios is the key. The digital titans are riding a wave of Darwinism – some would say they have caused it – yet increasingly there is the realisation among buyers, sellers and producers that this need not be the apocalypse.
Yes, they depress and terrify buyers — but there are opportunities for those willing to adapt and innovate, rather than merely stand on the sidelines and feel gloomy.
New ecosystem
The savviest regard the two titans as part of a proliferation of digital platforms that itself belongs to an ecosystem where many can thrive. "The upside of the new order is that there are, numerically, more buyers out there than ever, and there's more opportunity to license feature content directly to users," says Stuart Ford, founder and CEO of IM Global.
"The new streaming players are also well capitalised and hungry for product. The challenge is that the landscape requires sellers and buyers alike to adopt a more flexible approach to windowing, and entails foreign buyers taking a more pragmatic and modern outlook towards US theatrical expectations."
IM Global celebrates its 10th anniversary in Cannes, and Ford has been among a pack of players quick to innovate, launching a TV division and venturing into China and Latin America. Ford says his company licenses international rights on all types of content to Netflix, Amazon Studios and Hulu, and recently struck a worldwide deal with Apple Music on Tribeca Film Festival opener Soundtrack Of Our Lives.
While he insists the market tete-a-tete with traditional buyers remains "vital", he notes an acceleration away from all-rights deals to "a more complex and fluid matrix of deals with streamers, local broadcasters, multi-territory buyers and studios. It requires greater sophistication, more resources and a year-round sales focus."
Big spenders
Netflix and Amazon Studios owned the headlines at Sundance, leaving rivals in the dust as they forked out $12.5m for the world on Mudbound and $12m for the US and select territories on comedy The Big Sick, respectively (another mammoth deal was the $10.5m Fox Searchlight paid for the world on Critics' Week selection Patti Cake$.
"You cannot compete in monetary terms if you are working on the traditional model of foreign sales, because buyers are struggling to find the perfect package that will justify the reduced ancillaries," suggests Mike Goodridge, CEO of Protagonist Pictures. "There's only one pay-TV window these days. It's tough as old boots, which means you have to find things that are still meaningful to theatrical. I always ask my team, 'Are you willing to pay $15 to see this new feature?'"
Goodridge notes Protagonist titles The Lobster, Hunt For The Wilderpeople and Love & Friendship all scored at the box office. "You're offering something to audiences which has a strong signature voice that they might not necessarily get on TV; a vision."
The streaming platforms can find signature voices, too. Amazon Studios just struck exclusive first-look deals with Bona Fide Productions as well as Killer Films, whose Wonderstruck plays in Competition.
For the first time Netflix has films competing for the Palme d'Or: its own production, Okja from Bong Joon Ho, and Netflix original (albeit a worldwide acquisition) The Meyerowitz Stories: New And Selected by Noah Baumbach. Both Okja and Wonderstruck were reportedly made for $40m or thereabouts — hardly the type of budget an independent buyer would feel comfortable contributing to for an arthouse film.
To further fan the flames, Netflix has said it is weighing up theatrical releases in France for Okja and The Meyerowitz Stories. This has drawn the ire of the local industry, bound as it is by the country's strict media chronology laws. Like everyone else, the digital titan wants to make premium content and not just license it. In this regard, the arrival of former Universal vice chairman of worldwide production Scott Stuber as head of original film is critical.
"The thing for me," Goodridge says, "is to see how the big Netflix Originals turn out and how they work — War Machine, Okja and Bright. That could revolutionise how these things are seen. If you're Netflix, you're trying to recreate the model."
Within this new world, theatrical holdbacks seem superfluous. "If they don't come and buy all rights and only one territory, it's challenging to find a theatrical partner in that territory," says Jason Moring, president of Double Dutch International. "It's a bit of a push-pull scenario when you're dealing with distributors.
"We're looking at longer partnerships and slates, or some kind of first-look opportunity with distributors. It gives us a little bit more dependability in a territory. On the acquisitions side, it makes it easier for them to know they're going to get a certain level of content without having to chase after it."
In an industry where money is not in short supply, the key differentiator is premium content. Chris Lemole of Armory Films, the producer of Sundance hit Mudbound who plans to bring Mads Mikkelsen to Cannes to meet buyers on Arctic, is open to choice. "We want to make sure the movie has an audience and is capable of distribution," Lemole says. "When you see how it turns out, you know who you're going towards, but we're not necessarily shaping it towards [Netflix and Amazon]."
"We're starting to develop our own material," says Protagonist's Goodridge. "You have to in order to stay relevant. The SVoD companies have no need for the middle-man, essentially. You have to be in control of your material. It's harder and harder to get the packages because the actors that mean something aren't there… we know TV has fantastic directors and fantastic material."
Frémaux and his festival colleagues have opened the door to something else not seen before at the festival and invited a pair of high-profile television properties to debut in their entirety on the red carpet.
Both the second season of Top Of The Lake from Jane Campion and David Lynch's Twin Peaks hail from film auteurs and reinforce not just the notion that high-end television is as good as anything on the large screen, but the idea that content is fluid.
Speaking of which, once again the market is making a big deal of VR. It is still early days and the venture capitalists have cooled off a little, so now is the time for the content creators to show what they have got. Eric Darnell, who made his name directing the Madagascar franchise for DreamWorks Animation, will attend the market and join other forces in the world of VR to showcase Baobab Studios' Rainbow Crow.
Cannes' TV element this year features two anticipated, high-quality shows. See-Saw produced Top Of The Lake, and the company's TV co-head Hakan Kousetta says the crossover is natural.
"The fact Jane [Campion] has a long-standing relationship with the festival and her work is so cinematic in its DNA, even though it's television, makes it a perfect time for [Cannes] to embrace this area," says Kousetta. "We're alongside David Lynch's Twin Peaks series. You've got these two amazing auteur directors with longstanding relationships with the festival.
"[TV production] chimes with our philosophy of producing very high-end, high-quality work that reaches a global audience and reflects the See-Saw brand of quality," he adds.
Will the Croisette in May evolve into something of a TV market alongside film? "If Cannes continues to go down this road," Kousetta says, "I don't see why it cannot become a place to do business." Watch this — ever changing — space.