Alfonso Cuaron's Gravity uses 3D to take audiences into the middle of a catastrophe. Michael Rosser talks to the film's stereo supervisor, Chris Parks of Vision3, about the 3D demands of the production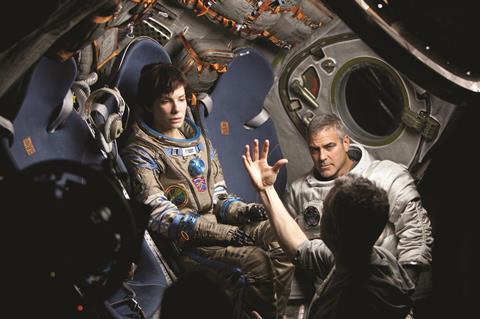 With the original title of Gravity: A Space Adventure In 3D Alfonso Cuaron's thriller —which stars Sandra Bullock and George Clooney as astronauts caught up in a disaster 350 miles above Earth — integrated three-dimensional thinking from the outset.
Such an approach has helped the groundbreaking Gravity become the first film to really challenge Avatar for the 3D crown. Cuaron sought advice from James Cameron ahead of production but turned to Chris Parks of London-based Vision3 as stereo supervisor. Parks came on board more than a year before principal photography began to oversee the project's 3D elements.
"My particular interest is in 3D for its storytelling powers, not just spectacle," says Parks, who had just finished working on Pirates Of The Caribbean: On Stranger Tides when he met Cuaron in 2010. "I think he was wary of me, this guy coming in to tell him how to do the 3D in his film."
It was when Parks contrasted the dangers of space with the sanctuary of the space stations that he connected with the director. "Out there it's dangerous, she's hyperventilating, passing out, scared," Parks explains. "When she comes inside, we cocoon her. Envelop her. It's like a rebirth. When Alfonso heard me talking in those terms, that's where it gelled for him."
Parks initially planned to shoot "natively", with 3D cameras on set shooting the actors — Robert Downey Jr and Scarlett Johansson at that time. Tests utilised Arri Alexa cameras on 3Ality rigs at Leavesden Studios.
But after abortive attempts to employ wire work and a 'vomit comet' to simulate zero gravity, Cuaron and director of photography Emmanuel Lubezki decided to use robotic camera arms to generate fluid movement while the actors would perform in a light box. This 20ft by 10ft cube was fitted with 50,000 LEDs to match light on the actors' faces with the virtual light already programmed into CG shots, created by Framestore and led by visual effects supervisor Tim Webber. It was not, however, feasible with heavy 3D cameras.
"These cranes couldn't support the weight of the 3D camera rigs," recalls Parks. "Also imagine this cumbersome thing rocketing around and stopping 10cm from Sandra's face. That is never a good idea, even if the robotic arms could have handled it."
Virtual depth
The decision was taken to create most of the exterior 3D effects in a computer, with Parks using virtual cameras to create varying levels of depth.
"The guys at Framestore built me a virtual 3D rig that could do things that are impossible in real life," Parks says. "It gave me two cameras that could overlap completely or go out to 10 billion miles, when we were trying to create separation in the stars."
Around 22 minutes of the film, including scenes in the two capsules and the final scene, were shot in 2D and were converted into 3D at Prime Focus World, supervised by Parks.
"I had strong ideas about how I wanted the actors to look in the post conversion," says Parks. "The amount of volume and roundness was most important in those drama scenes.
"With the 400% more information that you get from 3D, I want to use that extra information to facilitate the actors' communication with the audience. That only comes by achieving this stereoscopic roundness."
Prime Focus's work also included what must be the longest converted shot ever — 15,531 frames amounting to over 10 minutes — which appears towards the end of the film on the Chinese space station. While Parks chooses to use 3D as a storytelling tool rather than employing 'pointy stick' gimmicks, he is not averse to playing with the audience — but with good reason.
"We had some fun with 3D in Gravity and used it to strong effect, hurling more shit at the audience than anybody has done in any other 3D film before. But that was to put the audience in the middle of a catastrophe and to make them feel that sense of danger," he says.
While not poking any spears out of the screen, one use of a floating Marvin the Martian toy heavily utilised 3D while serving the story. "There is a whip pan moment where Sandra comes face to face with a dead body and everyone is meant to jump," Parks says.
"It wasn't working quite as Alfonso wanted and he wanted to use 3D to help accentuate the moment. So we floated Marvin into theatre space to defuse the tension and at that moment we hit people with the dead body.
"For me, that's where it starts to get interesting because the director has something they're trying to achieve and we use 3D to help achieve it."
Gravity is certainly an achievement. Strong reviews for the film out of Venice, Telluride and Toronto coupled with word of mouth that urged people to catch it on the big screen saw Gravity take over $100m in five days, with 80% of box office takings for 3D screenings.
It has topped the $500m mark worldwide and is the highest-grossing live-action feature ever to be released in October, largely benefiting from premium 3D and IMAX ticket prices as well as repeat viewings.
Parks reveals that the phone has been ringing more following the positive reaction. "I've had a number of conversations as a result of Gravity because people liked the 3D," adds Parks, who has worked in 3D for 20 years and co-founded Vision3 in 1998. "Nobody chooses to have bad 3D in films so if there's an option to have good 3D that's fantastic. But the director, the DoP and the crew need to want it. If you don't have the right attitude, you are just going to get a 2D film with 3D layers on top."
Parks' next job is bringing Tom Cruise into the third dimension with Doug Liman's sci-fi action film Edge Of Tomorrow and he is also working on David Attenborough's Night At The Natural History Museum. What comes after that promises to be exciting. "Disciplines such as production design, lighting and cinematography have had 100 years to evolve — we've only had 5% of that time," adds Parks. "In 95 years, 3D will look a lot different to where it is now. You just need to start those conversations early. If a film's going to go 3D, why not make it a bloody good one?"