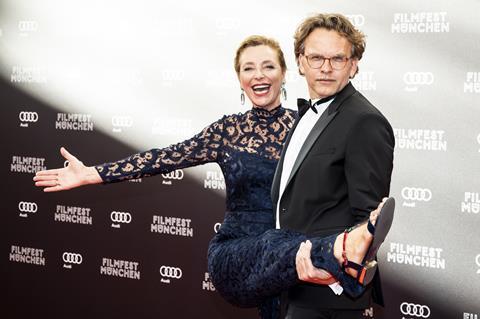 Maryam Keshavarz's culture clash comedy The Persian Version will open the 40th edition of Filmfest München on June 23. Over 10 days to July 1, the Filmfest will screen 147 films from 61 countries, including 43 world premieres. The Persian Version premiered at Sundance earlier this year.
In addition to the festival's three international competitions strands, CineMasters, CineVision and CineRebels. German actress Barbara Sukowa will be presented with this year's CineMerit Award, while the retrospective is dedicated to Austrian filmmaker Jessica Hausner. The festival will host the German premiere of her Cannes Competition title Club Zero, screening in CineMasters and in contention for the €50,000 ARRI award.
Festival director Diana Iljine and artistic director Christoph Gröner talk to Screen about how the event is evolving as a platform for the launch of international, as well as German films, what the 40th anniversary means for them, and the role the festival plays for the industry.
Beyond your role as a launchpad for new German films, you have also programmed six world premieres of significant international films this year, including Vincent Perez'sThe Edge Of The Blade and Leo Leigh's UK comedy drama Sweet Sue, What prompted this move?
Christoph Gröner: After the success that Marcelo Gomes' Paloma had after having its world premiere in Munich last year, I think the film world now perceives us differently. That success led us to ask what kind of function we can bring to the table to really help a film with a world premiere. We were offered dozens of titles and then decided to select six films to show in different sections.
We are also very pleased that Mami Wata by C.J. 'Fiery' Obasi, a seminal title for African filmmaking from Nigeria, has chosen Munich for its European premiere. We are also screening Baloji's Omen that premiered in Un Certain Regard at Cannes last month. The visions of both films are united by a fierceness and an explosive creativity.
Diana Iljune: I am really looking forward to the Taiwanese media artist Shu Lea Cheang who will show her new film UKI as a world premiere. There is also an homage to her works organised in collaboration with the Museum Brandhorst.
Who and what stands out for you in the New German Cinema line-up?
CG: The buzzword 'diversity' applies in all respects, to the genres, to the stylistic approaches, as well as in the people both in front of and behind the camera. And the same goes for language. The Diaries of Adam And Eve and The Dive are completely in English, while Empty Nets is in Farsi and Sylvie Michel's More Than Strangers has different nationalities talking together in a car ride from Berlin to Paris.
What are the key issues being addressed in the industry programme?
CG: We will be covering a lot of ground. Artificial intelligence is one of the topics at the centre of the week's discussions and we will have a laboratory, Pavilion 333, on the east side of the Pinakothek der Moderne, which will also be open to the general public as well as festival-goers to have a direct experience of artificial intelligence and its relevance for art and cinema.
The Cast Me In! initiative will stage a one-day event on June 25 to look at what Germany can learn from other countries regarding inclusivity. As part of this there will be an invitation-only casting event for actors with and without disabilities to meet with casting decision-makers.
Constantin Film's Martin Moszkowicz and Giampaolo Letta of Medusa Film are speaking about their winning strategies for producing European cinema for the international market, and we have representatives from Italy's Cinema Troisi and the Sinema Transtopia from Berlin to talk about new concepts for cinematic spaces.
What is the focus of the second edition of the CineCoPro Conference being held from June 27-29?
CG: This year has a regional focus on south-east Europe. Producers including Romania's Ada Solomon and Radu Stancu will speak about the production and distribution situation in their country and their experiences of co-production. There will be panel about international co-productions with Germany with augenschein Filmproduktion and Construction Film which are preparing Justin Kurzel's Morning to film at the Penzing studios. The studios are currently hosting the shoot of Christophe Gans' Return To Silent Hill.
How are you marking the 40th edition?
DI: We are showing some films from the four decades such as Born In Flames from 1983 when the festival started, and Isaac Julien's Young Soul Rebels from the 1990s, Caroline Link's Beyond Silence is screening in cooperation with the Cast Me In! initiative for more inclusivity in German cinema, Dalibor Matanović's Fine Dead Girls ties in with our south-east Europe focus for the CineCoPro Conference, and, last but not least, Love Steaks from 2013 which introduced cinema audiences to the actor Franz Rogowski.
Diana, this is your last edition as festival director. What are your personal highlights of the Filmfest?
DI: The most important thing for me has been the encounters with guests over the years, whether it was women like Ellen Burstyn, Emma Thompson, and Sofia Coppola or with Antonio Banderas and Bong Joo-Ho. Bryan Cranston was a particular highlight because he held such a fantastic masterclass and he was close to the public and so professional.
It is great to have had such a wonderful festival team to travel and see films with all over the world. The festival is like when a wedding takes place and the bride and bridegroom are totally exhausted at the end. But you have so much adrenaline and are then able to celebrate with the team on having staged yet another successful festival.