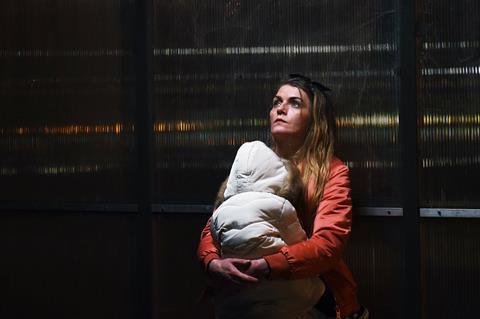 As the Dutch film industry comes together at International Film Festival Rotterdam (IFFR), there is much to be optimistic about in 2019.
The local industry is experiencing near record levels of inward investment as a location and post-production hub and Dutch co-production is blossoming. There may have been a slight - 0.8% - decline in admissions to 35.7 million cinema visitors in the Netherlands in 2018 but box office revenue has risen due to an increase in ticket prices.
Dutch market share for local films has remained broadly stable: it fell slightly from 12% to 11.2% in 2018. The number of visitors to Dutch film decreased to 4 million in 2018 from 4.3m in 2017 but this number was achieved with 33 feature films in cinemas instead of the 37 released in 2017.
In 2018, two local films crossed the 400,000 admissions threshold: Bon Bini Holland 2 and Banker Of Resistance, while seven local documentaries sold at least 10,000 tickets in cinemas.
Sacha Polak's Dirty God, which opens IFFR, is among six new Dutch features at the festival and is one a number of recent UK-Dutch co-productions. Marleen Slot of Dutch Viking Film produced Dirty God with the UK's Emu Films, Belgium's A Private View and Ireland's Savage Productions.
In addition to Dirty God, several more Dutch films will be ready for selection at the major summer and autumn festivals, among them Halina Reijn's anticipated debut feature, Instinct, starring Carice van Houten and Marwan Kenzari.
The Netherlands Film Fund is expanding its selective support schemes and will increase its investments in immersive and interactive productions as well as in traditional areas like features, documentaries and shorts, emphasising talent development.
"The Fund currently invests €3m [annually] directly in selective co-production support but that amount will shortly increase to €3.4m," says Doreen Boonekamp, CEO of the Fund.
Through its selective funding scheme, the Netherlands Film Fund has been able to invest in high -profile international projects from Dutch directors, among them Paul Verhoeven's Benedetta and Paula van der Oest's Bay Of Silence.
It is also investing €800,000 into Amsterdam-based Steve McQueen's new film project, The Occupied City, about Amsterdam under Nazi occupation during the Second World War, which is being made with local outfit Family Affair Films as a co-production with the UK's Lammas Park. (It is not known if McQueen will direct as well as produce the project.)
Netherlands Film Production Incentive
The Fund also administers the Netherlands Film Production Incentive, which offers a cash rebate of up to 35% of eligible production costs to both local and international producers. The production incentive is credited with transforming the local industry over the last four years. It both enhances the attractiveness of Dutch producers as co-production partners and helps attract international projects into the Netherlands. For example, John Crowley's The Goldfinch, based on the bestselling novel by Donna Tartt, was granted a cash rebate of €565.945 when it shot in Amsterdam.
The second season of award-winning BBC America's TV series Killing Eve was granted the incentive for a single episode in October, and Ari Folman's animated feature, Where Is Anne Frank? recently received €407,390 through the incentive.
"We have been able to become more visible in the international marketplace," says Boonekamp.
Heading to the Berlinale
Underlining the strength of the Dutch co-production sector, several minority Dutch co-productions have also been selected for the Berlinale next month. They are Alejandro Landes and Alexis Dos Santos' Monos, co-produced by Lemming Film, Omar Shargawi's feature doc Western Arabs and Bénédicte Liénard and Mary Jiménez's Peru-set By The Name Of Tania. Both the latter two are co-produced by Baldr.
In the Panorama are Bas Devos' Hellhole, co-produced by Phanta Vision, Finnish youth-oriented drama Stupid Young Heart, co-produced by Windmill Film, Syllas Tzoumerkas' The Miracle Of The Sargasso Sea, co-produced by PRPL, and Emin Alper's Tale Of Three Sisters, co-poduced by Circe.
Dutch majority co-production My Extraordinary Summer With Tess, directed by Steve Wouterlood, is screening in Generation, and Retrospekt, a new feature by Esther Rots , whose credits include Can't Go Through Skin, is selected for the Forum.