As the 2020 European Film Market (EFM) kicks off, Screen highlights some of the buzziest projects being offered by international sales companies.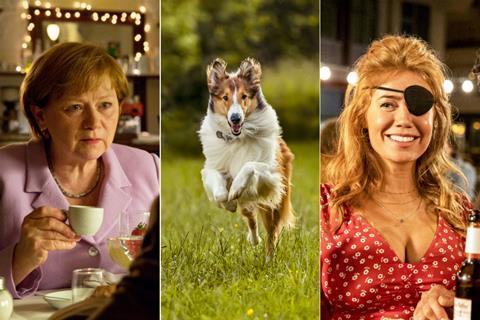 Picture Tree International (PTI) has picked up global sales rights to A Stasi Comedy (Stasikomödie), a comedy based around the infamous East German secret police. Written and directed by Leander Haussmann, it is the final film in the filmmaker's GDR-themed feature trilogy after Sun Alley (1999) and NVA (2005). PTI will present a first promo during EFM. The company's slate also includes comedy Nightlife by Simon Verhoeven, featuring Suck Me Shakespear star Elyas M'Barek as a bartender who meets the woman of his dreams (Palina Rojinski) on a night out in Berlin — which turns out to be a fateful encounter. The German release of the film in February is handled by Warner Bros Pictures Germany.
Global Screen has high expectations for feature documentary The Hidden Life Of Trees, based on Peter Wohlleben's global bestseller, which will have its market premiere. The sales outfit is also screening Lassie Come Home in the market and has a first promo for Holocaust drama Plan A starring August Diehl and Sylvia Hoeks. Among its titles in official selection are a pair of Generation Kplus entrants: Veins Of The World from Byambasuren Davaa (The Story Of The Weeping Camel) and Swedish box-office hit Sune — Best Man, the sequel to Sune Vs Sune which screened in the section last year.
Beta Cinema is handling rights for several films in official selection, among them a pair of Competition entries: My Little Sister from Swiss filmmakers Stéphanie Chuat and Véronique Reymond, starring Berlinale favourite Nina Hoss, and Burhan Qurbani's three-hour contemporary version of Berlin Alexanderplatz.
The Match Factory likewise has a number of titles in the official selection. They include the D'Innocenzo brothers' Bad Tales, Abel Ferrara's Siberia (which marks his sixth feature film collaboration with Willem Dafoe), and Christian Petzold's Undine starring Paula Beer, all in Competition. The German sales powerhouse is also selling Georgis Grigorakis's Digger in Panorama, Daphne Charizani's Sisters Apart, which the company co-produced through Match Factory Productions, and Bastian Günther's One Of These Days, set in smalltown Texas and starring Joe Cole and Carrie Preston.
Arri Media International is giving market premieres to Gipsy Queen, Hüseyin Tabak's boxing story about a Roma single mother who uses her fight skills to support her family; Kim Strobl's Madison about a teenager struggling to emulate her successful pro-cyclist father; and Dietrich Kluge's drama The German Lesson. Arri is also selling Johannes Naber's political drama Curveball, which tells the true story of the German involvement in the fake intelligence that helped start the Iraq war. Another new title for Arri is Nikias Chryssos's A Pure Place, a coming-of-age story set on a remote Greek island where everyone is obsessed with soap.
Philippe Bober's Paris and Berlin-based Coproduction Office will be selling Berlinale Competition entry DAU. Natasha from directors Ilya Khrzhanovskiy and Jekaterina Oertel. This is one of the feature film spin-offs from Khrzhanovskiy's expansive and mind-boggling DAU project, a multimedia epic comprising films, exhibitions and video art covering 30 years of Soviet history and inspired by the life of Nobel prize-winning Russian physicist Lev Landau. Bober was on board way back in 2006, when DAU was first pitched at Rotterdam's CineMart.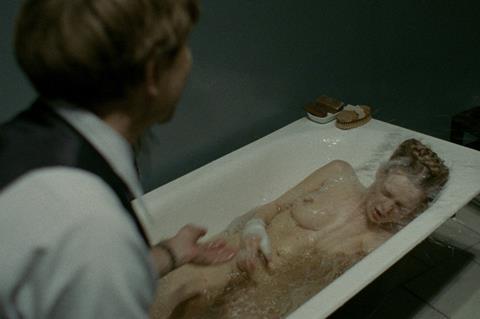 Bavaria Media is presenting its political thriller Merkel, directed by Stephan Wagner (Einsatz In Hamburg) and scripted by Florian Oeller, based on the book Die Getriebenen by Robin Alexander. Starring Imogen Kogge and Thomas Morris, the film follows a defining moment of Angela Merkel's chancellorship: the refugee crisis of 2015, which became Germany's greatest upheaval since its reunification in 1990.
Films Boutique is beginning its sales drive on Iranian director Mohammad Rasoulof's feature There Is No Evil, which screens in Competition. The Berlin-based sales company is also handling Agnieszka Holland's latest feature Charlatan, which screens as a Berlinale Special Gala and is co-produced by Mike Downey and Sam Taylor's F&ME.
Berlin-based M-Appeal is launching sales on In Bed by Nitzan Gilady. The film, currently in post-production, stars Moran Rosenblatt (Red Cow) in the story of a man and a woman at a gay pride parade that is interrupted by a deadly shooting. Also new on the M-Appeal slate is The Swimmer by Adam Kalderon, which follows a rising star on the Israeli swimming scene who becomes dangerously drawn to a fellow competitor.
Bombay Berlin Film Productions is selling Trijya — Radius, Akshay Indikar's semi-autobiographical debut feature about a young artistic man who is on a journey of self-discovery. The film screened last year at Shanghai and Tallinn Black Nights film festivals.
Ida Martins' Media Luna is giving a market premiere to Melanie Waelde's Naked Animals, which screens in the Berlinale's new competitive section Encounters. It is also continuing sales on supernatural thriller Nuclear, starring George MacKay.
Dusseldorf-based Patra Spanou has Latin American project Los Fantasmas, which premiered in Rotterdam last month, and will also be holding the market premiere of Brazilian family movie Turma Da Monica: Licoes directed by Daniel Rezende (editor of City Of God).