Screen highlights the buzz titles ready to entice international buyers at the 2022 European Film Market (EFM).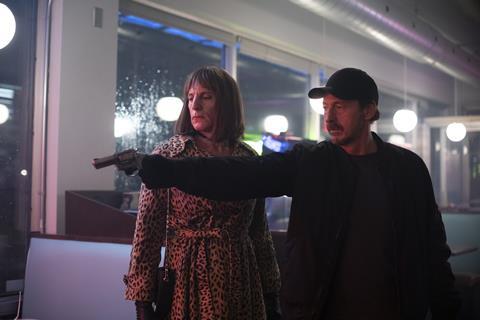 FilmNation is starting talks on White Night, a drama about cult leader Jim Jones who led a mass murder-suicide in Guyana in 1978. Anne Sewitsky (A Very British Scandal) will direct Joseph Gordon-Levitt and Chloë Grace Moretz for FilmNation and Archer Gray. The sales team also has sci-fi Proxy, which will see Kornel Mundruczo (Pieces Of A Woman) direct Blake Lively.
AGC International has All That I Am, which is set to star Evan Rachel Wood and Rufus Sewell in the story of German Jews who smuggled classified documents belonging to Nazi Hermann Göring out of Germany. Kate Dennis, who helmed episodes of The Handmaid's Tale and Glow, is attached to direct.
Rosamund Pike will star in Rich Flu, about a mysterious disease that kills the wealthy. Sierra/Affinity is kicking off sales on Galder Gaztelu-Urrutia's follow-up to Toronto 2019 hit The Platform. Fabula's Pablo Larrain and Juan de Dios Larrain will produce and principal photography has been earmarked for autumn. CAA Media Finance represents US rights.
STXinternational will be talking up Marc Forster's comedy A Man Called Otto starring Tom Hanks. SF Studios is fully financing the remake of the 2015 Swedish film A Man Called Ove, about a curmudgeon who becomes friends with his boisterous neighbours. CAA Media Finance handles US rights.
Capstone has Kandahar, which Ric Roman Waugh is currently shooting in Saudi Arabia with Gerard Butler playing an undercover operative escaping Afghanistan with his translator. CAA Media Finance is the US sales agent. The Capstone roster also includes family inheritance comedy The Estate starring Toni Collette, Anna Faris and Kathleen Turner, with production due to kick off this month in New Orleans.
Millennium Media will look to tempt buyers with Renny Harlin's thriller The Bricklayer starring Aaron Eckhart as an ex-CIA agent who comes out of retirement to thwart an international conspiracy.
XYZ Films brings Ash, a development project from XYZ Films and GFC Films about a woman who awakens in a space station to find the crew have been murdered.
Highland Film Group is talking up crime thriller Muzzle with Aaron Eckhart as a cop who uncovers a vast conspiracy in Los Angeles. The team is also selling survival thriller The Black Demon, which wrapped recently in Dominican Republic and stars Josh Lucas as an oilman trapped with his family on a rig by a sinister force.
The Exchange has action title Lights Out starring Frank Grillo, Mekhi Phifer, Scott Adkins and Dermot Mulroney. Christian Sesma is directing what is described as a modern-day Roadhouse meets Kickboxer set in Los Angeles.
Visit Films starts talks on Berlin Competition selection Robe Of Gems, a Mexico-Argentina drama about three women whose destinies dovetail against the backdrop of a missing person case. Editor Natalia Lopez Gallardo (Amat Escalante's Heli) makes her feature directing debut.
Magnolia International will continue talks on Sundance world premiere Mars One, Gabriel Martins' drama about a Black Brazilian family of dreamers shortly after the election of far-right president Jair Bolsonaro in 2018.
WaZabi Films launches talks on completed comedy drama Goodbye Happiness, from Ken Scott (Starbuck), in which four warring brothers gather to commem­orate their father's life. The slate also includes Luc Picard's Confessions Of A Hitman, about the inner journey of an assassin, and Antonia Campbell-Hughes' Irish drama and SXSW entry It Is In Us All starring
Cosmo Jarvis as a man about to face a personal reckoning.
Great Escape, the newly minted sales division of Yale Entertainment, kicks off with Brittany Snow's feature directing debut September 17th, a drama from Yale Productions about a young woman who checks out of rehab and falls for a man.
VMI Worldwide has The Price We Pay, a completed horror starring Emile Hirsch and Stephen Dorff as robbers on the run with a resilient hostage who end up on a farm run by organ donors.
13 Films launches sales on ensemble dark comedy Helen's Dead featuring Matilda Lutz, Emile Hirsch and Tyrese Gibson. The Stoked Film Group project follows a young woman who crashes a dinner party to confront her cheating boyfriend, only to discover his lover is dead and the killer is on the loose. K Asher Levin directs.
Myriad Pictures is continuing sales on Livia De Paolis's Peter Pan-inspired fantasy The Lost Girls, starring De Paolis, Joely Richardson and Vanessa Redgrave. Vertical Entertainment already has US rights, while Photon Films will release in Canada and Altitude in the UK. Myriad also has April Mullen's android thriller Hello Stranger with Sam Worthington and Jordana Brewster; CAA Media Finance and Verve Ventures represent US rights and Mongrel will distribute in Canada.
The Solution will introduce Frank Grillo werewolf horror Year 2. Steven C Miller (Escape Plan 2) will direct the story about the return of a supermoon which, on its last appearance a year earlier, turned anybody touched by moonlight into a werewolf and led to nearly one billion deaths.
Arclight Films has thriller The Locksmith, starring Ryan Phillippe as a con whose efforts to go straight are derailed by a kidnapping. Kate Bosworth also stars and production recently wrapped in New Mexico. Also on the roster is SXSW musical comedy Seriously Red starring Rose Byrne and Bobby Cannavale in the tale of a vivacious redhead who yearns to be a Dolly Parton impersonator.
Cinema Management Group brings a trio of Polish films: Second World War drama The Wedding Day from Wojciech Smarzowski; Cyprian T Olencki's crime drama Furioza; and Maria Sadowska's human-trafficking drama Girl To Buy.
Double Dutch International has Sight — Extended, a completed sci-fi about a troubled young man who comes across a mysterious app that transforms every facet of his life into a game.
Blue Fox kicks off talks on Sonja O'Hara's supernatural thriller Mid-­Century starring Avatar's Stephen Lang, Shane West and Chelsea Gilligan in which a vacationing couple rent a haunted mid-century home. Bruce Dern also appears in the Astral Plane production in association with Moo Studios and Slated.
Octane Entertainment kicks off the market with The Time Capsule, a completed sci-fi romance about a politician on a vacation that becomes disrupted when his first love shows up after a 20-year space voyage. Erwann Marshall directs Brianna Hildebrand and Todd Grinnell.
MPI Media Group has German-language horror film Dawn Breaks Behind The Eyes, in which a dispirited woman and her ill-tempered husband spend the night at a rundown castle. Kevin Kopacka directs Anna Platen, Jeff Wilbusch (Unorthodox) and Frederik von Lüttichau.
FilmSharks from Buenos Aires has Matias Lucchesi's completed feminist western The Broken Land (Las Rojas) from Rizoma, Patagonik Film Group and Cimarron. Mercedes Moran and Natalia Oreiro star. Buena Vista International is distributing in Latin America.
Premiere Entertainment Group has No Future, the Tribeca 2021 drama from Ten Acre Films and Terraform Films about a recovering addict who embarks on a troubled affair with his dead friend's grieving mother. Charlie Heaton and Catherine Keener star.
Yellow Veil brings Fantasia Film Fest­ival and Sitges selection Hellbender starring Zelda Adams as a lonely teen who discovers her witchcraft roots.
123 Go Films is selling the world on Burn, in which a hitman must find his younger brother and get him out of town after he kills the mob boss's trophy wife. 123 Go Films will release the thriller in the US on April 1.
RTG Features is selling completed sports documentary Alaskan Nets. The film centres on two cousins who lead their basketball team and Alaskan town in search of their first state championship in more than 30 years. Good Deed has acquired US rights.
Canada's Attraction has international rights to new Finnish family film Vinski And The Invisibility Power. It is directed and produced by Juha Wuolijoki of Snapper Films, whose family feature Christmas Story was sold by Attraction in 2008.