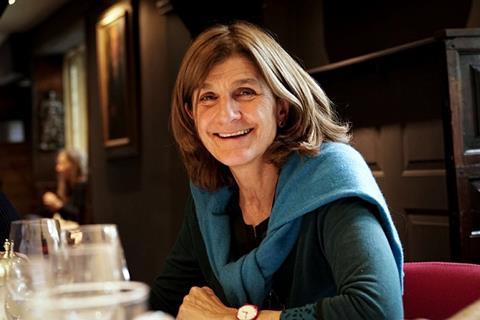 UK filmmaker Margy Kinmonth, whose documentary Eric Ravilious: Drawn To War is enjoying a surprise successful run at UK and Ireland cinemas, has outlined her bustling production slate, including a docu-drama about the UK painter George Stubbs, and a project about female war artists.
Both are at the early stages, with Tom Hollander top of Kinmonth's wish-list to play Stubbs.
The as-yet-untitled film about female war artists from the Second World War to the present day in Ukraine will give women's perspectives on conflict and is in partnership with London's Imperial War Museum.
Kinmonth is halfway through filming a project about the first man to come to the UK through the Channel Tunnel from Sudan, who is now living in Birmingham.
She is also planning to bring the story to screens of her grandfather, Admiral John Godfrey, who was the inspiration for James Bond character M, and whose assistant was Bond author Ian Fleming. "I've been talking to [Eon Productions'] Barbara Broccoli about doing something about him. I'm grabbing that back from all the male military historians."
Surprise doc hit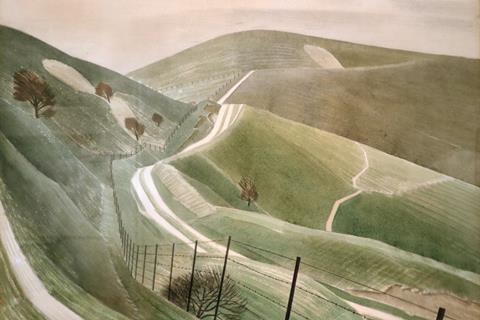 Released by arthouse doc specialists Dartmouth Films, Eric Ravilious: Drawn To War, about the forgotten UK war artist Ravilious, has outpaced expectations since taking £22,418 on its opening weekend (July 1-3) in the UK and Ireland. It has grossed £164,513 (as of July 25), and is still in 39 locations, with mid-week showings a key factor in the feature's success.
This makes it Dartmouth's biggest ever release, comfortably beating 2019 doc about Hampstead Heath's swimming culture The Ponds, which grossed a total of £86,284. It is the best performance from an indie arthouse documentary since before the pandemic.
By comparison, other recent opening weekends in the market have included Dogwoof's McEnroe, (£7,962); Dartmouth's Julian Assange documentary Ithaka (£2,320); Altitude's Princess Diana archival doc The Princess (£3,430) and Signature Entertainment's Queen Elizabeth II title Elizabeth (£4,074).
"I've always been absolutely dedicated to the cinema," says Kinmonth. "Bit old-fashioned, they may say, but now look at me, I've proved them wrong."
Kinmonth was so dedicated to the theatrical release that she came close to self-distributing. "The projected margins were so risky, we very nearly self-distributed, and created a business plan for that," said Kinmonth. Three to four months ahead of Kinmonth's plotted July 1 release date, Dartmouth Films came on board to distribute in the UK and Ireland. "We knew [founder and managing director] Christopher Hird at Dartmouth Films and knew their record for distribution might match my film," explains Kinmonth. She has the international rights and says she is in active talks with international distributors.
Dramatic start
Kinmonth began her career in TV drama, on UK soaps EastEnders, Casualty and Grange Hill. A dislike for the development stage of drama production propelled her into the documentary space. She has gone on to make 2013's Royal Paintbox, about Prince Charles' passion for watercolour painting, as well as docs exploring Russian culture, such as 2014's Hermitage Revealed and 2016's Revolution – New Art For A New World.
But Eric Ravilious: Drawn To War proved an impossible sell for funders. "The film has been turned down by many bodies who should have really helped. The BFI, Creative England, [National] Lottery, Art Fund, BBC – all the different channels, all repeatedly rejected the idea. I did apply over and over again for different partners of funding."
Kinmonth soldiered on, with the blessing from Ravilious' family, who gave her access to his letters. Then, the pandemic struck. Inspired by a crowdfunding campaign to save artist Derek Jarman's cottage, Kinmonth set up a crowdfund for her film.
"I had never done one in my life," says Kinmonth. "All of my films had been funded on a bigger basis by foundations or broadcasters. Some people wanted to support me because they liked me and my films, others liked the artist, and some wanted to support the industry in the dark times of Covid."
With the help of three cornerstone investors, Kinmonth was able to keep the project moving during the pandemic. "Because I had nobody looking over my shoulder, I made the film I wanted to make. A television company could have funded it, but it would have made a very different film. I'm looking at a much richer, longer, more emotional story, and that's why audiences have responded to it. They come out of the theatre crying."
Secret to success
Ravilious was predominantly a landscape artist, who used watercolour paints as his medium. He was killed while in active duty during the Second World War, in 1942. This year marks the 80th anniversary of his death. Kinmonth's project is the first full- length feature documentary about Ravilious, and includes commentary from including Ai Weiwei, Alan Bennett, Grayson Perry, and Robert Macfarlane.
In Sussex, where both Kinmonth and Ravilious grew up, he is a well-regarded figure. "He's on tea towels, mouse mats, postcards and fridge magnets," says Kinmonth. "I knew he was a popular British artist, but he's not known in museums. He's undervalued."
Dartmouth Films looked to Ravilious fan pages on social media, inviting the admins of the pages to press and preview screenings, and working alongside them to create key marketing assets, as well as reaching out to organisations with links to the artist.
"Our grassroots approach here ensured that we could rely on relevant local organisations, including galleries that have exhibited works of Ravilious, across the country to amplify the film in their communities, and through their networks," notes Dartmouth Films' distribution and sales manager Wayne D'Cruz. "The film was most successful in London and the south east—Ravilious was born in Acton in [west] London, and grew up in Sussex. The local connection proved advantageous to many cinemas in the region."
Top performing sites include Depot in Lewes, Sussex, Towner Eastbourne, Curzon Mayfair, and ActOne in Acton.
"There's something about Ravilious that's a shared secret," adds Kinmonth. "The gatekeepers who were saying no one has heard of him were wrong. People have great affection for him."