The introduction of a nationwide apprenticeship levy is causing concern throughout the UK's film and TV sector.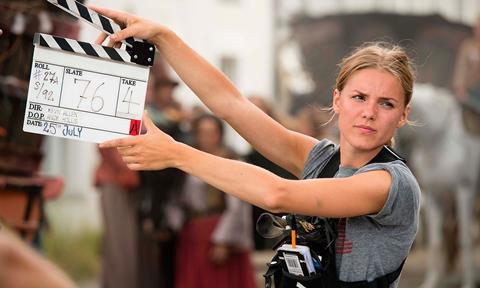 Click here to read more of Screen's training focus
The UK's new nationwide apprenticeship levy is designed to give a major boost to skills and training across all industries in the country. Yet just weeks before its launch at the beginning of April, it is inducing a state of high anxiety in the UK's film and TV sector.
At best, it will cause short-term discomfort. At worst, many fear it may damage the long-term prospects of the industry if not modified.
"We are all doing everything we can to make sure the apprenticeship levy is fit for purpose for our industry," says Adrian Wootton, CEO of Film London and the British Film Commission (BFC). "In terms of the creative industries, not just for film but for television, music, games and everything else, it would be fair to say that it isn't."
The levy will compel any employer, in every industry, with a payroll of more than $3.64m (£3m) to invest 0.5% of their annual pay bill towards apprenticeships. Each employer will receive an allowance of $18,200 (£15,000) to offset against their levy payment. The levy will start being raised in April and will go into companies' digital voucher accounts by May, and the companies will be able to spend their vouchers on training for apprentices. It is expected to raise $3.4bn (£2.8bn) by 2019.
The cause for concern for many in the film and TV industry is that it has been designed as a one-size-fits-all model that does not pay particular attention to the way the film and TV industry works. For example, among the rules governing the apprenticeships are requirements that training will last at least 12 months and that apprentices must spend 20% of their time on off-the-job training.
Fiona Francombe, site manager at Bristol's The Bottle Yard Studios (which houses TV shoots such as Broadchurch, Poldark and Sherlock), says the new system fails to take into account the freelance nature of employment in film and TV and other creative industries. "There needs to be a different structure for this industry," she says. "Very rarely does a production work for a whole year where you can give someone a 12-month grounding with a job at the end of it."
"Too prescriptive"
While the levy will work fine for some positions, particularly office-based jobs, it poses difficulties in the craft, technical and production areas. These tend to be the freelance jobs, few of which last for 12 months, and are the ones in which there are the greatest skills shortages.
Employers will have to spend the money in their digital voucher accounts within two years or they lose it. If the latter, the money will not be ring-fenced for the film industry, instead it will be fed into a holding organisation called The Skills Funding Agency. From 2018 onward, employers will be able to transfer up to 10% of the amount of vouchers in their pot to other employers if they don't use them.
"The fact the levy is so prescriptive makes it challenging for us," says Amy Smith, global head of recruitment at leading VFX outfit Framestore, which is set to fall within the $3.64m (£3m) threshold.
"We will be paying a quarter of a million pounds in levy and to reclaim all of that, if we use all of that on apprenticeship training, if we only looked at apprenticeships at that entry level, we would be looking at something like 50 to 60 apprentices. This is not a business where we can have 50 to 60 18-year-olds in the business at one time. That's just not practical for us."
The point is echoed by Dan Simmons, head of partnerships at Creative Skillset. "Unlike construction, where you might have thousands of people going through these apprenticeships, for us in the creative industries it is challenging because you are talking about smaller volume going through," he says.
The view from Hollywood
A further concern is how US companies making film and TV in the UK will react to the levy. As they have to create UK companies to access the film and high-end TV tax reliefs that help make UK locations so attractive to them, from April they will also be subject to the new apprenticeship levy.
Iain Smith, chair of the BFC and one of the UK's most experienced producers, believes the US studios understand and accept the rationale behind the levy.
"The major studios regard training and education as an asset, not a liability, and greatly value the high skills capability of the British industry," Smith says. "It is one of the reasons they make all their most complicated and technologically challenging blockbusters here. The tax relief brings them in, but it is our human and technical capabilities that keep them coming back for more. The levy is designed to be returned back into training and so is generally seen as a good thing."
Nonetheless, even Smith is calling for the application of the levy to be as "flexible as possible".
Simmons is part of the group lobbying the government to tweak its rules so they make more sense for the film and TV industries. One solution he floats might be for employers within film and TV to be allowed to share apprentices over a 12-month period. It would also help if the amount of the vouchers eligible to be transferred to other employers could be raised far higher than 10%.
Understandably, film and TV employers want to keep the money they invest in apprenticeships in their own sector, not have it diverted to a central UK fund. That's why Simmons says the role of companies not big enough to pay the levy is important. "We are trying to raise awareness among smaller and non-levy-paying companies to say that with a 90% subsidy towards the training, this could be a really good opportunity to get involved with apprentices," he says.
These smaller companies would still have to pay the wages of apprentices they take on but, under the government rules, would only need to pay 10% of the off-the-job training costs. "We need lots of non-levy payers to get very actively involved," Simmons adds. "A lot of levy payers are not going to use all their vouchers. If we want to make sure these contributions stay in our industry, then we need lots of non-levy payers to take on apprentices."
EU rules still apply
Swapping vouchers, sharing apprentices and transferring levy funds won't be straightforward, however.
As Dinah Caine, chair of Creative Skillset's board of directors, points out, the apprenticeship levy system was modelled before the Brexit referendum and falls under EU rules. "The [EU] state-aid rules still apply until we actually leave [the EU]," she says. "There are two issues. One is that under the minimum state-aid regulations, you can only move a certain amount of money between companies. The second is that government is concerned about the transfer of vouchers or money to a third party… they're worried about fraudulent activity."
With the levy system due to launch in April, there is little time for modifications to be made. However, an encouraging sign is the identification by the government that the creative industries, including film and TV, are one of the five sectors warranting special attention in the Industrial Strategy Green Paper published in January 2017. Peter Bazalgette, chair of UK broadcaster ITV, is conducting an independent review into the creative industries and part of his mandate is to explore how best to grow talent pipelines.
Furthermore, the British Film Institute (BFI) is due to reveal the results of an analysis conducted by The Work Foundation into the future training needs of the film industry next month. The findings will inform a major Skills Audit being conducted by the BFI, chaired by producer Barbara Broccoli, which will inform future strategy.
It is not as if the industry has been ignoring training. There is already a very well-regarded Skills Investment Fund in place that Creative Skillset collects on behalf of the industry. Introduced in 1999, this is a voluntary levy on production that asks for a contribution of 0.5% of UK core expenditure capped at $50,000 (£40,860). There is no intention to scale back the Skills Investment Fund, although there is a fear companies will stop paying the voluntary version. "We are looking at how the two align and can complement each other," says Simmons.
Individual companies such as Framestore also run their own training schemes. Framestore took on five apprentices last autumn. Six months in, Smith says, these youngsters are "flying" and are already engaged in real work, "delivering it to the quality and on the schedule we expect".
"Incredibly valuable"
The new levy is intended to be to employers' advantage. If an employer uses it properly, they will get out as much as they put in. Inward investment from film and TV production reached record levels last year and the order books of the studios and post-production houses are already full this year. There is an obvious demand for new trainees to come into the industry. Paid apprenticeships should broaden the talent base while increasing social mobility and diversity within the industry.
"There are two reasons why apprenticeships could be incredibly valuable for us," says Smith. "One is that there is so much work in London and competition for existing talent is incredibly high. Brexit is on the horizon and we don't know yet what that means for Europeans. At the moment, our industry relies on approximately 26% EU talent. Obviously, if the worst-case scenario was to happen and we don't have a talent pipeline in the UK, that would be a huge oversight."
Simmons also points out the apprenticeship system isn't just about giving a leg-up to school leavers. "People think that apprenticeships are about bringing 16- to 18-year-olds into the industry. It's absolutely not just about that," he says. "You can have high-level apprenticeships, you can have degree apprenticeships. You can really upskill people as well. It is not just about new talent."
For all the teething problems surrounding the levy, Caine is confident they can soon be resolved. "This isn't a disaster for these [creative] industries," she says. "It's challenging. What we've all got to do together is make the arguments and show that with a bit of nuancing and a bit of flexing, we can achieve what the industry wants — growth, jobs, productivity, success, quality, great films and great content — and the government can also see a key agenda it wants to pursue. Everybody is talking and working to try to find a solution. We've got a great industry and logic dictates we are going to make this work."
Does Canada get it right?
Quebec operates a well-liked and well-resourced apprenticeship levy tailored to the film and TV sector. John Hazelton reports.
Quebec is the only Canadian province to fund training and apprenticeship through a levy.
Every employer with a total payroll for a given calendar year of more than $1.5m (c$2m) — including local film and TV companies and foreign producers who shoot in the province — is required to participate for that year in the development of manpower training, either by allotting an amount equal to 1% of payroll to in-house training of staff or crew or the hiring of apprentice trainees, or by contributing that amount to a training fund. If less than 1% is spent in-house, the remainder has to be contributed to the fund.
Employers can choose whether to make the contribution to the province's Workforce Skills Development and Recognition Fund, to which Quebec companies in any industry can apply for training subsidies, or to an organisation, known as a 'mutual', that develops and implements training services for the workforce of a specific economic activity, region or industrial sector.
Currently, the mutual for the audiovisual sector is the National Institute of Image and Sound (L'inis), a Montreal-based non-profit whose member associations are guilds and unions including the Guilde Canadienne des réalisateurs (DGC), the Alliance of Canadian Cinema, Television and Radio Artists (ACTRA) and branches of the International Alliance of Theatrical Stage Employees (IATSE).
Strong track record
Dedicated entirely to film, television and new media, L'inis says it has put more than 10,000 film and TV workers through its professional development programmes over the past 20 years. Those involved in screen training in Quebec suggest that the province's levy system — originally applied to payrolls as small as $185,000 (c$250,000) — works because employers know that funds contributed to L'inis will stay within the film and TV industry. And because the money, as well as going to pay for apprenticeships, is used for continuing education: training classes and workshops in subjects ranging from VFX to safety. The strategy, say the system's proponents, helps keep Quebec's workforce competent in fast-evolving areas such as digital post-production and audiovisual software.
"We make sure that all the training organised by L'inis is responding to the needs of the industry," says Chantal Barrette, business agent at the DGC, who has been involved with several film industry mutuals. "We decide collectively where the money should be put, what workshops and training courses we need.
"If an employer has a special request — because they want to use new software on a production, for example — they can ask L'inis to organise training [in the use of the software] and we would do it. We answer the needs that are right there."