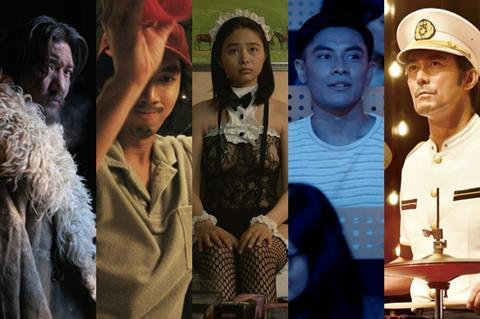 The 21st New York Asian Film Festival is underway and several titles are already dominating conversations at the event.
Screen spoke to industry and audiences at the festival, which has returned as a fully in-person event for the first time since 2019, to gauge which of the nearly 70 films screening at New York's Lincoln Centre are generating some of the most interest.
NYAFF runs July 15-31 and is set to close with Korean director Choi Dong-hoon's sci-fi fantasy Alienoid.
The Sales Girl (Mong)
Dir. Janchivdorj Sengedorj
Nearly everyone at NYAFF is talking about The Sales Girl, a Mongolian sex comedy about a college coed – played by newcomer Bayartsetseg Bayangerel – who takes a temporary job in a sex shop and begins a journey of self-discovery. Mongolian films are often characterised by their setting amid nomads on the cinematic steppes but this feature is distinctive for its urban setting and its young protagonist evokes the wry tone of Ghost World. Director Janchivdorj Sengedorj is one of Mongolia's most prominent directors, whose previous features including the award-winning Oxygen and Thief Of The Mind as well as more recent titles Life: Admidral and I, The Sunshine.
One And Four (China)
Dir. Jigme Trinley
This whodunnit set in the remote wilds of a Tibetan forest has shades of Agatha Christie and Quentin Tarantino's The Hateful Eight. It revolves around a forest ranger who takes shelter in a wooden cabin and is visited by a man who claims to be a policeman on the hunt for a poacher – but may be the poacher himself. To say more would spoil the surprises that unfold. It marks the directorial debut feature of Jigme Trinley, the son of leading Tibetan auteur Pema Tseden who also produces through Mani Stone Pictures, and marks the filmmaker as one to watch.
Fast And Feel Love (Thai)
Dir. Nawapol Thamrongrattanarit
This Thai comedy went down a storm with audiences as NYAFF's opening night film. On the surface, it is about a man who has devoted his young life to becoming the world's fastest sport stacker (aka cup stacking). But it also explores his relationship with a previously devoted girlfriend, played by Screen International Rising Star Urassaya 'Yaya' Sperbund, and a hilarious ensemble of supporting characters. The seemingly juvenile sport is presented like a Hollywood action blockbuster with wry references to films including Parasite, Taken and (of course) The Fast And The Furious. Thai director Nawapol Thamrongrattanarit is known for features such as Die Tomorrow, which played at the Berlinale in 2018, and the award-winning Heart Attack.
Offbeat Cops (Jap)
Dir. Eiji Uchida
Hiroshi Abe plays a tough detective in this Japanese musical comedy whose violent methods sees him transferred to play in the police band. Abe is known for his roles in Hirokazu Kore-eda's Still Walking and After the Storm as well as Hideki Takeuchi's Thermæ Romæ, for which he won his first Japan Academy Film Prize. Director Eiji Uchida is also known outside of Japan as a director on Netflix comedy-drama series The Naked Director. The film is a self-confessed favourite among some of NYAFF's programmers who observe that behind the orthodox comedic facade, it's a chronicle of middle age failure, and coming to terms with bitterness and what you have.
#LookAtMe (Sing)
Dir. Ken Kwek
Malaysian-born, US-based actor Yao (aka Thomas Pang of Tiong Bahru Social Club) gives a tour-de-force performance in this queer social drama, which places the spotlight on the ever-growing cultures of YouTube and surveillance. The story centres on a renegade vlogger who ends up in jail after posting a video criticising a televangelist who has been demonizing homosexuality – leading his free-thinking single mother and his gay identical twin to fight for justice. Told using a diversity of genres, director Ken Kwek effortlessly swerves from serious to camp in this condemnation of barbaric laws. It marks Kwek's second feature after Unlucky Plaza, which debuted at Toronto, and shorts anthology Sex.Violence.FamilyValues., which was banned by Singapore's Board of Film Censors and by the Malaysian government, causing public outrage and prompting censors to reverse their decision after Kwek released a Singaporean version with beeps (the original version sold to US distributor Virgil Films).
Jean Noh contributed to this report.