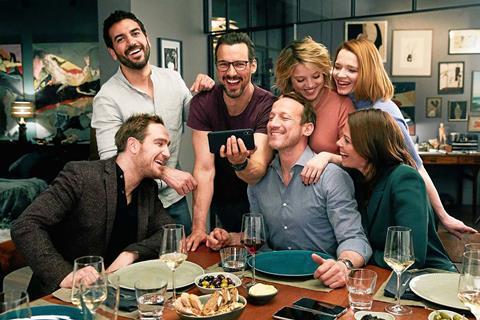 The first 11 months of 2019 have seen admissions and box office rise year-on-year, giving German distributors and exhibitors a reason to smile after a gloomy 2018. Admissions have climbed by 18% to 97.4 million while ticket revenues increased some 14% to $941m (€849m) in the period.
With Frozen II still riding high in the charts and Star Wars: The Rise Of Skywalker, Cats and local title When Hitler Stole Pink Rabbit (Als Hitler Das Rosa Kaninchen Stahl) due to open in German cinemas before the end of the year, the Association of German Distributors (VdF) is confident the €1bn ($1.1bn) threshold will be passed and total admissions could end up hitting 110-120 million. (Admissions failed to cross the 100 million mark in 2018 for the first time since German reunification in 1990.)
Only two local titles — The Perfect Secret (Das Perfekte Geheimnis) from Suck Me Shakespeer (Fack Ju Göhte) director Bora Dagtekin and Caroline Link's All About Me (released by Warner Bros on December 25 last year) — made it into the top 20 films as of December 1.
European affair
The only non-US international films in the top 50 were French titles: Philippe de Chauveron's Serial Bad Weddings 2 released by Neue Visionen and the France-Germany animation Mia And The White Lion, released by Chauveron. The former failed to reach the dizzy heights of Serial Bad Weddings' first outing when it posted $31.7m (€28.6m) to become Germany's third biggest film of 2014. However, the $11.8m (€10.7m) box office and 1.3 million admissions for the film helped Neue Visionen (which also released the previous film) to garner a 2% market share in 2019.
Almost half of the 13.7 million admissions for German films were for The Perfect Secret and All About Me. While the local market share amounted to 24.6% in 2018 for a total of 22.1 million admissions, the share had fallen to 16.9% in 2019 as of December 1. Moreover, 2019 was a disappointing year for local films targeted at children and young people, normally a strength of the local production sector. Last year Jim Button And Luke The Engine Driver and The Little Witch attracted 1.9 million and 1.6 million spectators respectively.
One bright spot was the surprise success of Nora Fingscheidt's international festival favourite System Crasher, which is now on course to clock 600,000 admissions. The film was still screening at 250 sites at the beginning of December after its 10th week on release.