Haifa International Film Festival (October 12-21) is expanding its international outlook, while supporting the work of local Israeli filmmakers.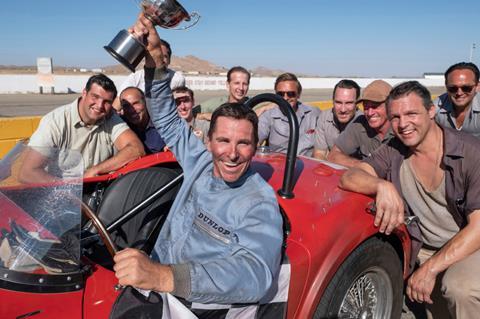 Haifa International Film Festival (HIFF) has always striven to reflect the diversity of this unique Israeli city — home to followers of six different faiths — and this year's festival remains dedicated to supporting the work of Israeli filmmakers.
At the same time, HIFF is cementing its reputation as a global festival of note: the 35th edition will deliver a line-up of 200 films from around the world, a packed industry programme and a roster of high-profile international guests.
"Haifa International Film Festival has come a long way," says the festival's artistic director Pnina Blayer. "Not only has the festival grown in the number of films we host, but also the number of international guests. In our darkened screening halls, film enthusiasts can dive into diverse stories from around the globe, while outside the theatres connections are woven between Israeli creators and international film industry professionals."
Bookended by James Mangold's Ford v Ferrari and Edward Norton's Motherless Brooklyn, the festival's gala section includes Rupert Goold's biopic Judy, John Crowley's The Goldfinch and Benedict Andrews' Seberg. The Masters strand screens Agnes Varda's Varda By Agnes, while Panorama is showcasing Honey Boy, written by Shia LaBeouf and directed by Israel-born Alma Har'el.
The festival's competition strands are also showcasing global talent. The line-up for the international film competition includes Alejandro Amenabar's While At War and Yonfan's No.7 Cherry Lane, and the jury is headed by Polish director Krzysztof Zanussi. The Golden Anchor competition for international debut films includes Cenk Erturk's Noah Land, while Marco Kreuzpaintner's The Collini Case is playing in the Between Jewish and Israeli Identity competition.
The festival's international guests include Claude Lelouch, who will receive the lifetime achievement award, and Norwegian director Hans Petter Moland, who is serving on the Israeli feature competition jury and will be present for Masters screenings of his films Out Stealing Horses and In Order Of Disappearance.
Industry programme
Curated by Ruth Lev-Ari, HIFF's industry programme brings together the local and international film industries. Events include an international pitching forum for the development of films, and the Cinemarket work-in-progress screenings. The latter will present one project with the Post Republic post-production award.
There will also be masterclasses from filmmakers including Australian director Stephan Elliott (The Adventures Of Priscilla, Queen Of The Desert), Polish director and European Film Academy chair Agnieszka Holland, who will also present the premiere of her latest film Mr Jones, and Oscar-winning filmmaker Guy Nattiv (Skin). Furthermore, the Haifa Script Distillery is developing, with Israeli scriptwriters, feature and television screenplays in English for the international market.
Now in its sixth year, Haifa Television Series is expanding to premiere three series: Shira Geffen and Etgar Keret's The Middleman, produced by Les Films du Poisson in co-production with ARTE France and GapBusters; Yossi Madmoni, Tamar Kay and David Ofek's Unchained, produced by Herzliya Studios for KAN 11 Israeli Public Broadcasting Corporation; and Omri Givon's The Grave, produced by Dream Team — Chaim Sharir and Mosh Danon — and Federation Entertainment for Keshet.
HIFF will also host a TV Talk round­table discussion with speakers including Holland, Channel 4 drama commissioner Lee Mason and The Middleman producer Yael Fogiel.
The festival is also expanding its virtual reality and augmented reality (VR/AR) section — curated by Tal Michael Haring — the centrepiece being an international VR/AR exhibition. The impact of such technologies on filmmaking and storytelling will be explored as part of New Media Industry Days, and HIFF will host a special Canadian and Israeli delegation of 12 new-media filmmakers who will take part in a programme of discussions, workshops and mentorships.
Local talent
While HIFF 2019 may have a decidedly global flavour, the festival is strengthening its remit to support and champion local filmmakers. Under the industry banner, the Pitching Forum and Script Distillery are open to Israeli filmmakers looking to forge international connections, while many of the guests — such as director Avi Nesher, who will screen a restoration of his 1998 film Taxman — are from the local industry.
In addition, Israeli films will screen across the festival, with three competition strands devoted to local content: best Israeli feature (which includes the likes of Oren Gerner's Africa and David Ben Ari's Mirage), best Israeli documentary (including Itamar Rose's 100 Million Views and Lena Chaplin's Underground Ballet) and best Israeli short.
For further information visit here
Israeli Feature films Competition
Africa, feature debut
Dir. Oren Gerner
The Art Of Waiting, world premiere
Dir. Erez Tadmor
Golden Voices, world premiere
Dir. Evgeny Ruman
Mirage, world premiere
Dir. David Ben Ari
Mr. Kohl's Final Hour, world premiere
Dir. Doron Eran
Reborn, world premiere
Dir. Yaron Shani
Happy Times, world premiere
Dir. Michael Mayer