Animator-turned-director Travis Knight explains why he connected with Kubo And The Two Strings' epic vision, and the tricks he unleashed to realise Laika's latest stop-motion triumph.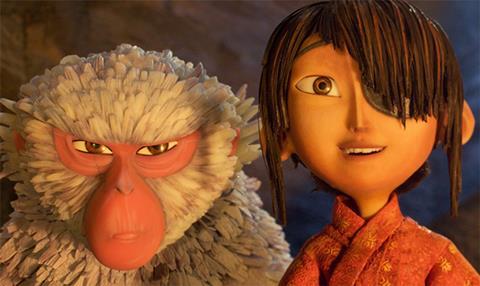 No one could accuse Travis Knight (pictured), president and CEO of Oregon-based animation studio Laika, of lacking creative ambition.
When Kubo And The Two Strings, the company's latest 3D stop-motion feature, was in development "we talked about making a stop-motion David Lean film, a monumental Kurosawa myth, but in miniature," Knight recalls. "That's antithetical to the way stop-motion is made. Kubo is big and epic, but in reality these are small-scale movies; they're shot on a bunch of gussied-up table tops in a crummy warehouse in Portland.
So we had to dig into our bag of tricks - and come up with some new tricks - to make sure we could do what the story required."
It wasn't the ambition involved, however, that led Knight - previously lead animator on the company's Oscar-nominated features Coraline, ParaNorman and The Boxtrolls - to make Kubo his directing debut. Rather, it was the personal connection that the Laika chief felt with the story (credited to Shannon Tindle and Marc Haimes, who also wrote the film's screenplay with Chris Butler) about a kindhearted boy who uses a magical musical instrument and the paper-folding art of origami to spin stories for the people of a small fishing village.
Set in a fantastical version of ancient Japan, the tale reflects the love of fantasy fiction that Knight inherited from his mother, and the fascination with Japanese culture that began in childhood when he tagged along with his father, Nike co-founder Phil Knight, on a business trip to that country.
Other parts of the story - which sees Kubo (voiced by Game Of Thrones' Art Parkinson) joining forces with a talking monkey (Charlize Theron) and an enchanted beetle (Matthew McConaughey) on a quest to save his family from a vengeful spirit (Ralph Fiennes) and solve the mystery of his fallen samurai father - reminded Knight of himself and his elder brother, who died in a 2004 scuba-diving accident.
"I started to see the parallels between the story and my own life," Knight says, "and that's what unlocked everything for me. The kid is a musician, a storyteller, he's essentially an animator in the way he brings inert objects to life through his artistry."
As the narrative unfolds, Knight notes that it deals with "that time in our lives when we cross the rubicon from childhood to adulthood. Death is a part of that as well, and I saw an opportunity to lean into that and explore it, hopefully in a poetic way that kids can understand."
The result is "a blend of lightness and dark, humour and heart. The classic stories I loved growing up all had those ingredients and that's what I wanted to convey".
Visual scope
Besides directing greats David Lean and Akira Kurosawa, the film's visual influences included origami and its paper-cutting variation kirigami, ink wash painting, Noh theatre and ukiyo-e (translated as 'pictures of the floating world'), an art form most identified with classical Japanese woodblock prints such as Katsushika Hokusai's The Great Wave.
"In the past we've done films that are fussy, that have nervous line qualities," Knight explains. "In this film things are fairly geometric, in keeping with the classic Japanese aesthetic. We simplified large organic shapes in our sets and we wove wood grain texture into every single surface, using a library of 30 different textures and scaling them up or down depending on the size of the object. So in the end it looks really unusual, like a living woodblock print."
The scope of Kubo's story also required Laika to make the most of its hybridised film-making process, which combines stop-motion work with physical puppets and sets with the kind of CG elements often used in live-action projects. While most of the film is stop-motion, that footage is sometimes enhanced through the use of digital matte painting, digital set extensions and digital puppets to fill out crowd scenes.
Kubo even employed stuntmen and a fight co-ordinator (Aaron Toney, known for his work on Guardians Of The Galaxy and other superhero blockbusters) to help shape the story's action sequences.
"We wanted it to have gravity," says Knight, "to have the vibe of a live-action film, so we took a different approach."
Different approaches were also necessary to help Laika meet some of the film's considerable technical challenges.
The story pits Kubo, Monkey and Beetle against a series of outlandish monsters, among them a group of giant eyeballs in the underwater Garden of Eyes. The garden was populated by shooting a single 11-foot puppet, topped with a beach ball-sized Perspex sphere inside which were bingo balls fitted with LED lights, from different angles.
The eyeball was controlled remotely from what was essentially a proxy puppet; a bowling ball fitted with two hacked computer mice that transmitted stop-motion movements from the proxy to the real puppet. And the creatures' tentacles were driven by pre-programmed cables attached to a frame.
Another monster, the serpentine Moon Beast, was inspired by a prehistoric fish and brought to life as Laika's first fully 3D-printed puppet.
Using the rapid prototyping process for stop-motion facial replacement that earlier this year won the company a Science & Technology Academy Award, as well as software developed specially for the film, the Laika team built the Moon Beast from 130 colour 3D-printed parts mounted on an internal gooseneck armature similar to the kind used on desk lamps and microphone stands.
"Then it all had to be suspended by external rigging," Knight reports, "because the Moon Beast is flying through the air. It was a real challenge because you'd have all these hard surfaces smashing into each other, and that's not something that's easy to animate."
Creative satisfaction
The finished film - released in August by Focus Features and Universal Pictures, with worldwide box office standing at a healthy $67.5m as of late October - illustrates what Knight describes as Laika's "inherent creative restlessness. The people at the studio love the idea of taking the medium to a place it's never been before".
As for Knight himself, he found his first directing gig to be "exhausting, and yet at the same time the most creatively satisfying thing I've ever done". After seven years as both an animator and company president, wearing two hats is now "second nature", he says. On Kubo it meant that "the decision-making process was streamlined. I always wanted to make sure that whatever effort we put into the film, we would see on screen. And in fact the film came in on time and under budget. So yay me!"
Ship shapes: filming Kubo on the water
In a central segment of Kubo And The Two Strings, the heroes have to cross a dangerous lake in a sailboat conjured into existence through the maturing magic of the film's title character. And Laika artists and technicians had to do some conjuring of their own to get the segment in the can.
Three prop models of the boat - meant to look like a traditional junk constructed, origami-style, out of leaves and driftwood - were built over four months by a team of 16 carpenters and model makers. Measuring 14-feet high, 12-feet long and four-and-a-half feet wide, the models were made of bendable plywood over a metal frame then covered with 250,000 laser-cut paper leaves.
Whichever model was being shot was mounted on a duopod or hexapod motion-control table, allowing either two or six axes of movement. And the models were filmed either close-up (they were made in sections to allow easier camera access) or, as director Travis Knight describes it, "Jaws-style" - as if the camera was on another boat, tossed by the same swell.
The technique "gives this whole sequence really great urgency and energy," says Knight, "but it was a monumental effort to co-ordinate and make it feel spontaneous and real."
Shooting the voyage - which includes a ferocious battle between Kubo and his evil twin sisters (both voiced by Rooney Mara) as well as the character's descent into the sinister Garden of Eyes - took 19 months, and required all the creative and technical resources Laika could muster.
"Working in water is a nightmare in stop-motion," says Knight. "Everything about [the sequence] was ridiculously hard: we go above the water, we go below the water. There's a disintegrating boat as the ground for a hyper-kinetic brawl, during a hurricane on top of choppy water. It was by far the most challenging sequence in the entire film."