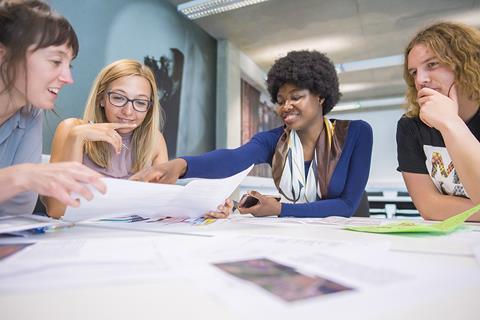 How do you equip emerging film executives with the skills they will need in five years' time when the screen industries are transforming at such a rapid pace?
That is the challenge embraced by two forward-thinking MA courses at the UK's National Film and Television School (NFTS): One covers marketing, distribution, sales and exhibition and is headed by sector expert Deborah Rowland; the other is creative business for entrepreneurs and executives and is led by the school's head of producing and veteran UK producer Chris Auty.
"[With] the decline of home entertainment and the increase in the number of platforms [such as Netflix and Amazon], the monetisation of value has become really complicated," says Auty. "The industry needs people who can see where it is now but try and guess where it's going to be in two years' time."
The seismic film industry changes driving the need for new training are myriad; constant technological change, the growth in high-end TV production and increased globalisation, with traditional commercial models now firmly disrupted for good.
"Our students need an international perspective and can't think of businesses as silos," Rowland explains. "One of the biggest developments we've seen is that sales agents, distributors and exhibitors can't work in isolation anymore. Sales agents are now producers, distributors are exhibitors, exhibitors are marketeers. [Execs] must have that breadth of understanding across how all sides of the business work and be able to operate in that in collaborative way."
Rowland's course in marketing, distribution, sales and exhibition is designed to teach participants how to sell, market, distribute and exhibit films, television and games in the digital age. The course, supported by the UK Cinema Association, was created in 2016 following a "listening exercise" across the industry, in which leading figures such as Universal Pictures' international distribution chief Duncan Clarke, Pride producer David Livingstone and former eOne president Xavier Marchand told the NFTS there was a gap in and a need for this kind of training.
Students must now be able to combine strategic thinking with specific skills for the digital age. "How do you word a tweet or hashtag that will engage an audience," adds Rowland. "We're needing to be more authentic with how we connect with audiences."
She cites ITV2 megahit Love Island as an interesting case study of a brand building online and offline engagement for 'generation Z', an audience that are hard to reach for film.
"Look to the games industry," adds Auty, "which has such a plethora of models, from in-game purchase through to high-end studio level marketing campaigns for expensive products, through to direct to consumer products that run through the Apple store… [how can] we apply some of that creative thinking to film?"
Thinking globally is now more important than ever because the channels for distribution have become so complex and different from territory to territory. NFTS students must pick a country and produce a deep dive on what makes the film, TV and games economy tick in that region. "It's the sort of pitching document that a new exec at one of the studios would be given if he stepped off the plane in Japan or Brazil," says Auty. "If you take Latin America and compare to Japan, or the UK, you're fundamentally looking at very different business models in each case."
The NFTS' creative business for entrepreneurs and executives MA, also set up in 2016, is for those wanting to set up small to medium-sized business in creative industries, and spans film, TV, music, game, theatre and publishing industries. Auty leads the course, with former Endemol Shine North MD and LADbible head of video Alex Connock running the second year.
The course underlines the need for young execs to think about business as a cross-sector proposition. For example, how can the film industry can take inspiration from the way rights are structured and royalties flow in the theatre world? Or how book retailer Waterstones rebounded under the leadership of CEO James Daunt thanks to improved customer service and a focused buying policy. Can these lessons be applied to the sale of film tickets?
This kind of training mirrors the experience execs might acquire at a company like Comcast NBCU, which recently hosted NFTS students for an all-day session, where "you have hundreds of commercial experiences happening every hour that you can learn from," says Auty. "In the independent film world its typically chaotic and has been relatively not broad looking, so in a way what we're trying to do is give people in the independent sector a sense of the kind of training they would get spending 15 years going through one of the major corporates."
Fundamentally, having the knowledge and skills to understand all the new potential revenue streams in the creative sector is key. "There have always been entrepreneurs in the film industry and there still are," says Rowland. "But now every single person in the company has to be thinking that way."