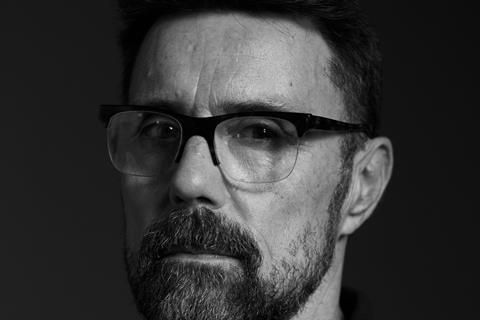 When Swedish pop group ABBA first started talking to UK director Baillie Walsh to about the concept of ABBA Voyage, the idea was to make it more as a film than as a live stage show. But Walsh, a filmmaker whose work has encompassed documentary, commercials, pop videos and one fiction feature, turned out to be the one who was most adamant ABBA Voyage should feel like a live event, not a film.
"When I came in, it was much more cinematic rather than a live concert with life-size avatars," explains Walsh, who was appointed director after being introduced to ABBA songwriters Benny Andersson and Björn Ulvaeus via Zoom in August 2019.
The Swedish quartet had originally wanted to create an audiovisual accompaniment to Voyage, their first studio album since 1981's The Visitors, and had been developing ideas with Chernobyl creator, Sweden's Johan Renck, and with producers Svana Gisla and Ludvig Andersson (son of ABBA member Benny Andersson). Gisla had worked with Walsh on documentary feature Springsteen And I in 2013 and earlier on Oasis videos, one of which developed into the feature-length concert-tour film Lord Don't Slow Me Down in 2007. Gisla and Renck also run a production company together, Gisla Renck.
When Renck moved on following the success of Chernobyl, Gisla called Walsh. "I took a breath and said, 'Well, I'd be mad not to,'" he says. "It's such a massive opportunity. But it wasn't clear what this thing was at this point."
ABBA Voyage is a 95-minute virtual concert in a purpose-built arena at the Queen Elizabeth Park in east London, combining a live band, digital avatars of ABBA (as they looked in the 1970s, with motion capture and visual effects by Industrial Light & Magic), a giant screen, animated sequences and light show. Swedish entertainment company Pophouse is co-developer and lead investor, and the budget is £140m ($168m). The run of the event is open-ended, and tickets are currently available until May 2023.
Walsh began by putting himself in the shoes of the audience. "We've got to fill that arena with 3,000 people a night. How are we going to do this, and is a cinematic experience going to fill the arena?
"My questions were: what do I want to see? Gradually, I came to realise, what I would want to see is life-size avatars, and I would want to go to a gig. So let's make this as much of a gig as we possibly can. Let's make this a live concert."
Learning curve
Born in London and raised in Essex, Walsh attended Colchester School of Art (now part of Colchester Institute), studying art and graphics. In his 20s, a chequered career saw him living in Los Angeles as a coin dealer, before working as an erotic dancer at London's Raymond Revue Bar, and as a model. "And then, at the age of 25, I realised I wanted to be a director," he says.
Walsh was part of a fashionable London 1980s set clustered around performance artist and club promoter Leigh Bowery. He made a series of short videos and films featuring his friends, including the 1987 music short Boys, sampling dialogue from Mike Leigh's Abigail's Party.
Boys caught the attention of UK pop star Boy George, who asked Walsh to direct two music videos ('After The Love', 'Generations Of Love') – launching Walsh's professional career. But it was his pop promos for Massive Attack, beginning in 1991 with 'Unfinished Sympathy', filmed in Downtown Los Angeles in one continuous shot, that won the biggest plaudits. He went on to direct videos for artists including New Order, INXS and Kylie Minogue.
Walsh made his feature debut with documentary Mirror Mirror, chronicling the life of New York transsexual performer Consuela Cosmetic. The film premiered at Toronto International Film Festival in 1996.
His career seemed to reach its apex a decade later with the 2008 fiction feature Flashbacks Of A Fool, backed and distributed by Disney in the UK, and starring Daniel Craig as a fading Hollywood star, reflecting on his youth.
"The experience of making that was one of the best times in my life," says the director. "Sadly, it wasn't received well, so that wasn't so great."
Walsh met Craig when he starred in Love Is The Devil in 1998, directed by Walsh's partner at the time, John Maybury, and the two have been friends ever since. Craig committed to Flashbacks Of A Fool, and honoured that commitment despite beginning his run of James Bond films with Casino Royale in 2006. The actor also served as executive producer on the film.
"The reality is, it's a very small film," says Walsh. "I wrote it for Dan before he became Bond, and after he became Bond, he still generously wanted to do it. But what that brought was a lot of baggage, Bond baggage, and they released it like a Bond film. That was out of my control and out of Dan's control, and it just didn't work."
Walsh returned to work in music videos, commercials and documentary, and was busy with the 46-minute Being James Bond: The Daniel Craig Story for Apple TV when the call came for ABBA Voyage.
Creative choices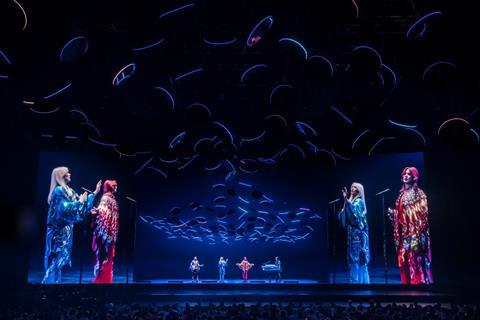 Walsh's role was to devise "what this beast was going to be", as well as a visual treatment for each song. Principal photography included two motion-capture shoots: one shot over five weeks with the four ABBA members (who are now aged between 72 and 76); and the other with younger body doubles executing the same dance routines.
Choreographer Wayne McGregor guided this process, putting the movements of the quartet into young bodies. ILM then transformed the motion-capture data into avatars – or ABBAtars, in the lexicon of the project.
The lifelike look and feel of the avatars is also in part thanks to the concert's vast LED screen, made by ROE Visual, which utilises 65.3million 2mm pixels in total, and runs at 50 frames a second – thus using 3.2 billion pixels per second.
The virtual stage behind the digital characters uses digital lights that are an extension of, and are aligned with, the physical lighting in the arena. For this reason, ABBA Voyage needs to be shown in a purpose-built arena – and any clone shows globally will need to replicate the space constructed in London.
The critical and commercial success of ABBA Voyage naturally leads to speculation that this particular hybrid could become a new event model for legacy or deceased acts, but Walsh sounds a note of caution.
"I think [Abba] was the best band to do this with. First of all, because they were so involved. And without an artist's involvement, possibly it becomes a cynical money-making exercise. ABBA's motive for doing this was creative. They're creatively curious.
"Could you do this with Prince? What we did with ABBA was we brought them into 2022. And we were able to do that because ABBA were there to help us make choices of how they wanted to be presented. You couldn't move Prince from where he left, because Prince was such the master of the creative behind his own persona."
Similarly, the Rolling Stones have been touring consistently for many decades, and – unlike ABBA, who had last appeared together onstage in 1981 – there is no single fixed image of them as a live band. "There isn't that need that ABBA fans had to see ABBA," adds Walsh. "My feeling is that with a band that's still around [having creative input], with their back catalogue, and they hadn't been on tour for 40 years, that's as good as it's going to get."
Legacy
The success of ABBA Voyage may help place Walsh back on the map of a film industry that has perhaps, over the years, struggled to get a clear fix on his varied creative career. The director himself acknowledge all his diverse experiences have fed into the project.
"I pulled on every thread of everything I've ever done," he says. "I don't want to have it be the last thing I do, but I certainly did put everything I had into it. All of those ideas come from a life, come from my life. Every job I've ever done, whether that be bingo calling, or erotic dancing, or putting on fashion shows, or whatever it is, there's all of that in there."
Since ABBA Voyage opened in May, Walsh has been busy regularly attending the event, checking on performances and lighting cues, and imposing creative tweaks. That work has come to an end, and he will now take a break at his second home in Iceland.
"Because I've been so immersed in this through recent years, I don't have a feature film project on right now," he says. "Obviously, I've got sitting in my drawer lots of things I would love to do, lots of scripts that are sitting there. There are TV series that I would love to get started – or restarted in the case of Pussycat Lounge, based on my year at the Raymond Revue Bar, which was developed with Tiger Aspect and has now returned to me. But first I need to go away and take some time and a breath and figure out what it is I'd like to do."