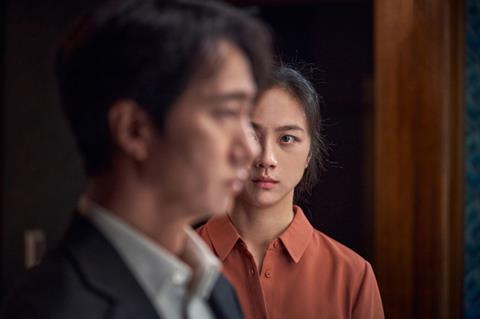 As the international film industry prepares to return to Cannes, many still question the extent to which Asia will be represented on the Croisette.
"Asia isn't back to travel," said Cannes' general delegate Thierry Frémaux last month, acknowledging the travel restrictions that remained in countries across Asia, following Covid spikes in Japan, Hong Kong and elsewhere.
The prevailing attitude toward the virus from many across the continent is highly cautious. For example, at South Korea's Jeonju International Film Festival this month, Screen did not see a single person without a mask in screenings, at outdoor events and from the public at large on any given street.
Meanwhile, Japanese actor-director Takeshi Kitano was pulled out of a long-planned trip to the Far East Film Festival in Italy's Udine, citing Covid concerns among other factors.
Nevertheless, Asia will be back in Cannes, albeit in smaller numbers.
The Film Development Council of the Philippines (FDCP) will continue its partnership with Singapore's Infocomm Media Development Authority (IMDA), sharing a pavilion in the Riviera's International Village. FDCP will bring a delegation of more than 50 filmmakers and government partners to Cannes, while companies from Singapore include Encore Films, M'Go Films and the Singapore International Film Festival.
The new Mongolian National Film Council (MNFC) will make its market debut in the Palais des Festivals, with a delegation of Mongolian filmmakers, distributors and government officials led by MNFC's new head Undral Choimpog and Mongolian minister of culture Nomin Chinbat.
Also present will be Thailand's Department of International Trade Promotion (DITP), the National Film Development Corporation Malaysia (FINAS) and Taiwan Creative Content Agency (TAICCA). The physical Taiwan pavilion will present 91 titles from 39 companies, a 40% increase from 2021.
However, the Hong Kong pavilion will only be accessible online for the second consecutive year, a reflection of the travel restrictions and quarantine measures which have recently been relaxed but remain in place to some extent.
Albert Lee, executive director of Hong Kong International Film Festival, is one who will not be making the trip. "Travelling overseas continues to be haphazard for us in Hong Kong, with returning flights and quarantine hotels at a premium," says Lee. "But some of my colleagues from programming and the industry office will be in Cannes for the first time in three years with the HAF Goes To Cannes programme."
Mandy Lam, general manager of sales and acquisitions at Hong Kong-based studio Edko Films, will also be attending, "having not been to a physical film festival for over two years because of the ever-changing quarantine measures".
With some relaxation of regulations happening, "we believe it is a good time for us to be back to the physical film market," she adds. "Coming back to the physical market, we hope to strengthen our relationship with sales companies."
But not all are convinced. June Wu, head of international sales at Taiwan's Distribution Workshop, told Screen: "I won't be going to Cannes this year, as there are not many new titles from us to justify my trip. We have titles in post-production from both China and Taiwan, but due to the surge of Covid daily cases, many mainland Chinese cinemas are facing temporary closures. The status for these titles is pending, with no specific release schedules.
"Even though I haven't physically attended any markets in the last two years, we managed to sell to different regions pretty well and the deals went smoothly so online meetings will be sufficient."
Wu adds that Taiwan still requires 10 days of quarantine and seven days of self-health checks when entering the country, which would impact her work locally.
From India, which has been chosen as the country of honour at this year's Marché, the Federation of Indian Chambers of Commerce and Industry (FICCI) will be in attendance with the minister for information and broadcasting, Anurag Thakur.
Organisations and distributors set to attend from India include the National Films Development Corporation (NFDC), Shemaroo Contentino, Star Entertainment, Impact Films and Pictureworks. However, one source said: "While the Indian film industry is participating in full swing this year, there are complaints that many of the country's sales agents won't be coming to Cannes so they're unable to organise meetings."
Japan and Korea
From elsewhere in Asia, UniJapan will be opening a pavilion and booth in Cannes, while Japan's Gaga Corporation chairman Tom Yoda will be attending with a team to hold meetings with buyers and sellers. But there will also be remote activity.
"Our sales executive in charge of Asian territories is attending online only as many buyers are doing online only, and time difference-wise, it is better for her to stay back in Japan," says Haruko Watanabe, head of international sales at Gaga Corporation. "Of course, our acquisition team will be there [in Cannes] to meet the international sellers. We are one step closer to the pre-Covid time."
Korea's CJ ENM, on the other hand, will be out in force. The major investor-distributor has two films vying for the Palme d'Or in Competition: Park Chan-wook's Decision To Leave and Hirokazu Kore-eda's Broker.
"We heard that on the Asian side [many buyers are opting to stay home]," says Park Jungmin, CJ ENM's head of international sales and distribution. "Quarantine standards are different from country to country on return. But we have two films in Competition so of course we all have to go and need to meet with buyers from Europe, the Americas and the Middle East."
Also with films at the festival are Korea's Megabox, which has espionage thriller Hunt, the directorial debut of Squid Game star Lee Jung-jae, which will play in Midnight Screenings; and Finecut, which will be selling July Jung's Next Sohee, set to open Critics' Week. Both firms will have teams on the ground.
With such a strong presence in Official Selection, the Korean Film Council (KOFIC) will be holding a Korean Film Night to celebrate and provide networking opportunities.
Companies such as K-Movie Entertainment, Contents Panda and Lotte Entertainment will also be attending with new films on their slates.
"We want to show everyone that Contents Panda is still alive and kicking," says Danny Lee, executive vice president at Contents Panda of being present in-person on the Croisette. "We're eagerly looking forward to Cannes with our line-up."
Representatives from the Busan, Bifan and Jeonju film festivals are attending as well, acknowledging the need to get out and network for their festivals.
Conversely, companies such as M-Line Distribution and Showbox have opted not to attend, citing the fact that they do not have a significant number of new films on their slates; low participation rates from their buyers; and concerns over health safety and care standards that are noticeably more lax than at home.
"Asian buyers' participation is going to be too low and we'd just be doing online meetings from Cannes," says Rachel Joo, head of sales at M-Line Distribution. "European buyers are important, too, but we'd still have to coordinate time zones.
"We still don't know how the situation with Covid-19 will pan out. The procedures for returning to Korea are a consideration, as is the uncertainty of what would happen if we got sick in Cannes."
Looking beyond Cannes, the buyers and sellers not travelling from Asia to the south of France this month point to Busan and Tokyo as festivals and markets they are anticipating attending physically. There, they acknowledge that people are more conscientious about wearing masks and sanitising whether government-mandated or not.
Travel times are also shorter as a journey to Cannes requires at least 20 hours travel with two flights, the avoidance of Russian airspace adding even more to the time spent in planes. It all adds up to the fact that it will be some time before numbers from Asia return to pre-pandemic levels.