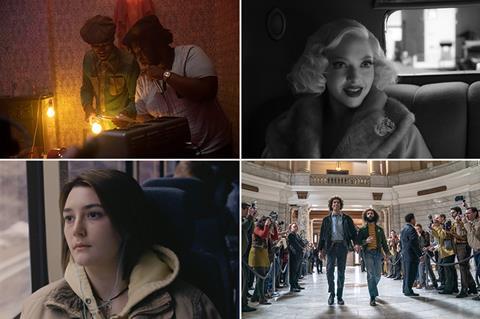 The coming awards season is going to look very different given the depth of the pandemic and the global crisis in cinema. Screen's London-based chief film critic and reviews editor Fionnuala Halligan and Los Angeles-based Americas editor Jeremy Kay discuss what is at stake.
Is there going to be an awards season this year?
Fionnuala Halligan: I can feel there's a reluctance to start the conversation, or at least to even consider conducting it the same way it has been done in the past few years. Given the dire state of global health and economy, and the troubled political times we are all living in, that sort of indulgence and red-carpet excess is not at all appealing.
But it's important to slice that from the conversation, take the air out of the "awards corridor" and remember awards, love them or loathe them, are a recognition of achievement in a sector that is really struggling — cinema. And they tend to favour films that hurl themselves headlong at the big-screen experience.
Awards are very necessary for the business right now, if done in the right way. Exhibition in particular needs them. I think there will be awards ceremonies, and they will be short, muted, maybe to empty rooms, but they will really help, if only to boost morale and self-belief.
Jeremy Kay: I get the sense that while this global tragedy has created profound heartache and obscured the horizon, the prevailing mood in Hollywood favours having an awards cycle — it's just that everyone's waiting for someone to make the first move. People would welcome a distraction, and this is the entertainment business, after all.
I believe a season will go ahead even if cinemas are still struggling to open in the US at the end of the year. We do know Netflix and the streamers have a strong stable of contenders and they don't need cinemas.
Also, people want to work and those lucky enough to still have jobs want to get busy championing movies. One awards insider told me recently that while there won't be the social element in the upcoming cycle, an awards season will preserve some sense of normality.
Are the autumn festivals going to play any kind of role at all in this year's awards season?
FH: The autumn festival line-up indicates that this is not the starting place for the discussion this year. There are films in the mix which are clearly going to make a play, but nobody is ready to declare their hand yet outside preliminary internal conversations regarding what to do when the time is right. Everyone who feels like joining in the game this year — that's probably going to be most studios — will use the time awarded by the date move [of the Oscars to April 25, 2021] to think about how it will all work out. We can talk about titles, and there will be some to talk about, but I wouldn't expect any clear sense until Christmas.
JK: Travel restrictions are turning these fall festivals into local events. If US cinemas are reopening, especially in New York and Los Angeles, then the post-fall festival events like AFI Fest in Los Angeles could become a strategic platform for big guns such as No Time To Die, Dune and West Side Story.
What might it mean to have two Sundances in the awards cycle?
FH: Sundance titles have done particularly well this year. Sony Pictures Classics' The Father, Focus Features' Never Rarely Sometimes Always, and docs including Boys State and Crip Camp are several that crop up in informal discussions. Sundance isn't traditionally the place where companies such as Warner Bros or Para­mount would launch a big awards title. I can't see that changing in 2021.
JK: There will be a lot of indie contenders in play this year, yet they will have to work harder than the studios and streamers to build and maintain a profile, especially in the absence of gatherings at cinemas or awards circuit events. I can see distributors of some indie contenders wanting to use Sundance to amplify the campaign when Academy voters are mulling over nomination selections. I wouldn't be surprised if a studio contender takes a slot to make some noise. But nobody can acquire a last-minute contender at Sundance 2021 because the Oscar submission deadline is January 15 and Sundance will start on January 28.
How might campaigning look different?
FH: More discretion. More sensitivity about how things look. It's clear there will be far fewer screenings, particularly given the health concerns surrounding older members of these august institutions. Any campaigning will stress the content of the film, not the celebrity surrounding it. Red carpets — not now.
JK: Yes I agree. There won't be the usual fanfare. The Academy has said there won't be any in-theatre member screenings in the US or London, nor will there be in-person live events, at least for the remainder of the year. I expect a lot of virtual panels. Distributors will get creative and we could see drive-in or other outdoor events, or something else.
Finn, of what you've seen so far or have heard good things about, which films are going to feature in the race?
FH: The Sundance films I've mentioned above. Chloé Zhao's Nomadland is being spoken of highly. I'm intrigued by Steve McQueen's Small Axe anthology, particularly Lovers Rock, which opens New York Film Festival and, although under strict wraps, is a quasi-musical. I like the look of it. Eligibility remains a concern though. I loved Never Rarely Sometimes Always, which took two top prizes from the only two big festivals to play this year. I'm not sure if Hamilton qualifies, but it made a hot blast of a case that it should.
And Jeremy, which are the big US films? Most of them haven't turned up at any of the festivals yet.
JK: Netflix has David Fincher's Mank, Aaron Sorkin's The Trial Of The Chicago 7 and Ron Howard's Hillbilly Elegy. Netflix movies aren't going to festivals this year. I'm excited to see Regina King's directorial debut One Night In Miami, which is with Amazon Studios. Maybe someone will buy Toronto selection Good Joe Bell. There's Eon/MGM's No Time To Die, which Universal has internationally, Steven Spielberg's West Side Story from Fox/Amblin at Disney, and Paramount's recent purchase of Lee Daniels' The United States Vs. Billie Holiday, to name a few. Strong civil rights theme this year, dovetailing with the election.
Is this the year smaller independent films get more of a look-in?
FH: I think that's a given, with the year we are in and the Academy recognising 10 films. If I were involved with one, I'd really go for it this year. Discreetly, of course.
JK: I'm not sure. Campaigning costs money and the studios and streamers have more of it and, on paper at least, quite a few big guns are waiting to open in late season. That's why the Academy moved the Oscar ceremony back by two months.