After investment eight months ago, the relaunched Icon Film Distribution is ready to fill a gap in the UK distribution market. CEO Ian Dawson talks to Wendy Mitchell about the team and its new slate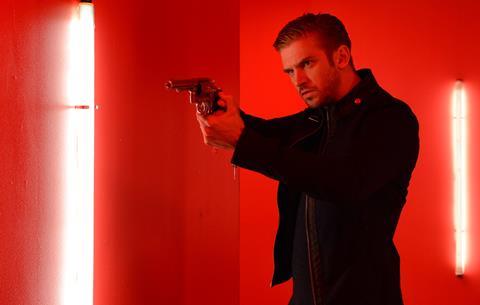 It has been a busy eight months for relaunched Icon Film Distribution.
Since the company's investment deal with Jerome Booth's New Sparta in September 2013, the outfit has staffed up to 17 employees and has acquired a slate of more than a dozen films. Four of those were deals done in the Cannes Marché, including hot titles It Follows by David Robert Mitchell, JC Chandor's A Most Violent Year, Drake Doremus's Equals and Robert Carlyle's directorial debut The Legend Of Barney Thomson.
"All of these projects are distinctive and they all have strong creative elements," Icon CEO Ian Dawson tells Screen. "These are great directors working with great casts on great projects… we want to work with film-makers and collaborate with them."
Icon's next theatrical launch — and its first solo release as a relaunched company, signalling the end of its Lionsgate output deal — will be Jim Mickle's Cold In July, a Texas-set thriller starring Michael C Hall and Don Johnson, on June 27. Adam Wingard's The Guest, starring Dan Stevens and Maika Monroe, will launch on September 5.
"Our aim is to find quality films that have clear audiences. We want films that have a chance to break through theatrically," he adds, noting the diversity of a slate that features horror titles and family animation Postman Pat: The Movie.
'We can be a bit faster on our feet to take advantage of the gap we see in the market'

Ian Dawson, Icon Film Distribution
Dawson tells Screen the company is faring well as it re-enters a competitive UK distribution market. "We saw a gap for a quality team of people to work on 12 films a year… it feels like a good size to be able to do a good job."
Of the changing market in recent years, he notes: "Some of the previous independent distributors are now part of bigger multi-territory companies, so that becomes a less focused international business. We can be a bit faster on our feet to take advantage of the gap we see in the market."

Up to speed
The company's quick path to relaunching is thanks to assembling an experienced team that can hit the ground running.
Those include Norman Humphrey as COO and executive chairman (he was instrumental in structuring the deal with New Sparta); Ben Friedman (ex-Weinstein Company) as acquisitions manager; Zak Brilliant (Icon veteran) as head of theatrical; Sophie Wong (ex-Sony) as head of TV and digital sales; Jeremy Baum (ex-eOne) as head of theatrical sales; Allan Jamieson (ex-Momentum) as financial controller and Chris Warrington (ex-Organic) as head of marketing.
The company has 17 employees as of the end of June; that's up from five, when the former incarnation of Icon was running its bare-bones operation. "This team is fired up about the industry and excited to work with these films and film-makers," Dawson says. "Everyone is passionate to make this work."
Handling about one theatrical release per month is manageable at the current size, he notes. "That way we don't have to build a bigger team to work on multiple titles at once."
Dawson has noticed some shifts in the years that Icon wasn't as active in distribution. "There have been a lot of changes," he says.
"The home-entertainment market has changed substantially. There is more supermarket focus in the retail world and physical rentals are almost non-existent. Also, Netflix and LoveFilm have changed people's watching habits more generally. The entry of Netflix and LoveFilm has created a more competitive environment. The more opportunities there are for customers to see film content, that should be better for the market generally."
Icon is now concentrating only on UK distribution (not international sales or production as with the former incarnation; there are no ties anymore with Len Blavatnik's AI). But Icon has a sister company, New Sparta Films, which is working in film investment, development and production. There is no official deal in place between the companies but Dawson says: "Whenever we can, we'll work together."
Dawson would like Icon to get involved with projects at an earlier stage. "We'd like to be involved where we can help put a project together, not when it's finished and there's a bidding war. That's the smarter way to do business."