With the 69th Locarno Film Festival kicking off today (Aug 3), Screen profiles the Piazza Grande & International Competition titles.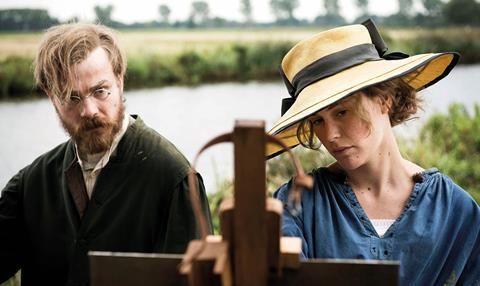 This year's International Competition is made up entirely of world premieres, while Piazza Grande mixes it up with blockbusters, classics, festival giants and boundary-pushing newcomers
Piazza Grande
The Girl With All The Gifts (UK) Dir Colm McCarthy opening film
Gemma Arterton, Glenn Close and newcomer Sennia Nanua star in this anticipated dystopian thriller about a scientist, teacher and young girl who embark on a terrifying journey. Scottish director McCarthy transfers his TV pedigree (Peaky Blinders, Sherlock) to the big screen; the BFI, Creative England and Altitude financed the film.
Contact: Altitude Film Salesm info@altitudefilment.com
Ceasefire (Fr) Dir Emmanuel Courcol
French actor Courcol makes his directing debut (he also wrote the script) with this 1920s-set period drama starring Romain Duris as a trench-warfare veteran living in west Africa to escape his wartime memories, before being drawn back to France. Grégory Gadebois and Céline Sallette co-star. Courcol was Cesar-nominated in 2010 as a co-writer on Philippe Lioret's Welcome.
Contact: Indie Sales, info@indiesales.eu
The Day It Rained (Ger) Dir Gerd Oswald
The director of classic Hollywood film noirs A Kiss Before Dying (1956) and Crime Of Passion (1957), Oswald returned to Germany to make this 1959 crime drama about a motorcycle-riding beatnik gang. Christian Wolff, Elke Sommer and Gert Fröbe — who played Bond villain Goldfinger — star.
Contact: CCC Filmkunst, info@ccc-film.de
Endless Poetry (Fr-Chile) Dir Alejandro Jodorowsky
Chilean director Jodorowsky's latest film debuted in Director's Fortnight at Cannes, and is an autobiographical portrait of the director as he enters the vibrant artists' scene of 1940s and '50s Santiago. The film was part-financed by crowdsourcers Indiegogo and Kickstarter. Jodorowsky's son, Adan, portrays him in the film.
Contact: Le Pacte, c.neel@le-pacte.com
Heaven Will Wait (Fr) Dir Marie-Castille Mention-Schaar
Clotilde Courau and Sandrine Bonnaire feature in this drama from French film-maker Mention-Schaar, which follows the story of two Parisian teenage girls (Naomi Amarger and Noémie Merlant) who are recruited and radicalised by Islamist extremists.
Contact: Gaumont, mpereira@gaumont.fr
Interchange (Malay-Indo) Dir Dain Iskandar Said
For his third feature, Malaysian film-maker Said delivers this supernatural noir about a police detective and crime photographer who partner up to solve a series of murders. The film was selected as an It Project at the 2013 edition of the Network of Asian Fantastic Film.
Contact: Reel Suspects, info@reelsuspects.com
I, Daniel Blake (UK-Fr-Bel) Dir Ken Loach
Loach, who was awarded the festival's Leopard of Honour in 2003, returns with his recent Palme d'Or winner, about a middle-aged carpenter (Dave Johns) and a single mother (Hayley Squires) victimised by the UK's nightmarish welfare system. The film marks Loach's latest collaboration with screenwriter Paul Laverty, the director's go-to screenwriter since 1996's Carla's Song.
Contact: Wild Bunch, cbaraton@wildbunch.eu
Into The Forest (Fr-Swe) Dir Gilles Marchand
Marchand's third outing as a director, co-written with longtime collaborator Dominik Moll, is a thriller about two young French brothers who travel to Sweden to spend the summer with their father, who has cut himself off from the world in an isolated forest. Actress-filmmaker Valérie Donzelli is one of the producers.
Contact: Wild Bunch, obarbier@wildbunch.eu
Jason Bourne (US) Dir Paul Greengrass
Matt Damon returns for a fourth time as Jason Bourne, reuniting with director Greengrass (The Bourne Supremacy, The Bourne Ultimatum) for an action thriller in which the amnesiac assassin uncovers yet more secrets about his past. Alicia Vikander, Vincent Cassel, Riz Ahmed and Tommy Lee Jones join the spy franchise.
Contact: Universal Pictures International
Mohenjo Daro (India) Dir Ashutosh Gowariker
Indian film-maker Gowariker returns to Locarno with Bollywood production Mohenjo Daro, a historical epic set in 2016bc about a man who falls in love with the daughter of his enemy. Hrithik Roshan and Pooja Hegde star. Gowariker's Lagaan: Once Upon A Time In India won the festival's audience award in 2001.
Contact: Ashutosh Gowariker Productions, info@agppl.com
Moka (Fr-Swi) Dir Frédéric Mermoud
Nathalie Baye and Emmanuelle Devos lead the cast of this dramatic thriller about a mother obsessed with finding the driver of the Mercedes that hit her son and devastated her life. Mermoud was previously in Locarno's competition with 2009's Complices, also starring Devos.
Contact: Pyramide International, sales@pyramidefilms.com
Paula (Ger-Fr) Dir Christian Schwochow
Schwochow's bio-drama stars Locarno-born actress Carla Juri as German artist Paula Modersohn-Becker, credited as the first female artist to paint female nudes. The German film-maker's 2011 film Die Unsichtbare won best actress (for Stine Fischer Christensen) and the Ecumenical Jury award at Karlovy Vary.
Contact: The Match Factory, info@matchfactory.de
Stefan Zweig: Farewell To Europe (Ger-Fr-Aust) Dir Maria Schrader
Actress-film-maker Schrader (Deutschland 83) charts the life of Jewish-Austrian writer Stefan Zweig (Josef Hader) during his years in exile from war-wracked Europe. X Filme's Stefan Arndt produced the film, for which Schrader has a best director nomination from the German Film Awards.
Contact Films Distribution, info@filmsdistribution.com
The Train Of Salt And Sugar (Port-Moz-Fr-S Africa-Bra) Dir Licinio Azevedo
Portuguese director Azevedo's first film since 2012's Virgin Margarida is a drama that follows several passengers risking their lives on a train journey across Mozambique, which is in the midst of civil war.
Contact: Ukbar Filmes, mail@ukbarfilmes.com
The Tunnel (S Kor) Dir Kim Seong-hun
Kim's disaster movie, which opens in South Korea on August 10, stars Ha Jung-woo (The Chaser) as a car salesman on his way home with his daughter's birthday cake when the tunnel he is driving through collapses, setting off a huge rescue effort. Kim's crime thriller The Hard Day played in Directors' Fortnight at Cannes in 2013.
Contact: Showbox, sales@showbox.co.kr
Vincent (Fr-Bel) Dir Christophe Van Rompaey
Belgian film-maker Van Rompaey, who won three awards in Critics' Week at Cannes for 2008's Moscow, Belgium, returns with a comedy drama about a suicidal teen (Spencer Bogaert) whose aunt (Alexandra Lamy) is out to save him.
Contact: Beta Cinema, beta@betacinema.com
International Competition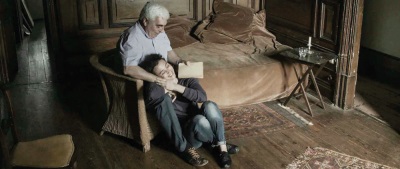 The Apple Of My Eye (Fr) Dir Axelle Ropert
The third feature from French actress-director Ropert follows a blind woman's relationship with her sighted neighbour. Ropert's first film, The Wolberg Family, was nominated for the Camera d'Or for best debut feature at Cannes in 2009.
Contact: Les Films du Losange, b.vincent@filmsdulosange.fr
Bangkok Nites (Jap-Fr-Thai-Laos) Dir Katsuya Tomita
A Japanese man and a Thai prostitute form an unlikely friendship in this drama, which marks a return to Locarno for Tomita. The Japanese film-maker, based in Bangkok since 2014, debuted in competition at the festival in 2011 with Saudade, an intimate look at victims of the global economic crisis in his home town.
Contact: Flying Pillow Films, ohno@flyingpillow-films.com
Brooks, Meadows And Lovely Faces (Egy) Dir Yousry Nasrallah
This comedy drama about a family of cooks who struggle to keep their independence marks the third time Nasrallah has been up for Locarno's Golden Leopard, after Mercedes in 1993 and El Medina in 1999. The Egyptian director's previous film, After The Battle, played in Competition at Cannes in 2012.
Contact: Pyramide International, avalentin@pyramidefilms.com
By The Time It Gets Dark (Thai-Neth-Fr-Qat) Dir Anocha Suwichakornpong
Several characters, including a film director and her muse, a renowned novelist, a waitress, an actor and an actress, populate the interwoven stories that make up this Thai feature. The director's previous titles include Mundane History, which won awards at film festivals including Rotterdam, Transylvania and Golden Horse in 2010.
Contact: Electric Eel Films, info@electriceelfilms.com
Correspondencias (Por) Dir Rita Azevedo Gomes
This feature, based on the correspondence between poets Jorge de Sena and Sophia de Mello Breyner, was produced by 2015 EFP Producer on the Move Joana Ferreira for Lisbon-based outfit C.R.I.M. Productions. The film stars Eva Truffaut, daughter of the late French director Francois Truffaut. Director Gomes's previous feature, A Woman's Revenge, played several festivals in 2012 including Rotterdam and Edinburgh.
Contact: C.R.I.M., crim@netcabo.pt
The Dreamed Path (Ger) Dir Angela Schanelec
This love story centres on a short-lived holiday romance that is reignited 30 years later when the couple are reunited. Two of German actress-filmmaker Schanelec's previous films played in Un Certain Regard at Cannes: Places In Cities in 1998 and Marseille in 2004. The latter starred Maren Eggert, who also stars in The Dreamed Path.
Contact: Filmgalerie 451, kino@filmgalerie451.de
Godless (Bul-Den-Fr) Dir Ralitza Petrova
Bulgarian director Petrova's debut feature tells the story of a nurse who takes care of elderly citizens with dementia, while trafficking their ID cards on the black market. Ivan Nalbantov and Irena Ivanova star. Petrova, who also wrote the screenplay, previously won the European short film prize at Berlin with Rotten Apple in 2007, and was nominated for the Cinefondation prize with By The Grace Of God in 2009.
Contact: Heretic Outreach, ioanna@heretic.gr
Hermia & Helena (US-Arg) Dir Matias Pineiro
Argentinian director Pineiro makes his third claim for the Golden Leopard after They All Lie in 2009 and The Princess Of France in 2014. His latest feature reunites him with Agustina Munoz and Maria Villar, who starred in his 2012 hit Viola, and centres on a theatre director who travels from Buenos Aires to New York.
Contact: Trapecio Cine, melanieschapiro@gmail.com
The Idea Of A Lake (Swi-Arg-Qat) Dir Milagros Mumenthaler
Argentinian director Mumenthaler is a Locarno favourite, nominated for the Golden Pardino for short Amancay in 2006 and winning the Golden Leopard, Fipresci prize and Special Mentions by the Ecumenical and Junior juries for 2011 feature debut Back To Stay. His second feature, The Idea Of A Lake, sees a photographer coming to terms with her past.
Contact: Alina Film, www.alinafilm.com
Last Family (Pol) Dir Jan P Matuszynski
After making shorts and documentary Deep Love (2013), which won prizes at Krakow and Moscow film festivals, Polish director Matuszynski makes his fiction debut with Last Family, based on the relationship between surrealist painter Zdzislaw Beksinski (Andrzej Seweryn) and his troubled son (Dawid Ogrodnik).
Contact: New Europe Film Sales, jan@neweuropefilmsales.com
Marija (Ger-Swi) Dir Michael Koch
The debut feature from award-winning shorts film-maker and 2004 EFP Shooting Star Koch stars Margarita Breitkreiz as a young Ukrainian woman fighting for a better life in Germany. Koch was nominated for Locarno's Golden Pardino in 2006, for his short film Beckenrand.
Contact: Pandora Film Produktion, info@pandorafilm.com
Mister Universo (Aust-It) Dirs Tizza Covi, Rainer Frimmel
Covi and Frimmel won festival plaudits for their 2009 narrative debut Little Girl (following docs Babooska and Das Ist Alles), and return to the world of the travelling circus for this tale of a lion tamer who has lost his way in life. The film is backed by the Austrian Film Commission.
Contact: Be For Films, info@beforfilms.com
The Ornithologist (Por-Fr-Ba) Dir Joao Pedro Rodrigues
In 2012, Portuguese film-maker Rodrigues — with co-director Joao Rui Guerra da Mata — competed for the Golden Leopard (and won Locarno's Swiss critics' best director award) with The Last Time I Saw Macao. He returns with this solo project, a reinterpretation of the myth of Portuguese religious icon Saint Anthony.
Contact: Films Boutique, contact@filmsboutique.com
Scarred Hearts (Rom-Ger) Dir Radu Jude
After winning Berlin's Silver Bear for best director with Aferim! in 2015, the Romanian film-maker is up for his first Golden Leopard with the story of a man suffering from bone tuberculosis who discovers his life in a sanatorium is a place of new discoveries. Set in 1937, the film is a loose adaptation of Max Blecher's novel of the same name.
Contact: Beta Cinema, beta@betacinema.com
Wet Woman In The Wind (Jap) Dir Akihiko Shiota
Japanese film-maker Shiota brings this revival of the Nikkatsu Roman Porno format to Locarno. The story centres on a man from the city who seeks peace in a rural village but is drawn into a spiral of desire by a promiscuous young woman. It marks Shiota's return to the festival after competing for the Golden Leopard in 1999 with teen S&M drama Moonlight Whispers.
Contact: Nikkatsu Corporation, international@nikkatsu.co.jp
The Young One (Fr-Por) Dir Julien Samani
French documentary maker Samani turns his hand to narrative for this coming-of-age story about a young man who dreams of life at sea and gets his wish in the form of a rickety cargo ship. Prolific Paris-based Portuguese producer Paulo Branco (Cosmopolis) produces.
Contact: Alfama Films, alfamafilms@orange.fr