Twelve years after he scooped the foreign-language Oscar for The Lives Of Others, Florian Henckel von Donnersmarck is back in awards contention. Screen talks to the writer/director about his German artist epic Never Look Away.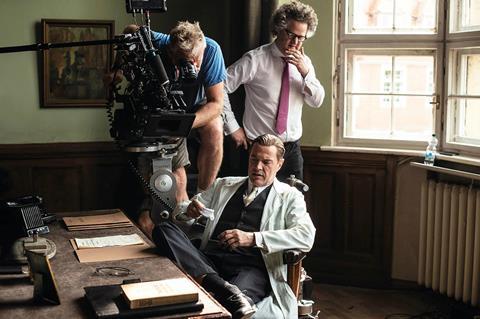 It has been more than a decade since Florian Henckel von Donnersmarck put his name on the international filmmaking map with his debut feature The Lives Of Others, scooping the Academy Award for best foreign-language film in 2007 and grossing $77m worldwide. But following the disappointing critical reception that greeted his 2010 big-budget English-language caper The Tourist, starring Johnny Depp and Angelina Jolie, the filmmaker has been notably quiet.
He returned this year at the Venice and Toronto film festivals with his epic feature Never Look Away, Germany's choice for the Oscars. In the intervening years, he has been working on other screenplays and mulling a first venture into high-end TV drama. Henckel von Donnersmarck was also clearly frustrated by the reception for his last film.
"I am really happy with The Tourist and how it turned out. I know a lot of you [the press] weren't happy with it, but I think that had a lot to do with what you were expecting," he says. The Tourist was marketed as action adventure — which was not how the director saw it. He describes it as a "light romantic travel film".
"Too bad it wasn't well accepted by critics. In my head, I thought of it as a group of critics coming to a restaurant. They thought they had ordered a main course and I served them dessert. It [the reaction] was that this is a terrible main course!"
Working with a big budget
There has been no such confusion over Never Look Away. He is back working in the German language and has taken his time to hone the screenplay. Costing a reported $20m, this is a big-budget affair for a European arthouse film. He made it through Pergamon Film (the company he owns with Beta Film CEO Jan Mojto) and Wiedemann & Berg Film. Beta Cinema is handling world sales. Bayerischer Rundfunk and ARD Degeto are also on board.
Never Look Away (Werk Ohne Autor) tells the story of German artist Kurt Barnert (Tom Schilling), who is first encountered as a child in the Nazi era when the authorities are busy railing against the decadence of modernism. He learns his craft in East Germany under the communists, but escapes to the West. Once there, he tries to find his voice as an artist under the tutelage of a Joseph Beuys-like mentor, but feels himself tormented by memories of his childhood.
Interviewed at Zurich Film Festival, the writer/director explains this is not a biopic as such but it does draw heavily on the life of German artist Gerhard Richter. Henckel von Donnersmarck conducted lengthy interviews with the artist, now 86, while writing the screenplay. The story of the fictional protagonist may carry many echoes of Richter's life and career, but the filmmaker leaves it ambiguous as to what is fact and fiction, honouring his agreement with Richter that neither would reveal what they had discussed in private.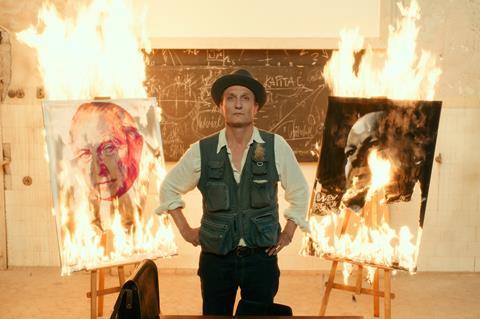 Never Look Away is being released in the US by Sony Pictures Classics (which also handled The Lives Of Others) and in the UK by Curzon Artificial Eye. The new film combines thriller elements and a love story, but its real subject is an artist in search of his creative identity and trying to come to terms with the past.
"I was looking for a long time for a story about human creativity," recalls Henckel von Donnersmarck about the origins of the project. "I was always amazed by how some people could take their suffering and turn it into wonderful works of art. I was looking for a story about that." Then a journalist interviewing him mentioned that he had taken a year off from his day job to write a biography of Richter. Henckel von Donnersmarck was intrigued but wondered what new was left to say about an artist whose life had been chronicled exhaustively.
The journalist told him the story about Richter's aunt being killed by the Nazis. That story was already known. What was not widely realised was that the woman Richter ended up marrying was the daughter of one of the Nazi officers involved in the euthanasia programme responsible for the death of his aunt.
This fascinated the director. He saw a way he could tell a story about "victims and murderers living under the same roof" and having to come to terms with each other's secrets.
In the film, the former Nazi, Professor Carl Seeband (Sebastian Koch), tries to destroy his artistic son-in-law, Barnert. They are living in post-war East Germany. Barnert courts and eventually marries Ellie Seeband (Paula Beer), but the professor does not consider the young artist worthy of his daughter.
Both the Nazis and the communists are shown in the film as being rigidly doctrinaire in their view of art. Barnert "breaks free", finding his own expression regardless of the direction the authorities try to push him in.
During his research for the film, Henckel von Donnersmarck was introduced by publisher Benedikt Taschen to British artist David Hockney. They spent time together in Los Angeles and Baden-Baden in Germany (where Hockney goes to "take the waters"). Hockney was very different from Richter but shared his rebelliousness and insistence on absolute artistic freedom.
That freedom is something Henckel von Donnersmarck craves in his own work. He is very conscious, though, of the risks entailed in making a biggish-budget European arthouse film that lasts three hours. Henckel von Donnersmarck was recently told by Sony Pictures Classics co-president Michael Barker that the US is a "changed landscape" for theatrical distribution and that few foreign-language films have been really accepted by audiences in the US since The Lives Of Others.
With Never Look Away, Henckel von Donnersmarck and his collaborators are "stretching the boundaries" of what is still "possible within the European film world". This is not a movie made for one of the VoD giants. It is a "big, emotional drama" financed in a traditional fashion and aimed at a theatrical audience. His hunch is that the only reason audiences have not been going to such movies is simply because "they aren't being made".
"If it [Never Look Away] is accepted the way we hope, it could change the landscape of European cinema a little," the director suggests. "If not, it will make it clear to us that times have changed and the big, exciting movies will now happen more on the OTT platforms."
The director adds that his own future career choices depend on the film's reception. "If I feel there is a willingness for the big, emotional roller-coaster rides through our dramatic history, then I have many more stories like that to tell," he says.