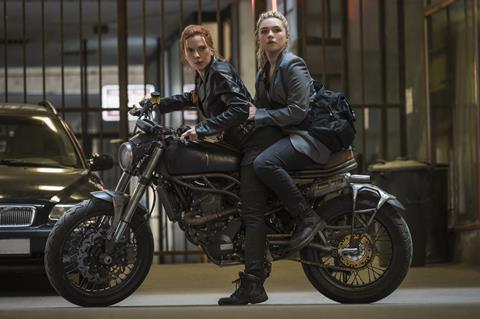 This year's summer box office season in North America generated $1.752bn according to Comscore for an 892.7% increase over summer 2020, while a 59.7% drop against summer 2019 shows there is still a long way to go before box office can approach pre-pandemic levels.
Thirty-seven films were released in more than 1,000 sites this season from May 7-September 6, a period characterised by a blend of distribution strategies, Scarlett Johansson's Disney lawsuit, and a growing sense of excitement among exhibitors over the return of cinema-going tempered by the late summer spread of the Delta variant that has dented confidence levels.
However the season has ended on a high note as Marvel Studios' Shang-Chi And The Legend Of The Ten Rings opened exclusively in cinemas via Disney and delivered the highest grossing four-day Labor Day opening weekend on $94.4m, more than tripling the previous best set by MGM's Halloween in 2007.
With $75.5m over three days Shang-Chi also scored the second highest debut of the pandemic let alone the summer behind Marvel stablemate Black Widow, which ruled the season on $182.7m following an $80.4m three-day launch over the July 9-11 weekend.
Post-pandemic tentpoles will have less time to impress
The performances by Shang-Chi and to some extent Black Widow (which unlike the former boasted an A-list star, although its theatrical run was impacted by the day-and-date release on Disney+ Premier Access) recall albeit in somewhat diluted form what films can accomplish at the box office. However tentpoles will have less time to impress after the pandemic: the average exclusive theatrical window in North America has plunged from roughly 75 days to around 45 in less than two years as Covid-19 accelerated a shift towards streaming.
Disney has made no secret that streaming is now at the forefront of its filmed entertainment strategy and has adopted a varied approach to distribution. The studio landed in hot water with exhibitors over its hybrid release of Black Widow and executives stayed away from the delayed, in-person CinemaCon last month. Johansson too was incensed, arguing in her suit that there was a shift away from the theatrical-first release she understood Disney would execute on the film. The studio hit back over the star's "callous" disregard for the global effects of the pandemic. Observers believe the case will settle out of court.
Black Widow alone has earned more than the $176.5m from the combined grosses of every film released last summer. Only four films opened in more than 1,000 venues and while Warner Bros' Tenet debuted in 324 it expanded into 2,810 in its second weekend and ended up becoming the biggest release of summer 2020 on $58.5m. By comparison, 45 films opened in more than 1,000 locations in summer 2019 and the season delivered $4.35bn. The all-time high remains summer 2013 on an unadjusted $4.76bn.
Returning to the summer that just ended, Universal's F9 starring Dwayne Johnson placed second and opened exclusively in cinemas on $70m over June 25-27. The current tally is $172.9m. In third place was Paramount's Emily Blunt starrer A Quiet Place Part II which opened exclusively in cinemas on $47.5m over May 28-30 Memorial Day weekend and currently sits on $161.1m.
Johnson and Blunt – Hollywood's top on-screen couple of the summer – starred opposite each other in Disney's Jungle Cruise, the theme park ride adaptation that placed fourth. It opened day-and-date in cinemas and on Disney+ Premier Access and the theatrical portion delivered $35m in North America over July 30-August 1. Lastest figures from Comscore put the cumulative total at $106.8m.
Shang-Chi ranks fifth on $94.7m and counting, while 20th Century Studios' action comedy Free Guy released by Disney and starring Ryan Reynolds and Jodie Comer was close behind on $94.4m following its exclusive theatrical launch over August 13-15 session when it grossed $28.4m.
Disney's hybrid release of Cruella starring Emma Stone, who has signed on for the sequel, ranked seventh on $86.1m after debuting on $26.5m from four days over May 28-31.
Autumn release date approaches for 'No Time To Die'
At time of writing MGM/Eon's James Bond thriller No Time To Die was lined up for an October 8 launch in North America after multiple delays during the pandemic. Due to the complexity of commercial tie-ins and the schedule of international releases through Universal Pictures International it is widely expected to stick to that date.
However a number of films have vacated the autumn as studios get the jitters over Delta. Paramount pushed Top Gun: Maverick from the November 19 Thanksgiving corridor to May 27 2022 for the Memorial Day holiday, and Mission: Impossible 7 was moved back from its initial May 27 2022 slot to September 30 2022. Jackass Forever has moved from October 22 this year to February 4 2022, and the studio also pulled Clifford The Big Red Dog from September 17.
Sony has pushed Venom: Let There Be Carnage from September 24 to October 15 and there are reports that it might move again into 2022. The studio has reportedly been in talks to sell erstwhile October 1 release Hotel Transylvania: Transformania to Amazon Studios.
Top releases of summer 2021, North America
Title / Studio / Release date / cumulative gross / market share
1. Black Widow / Disney / July 9 / $182.7m / 10.43%
2. F9 / Universal / June 25 / $172.9m / 9.87%
3. A Quiet Place Part II / Paramount / May 28 / $160.1m / 9.14%
4. Jungle Cruise / Disney / July 30 / $106.8m / 6.1%
5. Shang-Chi And The Legend Of The Ten Rings / Disney / September 3 / $94.7m / 5.41%
6. Free Guy /Disney / August 13 / $94.4m / 5.39%
7. Cruella / Disney / May 28 / $86.1m / 4.91%
8. Space Jam: A New Legacy / Warner Bros / July 16 / $70.1m / 4%
9. The Conjuring: The Devil Made Me Do It / Warner Bros / June 4 / $65.6m / 3.74%
10. The Boss Baby 2: Family Business / Universal / July 2 / $57m / 3.26%
Date range: May 7-September 6, 2021