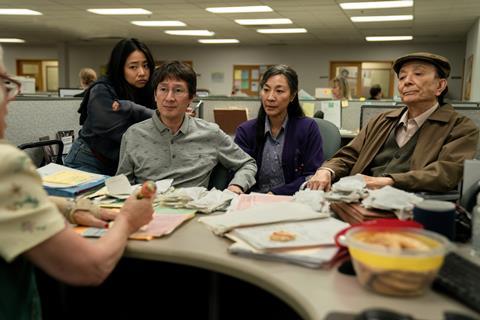 With Everything Everywhere All At Once leading this year's Oscar field with 11 nominations, the Daniels' madcap multiverse adventure looks likely to win at least a handful of honours at Sunday's 95th Academy Awards. But which ones?
It's been an intriguing season filled with the customary curveballs and at least one minor controversy to keep the vast industry that has evolved around awards season on its toes.
Box office giants will vie with box office flops and a smattering of streamer titles for glory on the night, hosted by veteran Jimmy Kimmel. The Academy hierarchy has put together a crisis team in case there are any egregious on-stage antics that recall Will Smith slapping presenter Chris Rock across the face.
The show's producers have said they will refer to the notorious incident in a comedic way and move on. No word on who will present the lead actress Oscar now that last year's best actor winner Smith has been banned from Academy events until 2033, and sadly for Lady Gaga fans, while the chanteuse will attend the show, she will not perform her Oscar-nominated 'Hold My Hand' from Top Gun: Maverick. But so long as the audience gets to hear 'Naatu Naatu' from RRR there shouldn't be too many complaints.
The best picture, lead acting and international feature categories in particular remain too close to call, while Everything Everywhere All At Once's Ke Huy Quan for supporting actor is by all accounts a shoo-in and the smart money too is on Guillermo del Toro's Pinocchio taking the feature animation prize.
Back in September, after Martin McDonagh's The Banshees Of Inisherin proved the strongest best picture contender to emerge from Venice, Steven Spielberg's The Fabelmans then erupted out of TIFF. The personal project seemed to confirm its early status as best picture frontrunner when it received Toronto's People's Choice Award – following in the heels of eventual best picture winners such as Nomadland and Green Book.
But the challenger to The Fabelmans was already hiding in plain sight: Everything Everywhere All At Once, the SXSW premiere and late-March cinema release that amassed $70m in North America en route to becoming A24's first release to gross over $100m at the global box office.
Daniel Kwan and Daniel Scheinert's sci-fi spectacle had its fans and announced itself as a serious contender last December, when it tied with TÁR for best picture in the Los Angeles Film Critics Association vote. In January it took the Critics Choice Association's best picture prize all for itself and more recently dominated the four US guilds awards.
Winning the Producers Guild Of America's best film, top honours at the directors and writers guilds, and sweeping the board in every award it was nominated for at the Screen Actors Guild including outstanding cast performance makes a very strong case for Everything. A recent win at the Spirit Awards just adds to the tremendous impetus behind the Daniels' latest slice of originality.
New voters
The changing profile of Academy membership might impact in different ways – the influx of younger and more diverse voters could work in favour of Everything, but many new international voters might pull the other way, and the film won only one category (editing) at February's Bafta Film Awards. The older, traditional Academy voter, insiders suggest, may not have "got" Everything, and given that the preferential voting system used for the best picture category essentially rewards the least disliked and least polarising film, that could leave the door open for several other contenders.
The main rival is All Quiet On The Western Front, which dominated the Baftas last month yet didn't earn a single guild nomination (in fairness it was ineligible for some). It's been growing in status since the end of last year when people realised this was the kind of epic film Academy voters have rewarded in the past. Could this be Netflix's first best picture win? The fact that Edward Berger did not land a directing nod and that the film's original language is German could count against it. If All Quiet doesn't go all the way it may end up taking the international feature film prize and a handful of crafts awards.
Paramount/Skydance's Top Gun: Maverick brings something the Academy hierarchy and top brass at ceremony broadcaster ABC urgently need – high-level mainstream awareness, which means potentially higher show ratings as the public tunes in to lean the fate of a film they have seen and care about. Ditto Warner Bros' Elvis featuring the much-fancied lead Austin Butler. Like these other films, Searchlight's The Banshees Of Inisherin has won fans along the way in a number of categories.
Everything masterminds the Daniels are the ones to beat in the directing category and with notable triumphs at the DGA Awards, Spirit Awards and Critics Choice Awards it's hard to see them losing out. Yet one must never rule out multiple winner Spielberg, beloved by the Academy. Todd Field is the other heavyweight in the category for TÁR, although the film may prove too polarising for Field to muster meaningful heft at this stage.
Performance categories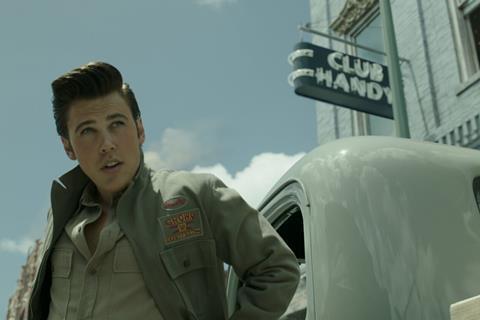 The lead acting categories are tightly contested and this is where the SAG Awards count for so much, given that the roughly 1,300-strong actors branch comprises the biggest chapter of approximately 9,500 voting Academy members. Brendan Fraser from The Whale won the SAG award and has earned plaudits ever since A24's film premiered on the Lido. It's a career-best performance from a genuinely humble person who has endeared himself to lots of people. But he hasn't been a clear frontrunner despite some critics group love.
Fraser faces stiff competition from Elvis lead Butler. He is a new face, popular with voters. The Academy likes outsized performances about real-life music icons. He also won the Bafta, offering the prospect of a fan-base among the Academy which extends beyond US members. Then there is Colin Farrell, acclaimed in The Banshees Of Inisherin and coming off a widely admired performance in After Yang. He won the National Board of Review and New York Critics Circle but there isn't much cross-over with these groups and the Academy, and he lacks a heavyweight award in the latter stages of the season. That said, there could be a desire to honour this talented actor's body of work.
Until Everything started to build up a head of steam, the received wisdom was Cate Blanchett would storm to her third Oscar win (and second lead actress triumph after Blue Jasmine) for TÁR. It's an imperious turn from arguably the greatest actor alive and yet voters may favour Michelle Yeoh.
The Malaysian does a lot in Everything, blending action with real heart and the stars have been aligning. After earlier wins in the season, she took the SAG award over Blanchett and the gender-neutral Spirit Award. Voters may want to recognise Yeoh and her career now, so could this be her year?
One interesting footnote to the category is Andrea Riseborough, whose surprise nod as a recovering alcoholic in SXSW premiere To Leslie prompted some to cry foul over a grassroots campaign which they said violated campaign guidelines for allegedly lobbying voters directly. Those who spent millions on their own campaigns (and strictly abided by the rules) would have been upset, and the whole issue also became conflated with #Oscarsowhite as Viola Davis and Danielle Deadwyler missed out on nominations. The Academy allowed the nomination to stand and has said it will review its campaigning rules after the Oscars.
As for the recipient of the supporting actress Oscar, does it go to Angela Bassett for Black Panther: Wakanda Forever after an impressive career to date? The same can be said for Jamie Lee Curtis, who beat Bassett in the SAG Awards but may be cancelled out by her impressive Everything fellow cast member Stephanie Hsu. Banshees' Kerry Condon should not be discounted either, and she recently won the Bafta.
In the writing categories the Daniels are the favourites for original screenplay, and look out for Sarah Polley making a splash in adapted for Orion's Women Talking. Polley won the WGA Award and finds herself in a lively field alongside All Quiet, Living, Top Gun: Maverick and Netflix's Glass Onion, yet such is the reverence with which it is held it would be an upset were Polley not to take home the prize.
All Quiet On The Western Front is the strong international feature film contender, but it has a fight on its hands from another film backed by a streamer, Argentina, 1985 at Amazon Studios. It's a strong field with Belgium's Close, Poland's EO, and The Quiet Girl, the first Irish-language film to earn an Oscar nomination.