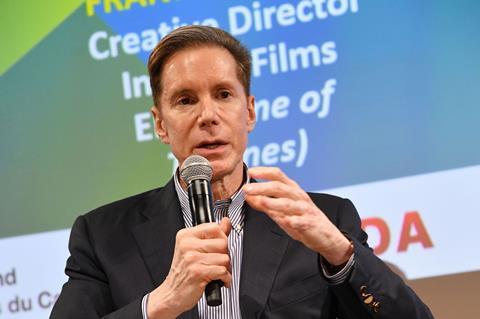 Multi Emmy award-winning producer Frank Doelger hit MIPTV on Monday (April 8) to talk about the development of his upcoming series The Swarm, his first major drama production since Games of Thrones, which he executive produced from 2011 to 2019.
His appearance came on the eve of the premiere of the eighth and final season of HBO's Game of Thrones on April 14.
Doelger's new drama production is adapted from German writer Frank Schätzing's best-selling environmental thriller novel of the same name in which marine life rises up against mankind to stop the destruction of their natural habitats.
As scientists try to fathom what is driving this collective action, the US military also enter the fray. An array of personal human stories from across the globe are woven into the main story arc.
Doelger is overseeing the development and production of the ambitious English language drama in his new role as creative director at Intaglio Films, a joint venture between Germany's Beta Film and ZDF Enterprises.
Intaglio Films is producing the show with another German company ndF International Production for German broadcaster ZDF.
Doelger took to the stage at MIPTV with ndF International's managing director Eric Welbers and ZDF senior vice president of films and series Frank Zervos to discuss the challenge of adapting Schätzing's 896-page novel.
"We wanted to show to the world that we Germans can speak English," joked Zervos before discussing more seriously how The Swarm marks a new departure for ZDF in terms of its scope and international ambition.
"For decades, German broadcasters produced primarily for the domestic German market, at least 95%. In the last three, four years, it's changed. We've seen projects like Babylon Berlin, or Bad Banks, which we did, or Dark for Netflix. Now is the time to go out to produce series for the world."
Zervos said ZDF was also on a steep learning curve as it learned on the job how to produce and finance such a large production. He said it was likely that France Télévisions and Italy's Rai - ZDF's partners in a recently announced European broadcaster alliance - would join the production and that talks were ongoing with a potential US partner.
International ambitions
"I think this is one of the most ambitious projects ever made in Europe and I think people will be surprised," added ndF International Production's Welbers. He said the budget would only be finalised once the final script and production plan had been set but that it was likely to be far higher than any previous German dramas.
It was announced just ahead of the MIPTV presentation that Emmy-award winning director Alan Taylor, whose credits include Game of Thrones, The Sopranos and Sex And The City, had signed to direct the series.
Doelger said the plan was for Taylor to direct the first two and last two episodes of the eight-part show and that a German director would be signed to direct the other episodes, with the support of Taylor. The aim of this strategy, added Zervos, was to nurture German directors capable of handling complex, big budget series.
Aside from Taylor, Doelger revealed he had also bought Game of Thrones casting directors Nina Gold and Robert Sterne on board.
"It will be an international cast. We have four or five main characters right now. One Norwegian, one German, a Canadian, one American and one Chinese," said Doelger. "We've had some initial conversations on some of the big parts. You have to think 18 months ahead to ensure that some of the people you want are available. I'm hoping we'll lock in some of the actors this summer."
One of the biggest challenges, he said, would be handling the high percentage of scenes unfolding on or under water, which would be captured through a combination of live action shots and special effects.
The show is expected to go into production at the beginning of 2020 for an end 2020/start 2021 delivery. Schätzing is also already plotting another three seasons, in which nature's battle for the environment will extend beyond the sea and coastlines to land.
Zervos said the plan was to launch the series in Germany - where it will be dubbed into German - as an event over the course of one week. A documentary is also being planned to accompany the drama.
Welbers revealed, meanwhile, that plans to make Northern Ireland the main shooting hub - in the same way as for Games of Thrones, were on hold due to uncertainty over the UK's Brexit plans and the possible implications for issues such as tax and visas for actors hailing from the European Union.
After the presentation, Doelger spoke to Screen about the project and his move to Intaglio in Germany.
Is there a lot riding on this project for you after being involved in a series as successful as Game of Thrones?
I can tell you honestly that at this point in my career, I can't be any more successful. That's a wonderful thing to feel. Looking back through my career, I've been very lucky. I've been offered great material and worked with great partners.
I'm not going into this feeling I'm afraid of failing, or that I'm afraid of not doing the same kind of job I've been doing on the Game of Thrones. That hasn't entered my mind. It's a new challenge. I really like the idea this new venture and working with new people.
I feel a kind of freedom, I have not felt before in my career because I don't think we're going to fail, whether it will be as successful as Game of Thrones, I don't know but I don't feel any pressure because of the mantel of Game of Thrones. Shows like that come along once every generation. To me the previous one was The Sopranos, those shows that change the landscape. I've been part of one of those and now we'll see what happens next.
The Swarm is a very different type of production but will you be tapping into any of the cast and crew you worked with on the Game of Thrones?
As in any project, I will go back - as I did when I did Rome and I did John Adams - to people on the creative team that I like enormously. I will hopefully go to some of them.
I went to Alan [Taylor] because Alan and I have worked together so well and I knew that on a project like this you need someone who was that seasoned and collaborative. We trust one another and because we're going to be bringing in a German director, I thought it would be good to have some who is very senior to act as mentor on the project.
I am delighted that Nina Gold and Robert Sterne, who have cast everything for me, are on board. I'm also talking to some of the cinematographers and visual effects houses and I've also got Mark Huffam, who produced the first series of Game of Thrones, on board. I want to work with people I know can deliver and that I trust and who can bring something fresh to it as well.
Moving to Germany to take up the role at Intaglio is quite a radical move for a US producer, what drove this decision?
For me it was a couple of things. One, I knew Jan Mojto [founding CEO of Beta Film]. I met him on Rome. He was a partner in my previous company in the UK, Rainmark Films. He is one of the brightest, most creative men that I have ever worked with. He is a real visionary and he said to me that there is a shift going on in Europe, a shift towards English language, high quality, high production projects so I thought that's very interesting. I've always worked very successfully with people from other countries and I thought why not actually embrace that. Everyone's English is good there, or good enough. It was also a new challenge. I really wanted to do something I hadn't done before. I didn't want to keep repeating myself.
And you said in the presentation that you have more creative freedom in your new role?
Absolutely, I've never been handed so much freedom. What's wonderful is that I'm getting a pick-up on a concept and a first draft. They have confidence in me. Curiously enough because of that I want to be respectful of their input. I've never been combative. So many producers end up fighting with the people who are writing the cheques. I've been lucky, I never had that with HBO and I don't think it will happen here. So far I've been very lucky, I pitched three things to ZDF and it looks like all three will go ahead.
How did you come with the projects?
I had my first meeting with two years ago with Beta and ZDF about Intaglio. I wasn't available until Game of Thrones finished but they said keep this in mind when you're entertaining other offers. So I was thinking a little bit about what I might do if I took the role. I think a producer should always have some favourite ideas around things that got never got made or ideas out there that they wish they could pursue. These were ideas I had been thinking about for a while.