Film- und Medienstiftung NRW celebrates its 25th anniversary this year. CEO Petra Müller talks to Martin Blaney about forging a path as one of the most successful funds in the industry.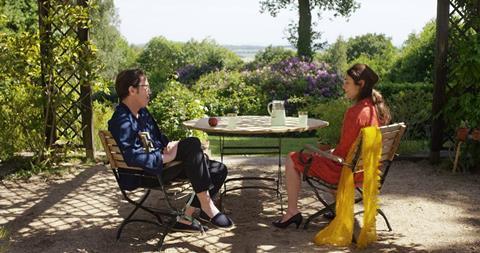 "Many people claim the state of NRW [North Rhine-Westphalia] only appeared as a film hub on the German and European map with the founding of the Filmstiftung," says CEO Petra Müller, who is enjoying a vintage year for the Düsseldorf-based institution, which celebrates its 25th anniversary.
Founded in 1991 as a public-private partnership between NRW — the country's most populous state, bordering the Netherlands and Belgium to the west — and public broadcaster WDR, Filmstiftung NRW was the first fund in Germany to combine cultural and economic goals (in 2011, it was renamed Film- und Medienstiftung NRW to reflect its realignment to incorporate new media). "This funding model won over other federal states like Bavaria and Berlin-Brandenburg and was thus a pioneer in the development of the German funding system," Müller explains.
Over the past 25 years, the fund, which has been led by founding managing director Frank Hübner (1991-92), Dieter Kosslick (1992-2001) and Michael Schmid-Ospach (2001-10) before Müller was appointed CEO in late 2010, has backed more than 7,600 projects with around $845m (€762m). These include approximately 1,270 feature films, 270 TV projects, including mini-series and movies, 400 radio plays and more than 100 games and web-based projects.
Roll of honour
The list of projects supported reads like a who's who of German and international cinema, ranging from the first film to receive production support, Helmut Dietl's Oscar-nominated Schtonk!, through Manitou's Shoe, one of the most successful German films of recent decades, Maren Ade's Cannes sensation Toni Erdmann, Jean-Pierre Jeunet's Amélie, Lars von Trier's Melancholia, Ron Howard's Rush, Wim Wenders' Pina, TV mini-series Generation War, and many more.
In addition, the fund, which has an average overall budget of $39m (€35m) per year, has been involved in numerous initiatives within North Rhine-Westphalia such as the ifs international film school Cologne, the Gerd Ruge Fellowship for documentary film-makers, the Wim Wenders Foundation in the director's home city of Düsseldorf, and the German Web Video Award. The fund has also partnered with the Berlinale on Drama Series Days since 2014, supported new talents with the launch of the Baumi Script Development Award, and sponsored the Entertainment Master Class, which has been held in Cologne for the past six years.
"From the outset, the Filmstiftung has always been innovation-driven in its operations, working together with producers and creatives to open up new spaces for film and media production," says Müller. "Whether it is international co-productions, film comedies and family entertainment, TV events and TV series, documentaries and digital content development, games and web videos, the Filmstiftung has been a pioneer in many of these areas."
"This also explains why the three letters, NRW, are seen abroad as a brand standing for a funding programme that is successful, innovative and culturally sophisticated."
The anniversary year has already proved a great success for the fund, notes Müller. The People Vs. Fritz Bauer received six Lolas at the German Film Awards, Wild and Sonita played at Sundance, Mustang was nominated for an Academy Award for best foreign language film, 29 supported films screened at the Berlinale and Toni Erdmann played in Competition in Cannes. Moreover, this year's Locarno Film Festival selected six Filmstiftung-backed productions for its programme, including two competition titles, Michael Koch's Marija and Angela Schanelec's The Dreamed Path, and Piazza Grande screenings of the TV two-parter Gotthard and Christian Schwochow's Paula.
Funding the future
Wenders' latest 3D feature The Beautiful Days Of Aranjuez, meanwhile, will have its world premiere at Venice Film Festival. Toni Erdmann, which saw 300,000 admissions in its first three weeks of release in Germany, continues to be successful internationally with a special screening in the Venice Days sidebar as one of the three finalists for the European Parliament's LUX film prize. This will be followed by a special presentation at Toronto International Film Festival.
For the future, Müller suggests the Film- und Medienstiftung NRW should stay on target "as a funder of films, high-end series and innovative content; as a reliable partner for producers, as well as new developers and creators; as a supporter of the next generation and media start-ups; and as the driving force for forward-looking regional development".
Müller adds: "This should also include the idea of the integrated funding institution being developed further as an NRW lab for the moving image and as part of a sustainable media and creative sector." She concludes, however, that "it's obvious all of this can only be achieved with the appropriate financial resources. And this is where there is the biggest challenge in times like these".
Additional thoughts on Film- und Medienstiftung NRW's 25th anniversary from CEO Petra Müller
SCREENDAILY: What position does Film- und Medienstiftung NRW occupy in a national and international context?
Müller: NRW is now the film and media hub with the largest production output [in Germany]. It is home to media concerns like Bertelsmann, powerful broadcasters like WDR and RTL, highly professional service-providers and studios, entertainment giants such as Endemol Shine, Sony, UFA, as well as Electronic Arts and Ubisoft and independent film producers like Pandora, Little Shark, Heimatfilm and Zeitsprung. NRW is also home to Germany's financially richest regional funder in the Filmstiftung and its average annual budget of €35m.
What did the 2011 realignment – including the name change to Film- und Medienstiftung NRW – bring in terms of strategy and new talent development?
Since then, the Filmstiftung has been operating as an integrated funding institution with a 360-degree perspective on the moving image. It's consistent with this profile that NRW and the Filmstiftung should show particular commitment to the next generation of filmmakers and media start-ups. The Filmstiftung invests around €5m in young filmmakers, games developers and web video producers, and offers funding programmes and bursaries for the development of innovative content. So, NRW is now one of the most interesting regions for young talents in Germany.
Besides the many productions supported by the fund which have achieved international success, which include Schtonk, Run Lola Run, Mustang, Melancholia and Toni Erdmann, what are some of your highlights of the past 25 years?
Milestones definitely include the founding of the ifs international film school Cologne in 2001, the re-opening of the historic "Lichtburg" cinema in Essen, and the digitisation of NRW's cinemas as well as the location of the Wim Wenders Foundation in Düsseldorf in 2013. There is also the establishment of the "Drama Series Days" together with the Berlinale in 2014 and the German Web Video Awards, the leading distinction for the creators of web videos in Germany.
What challenges do you anticipate in the future for the Film- und Medienstiftung NRW?
What is certain to be a challenge is maintaining this level and raising it even further if possible. Another challenge will be to provide a productive accompaniment to the digital transformation of the content industries. We have already created important momentum with innovative funding programmes and want to continue going in this direction. In the light of growing international competition, it will be a case of keeping NRW in people's sights as an attractive film and media hub.