Filmmakers Q and Nikon talk to Ian Sandwell about their horror which received its world premiere at Fantasia International Film Festival.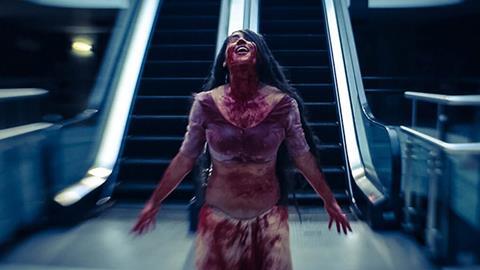 "It was not just an experience for me and Q, but for everyone involved," says co-director and co-writer Nikon of Indian horror Ludo, which received its world premiere as the opening film of Fantasia International Film Festival's Camera Lucida spotlight.
Ludo follows a group of four teens who break into a shopping mall after closing time where they encounter two supernatural entities who are keen to play the titular board game with them.
The film, which was picked up by Reel Suspects for international sales, marks Indian filmmakers Q [ Quashiq Mukherjee] and Nikon's first as co-directors after Nikon edited Q's Tasher Desh.
"Thankfully we were really good friends before," notes Q. "The process of film-making is really trying in all ways, it's a sadomasochistic exercise. So to have a partner is really tough because most of the stuff happening is entirely objective, but we've appeared at the other end unscathed."
Not only did Q and Nikon have to contend with co-directing duties, but the process of getting Ludo made in India provided its own challenges.
"India has a very skewed history with horror films. The funders didn't know what kind of films we were talking about, so there had to be a reference-building exercise first," reflects Q.
"We were very lucky to find co-producers who we'd worked with before and could understand what we were doing. We made it with a very low budget, but it's not a big deal as we are used to that. We are always functioning at 1/25th of a budget."
What they might not have expected to encounter an issue with, though, was customs. "David [Scherer], our prosthetics guy, flew in with all of his make-up and was stopped at customs who took away the fangs. They left the blood, but took the fangs," jokes Nikon.
And that was before a cave scene saw both the film's sound recordist break his leg and the make-up melt due to 45 degree heat.
The struggles proved worth it though as Ludo is a singular and bold genre outing that plays with audience expectations.
Its structure (which sees the second half of the film focused on a flashback) will likely prove unique viewing for Western audiences, often used to seeing flashbacks delivered piecemeal throughout a film.
"From the beginning, we wanted to start with a straight-up genre idea and then spin it around by going into the past of these two monsters," explains Nikon. "The way we shot it, there was always the option to intercut the past with the present and make it more non-linear, but it felt right to keep it the way it is."
Q was influenced by Kishōtenketsu, a four-act Japanese structure: "Any kind of modern art form is driven by the Western narrative and three-act structure, and I've always been against this. We don't see life as a series of conflicts and resolutions; it just keeps flowing through things and not stopping."
It results in a film that doesn't reveal its full hand until the very final shots, when the two strands come together to flesh out the other.
"It's telling a story in a pretty straightforward way, where the individual characters and their association with the idea of their life-force is far more critical than what is happening in the plot," expands Q. "In the film, everything takes happens in the same space and, in our minds, it's completely linear. We're telling you one story about the game, two times over."
Pleasingly, Ludo will not be the duo's only roll of the dice with horror. "Horror is a genre that has always tickled us and this is not a genre where you can just tell one story," concludes Q.
"For us, it's very interesting as it gives you the liberty to experiment with form and that's what we like doing."