International buyers are heading to Paris for a first glimpse at the new French films of the year at Unifrance's annual Rendez-vous with French Cinema.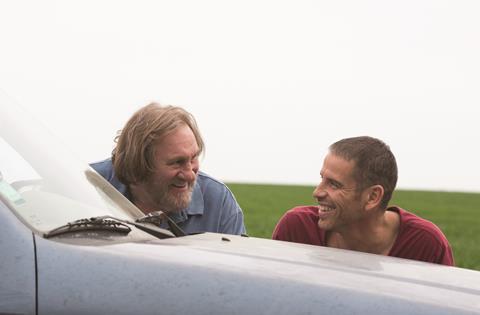 Unifrance's annual Rendez-vous with French Cinema (January 14-18) kicks off on Thursday in Paris with an opening-night screening of Thomas Sorriaux's comedy A Mighty Dream (La Dream Team). Medi Sadoun, best known internationally as one of the brother-in-laws in Serial (Bad) Weddings, co-stars as an injured football champion who starts coaching his amateur home-town team opposite Gérard Depardieu as his estranged father.
It is a fitting opener in the year France is gearing up to host the UEFA Euro 2016 football tournament from June 10. The choice of film also underlines the growing popularity of French comedies internationally.
"We wanted to celebrate the growing global success of French comedy and open with something light-hearted and fun," says Unifrance general director Isabelle Giordano.
While it has been a difficult period for the French capital following the terrorist attacks in January and November last year, attendance at the annual meeting has not been dented by the violence, with some 400 buyers expected. They are invited by Unifrance, which hosts the international buyers for three nights in Paris. The Rendez-vous is the biggest market for French films after Cannes and will showcase 80 features — around 60 of which are world premieres.
Olivier Albou, co-CEO of Paris-based Other Angle Pictures which is handling sales on A Mighty Dream, says the market is one of the most important of the year for the company. It has a focus on French-language comedies and hopes to benefit from the prevailing appetite for light French fare following the worldwide success of Serial (Bad) Weddings.
"It's the first time an independent like us has had the opening film and this promises to be one of our biggest markets to date. We'll be rolling out 10 films," says Albou.
"A Mighty Dream is in keeping with the sort of feelgood French comedy we've been specialising in since we launched Other Angle. We've already had success with another soccer-focused film, Les Seigneurs [in 2012], and we think this picture also has the potential to do well at the box office."
Further titles with international appeal set to premiere at the market include Bac Films' film-business comedy Vive Le Cinéma (Arrete Ton Cinema), directed by Diane Kurys and based on a semi-autobiographical book by actress and film-maker Sylvie Testud who plays the lead; the long-awaited first title in the animated trilogy of the Dofus videogame franchise, Dofus — Livre 1: Julith, handled by Indie Sales, and Franck Gastambide's Thailand-set comedy Pattaya, sold by Gaumont.
Dramas in the line-up include Vincent Garenq's Kalinka, inspired by the real-life story of a man's 30-year battle to bring the stepfather killer of his daughter to justice, which will be unveiled in a private screening by Studiocanal, and Abdellatif Kechiche collaborator Olivier Loustau's gritty social drama The Boss's Daughter (La Fille Du Patron), starring Olivier Loustau and Christa Theret, which is sold by Wild Bunch.
Industry schedule
Alongside the market, Unifrance is hosting its annual press junket for some 100 international entertainment journalists from across the globe focusing on upcoming international titles including Joachim Lafosse's White Knights, starring Vincent Lindon and Louise Bourgoin, and Pierre Godeau's Down By Love (Eperdument), co-starring Guillaume Gallienne as an exemplary prison governor who falls for a beautiful but danger female inmate, played by Adele Exarchopoulos.
Industry events include a roundtable on strategies for French producers who want to work on internationally focused fare, featuring case studies of Olivier Assayas' well-travelled English-language Clouds Of Sils Maria and global hit Serial (Bad) Weddings. Clouds Of Sils Maria and Mustang producer Charles Gilibert is one of the panellists.
For the second year, Unifrance is feting a local producer who has made a major contribution to French cinema. This year, the honour goes to Dimitri Rassam and Aton Soumache of Paris-based On Entertainment for his role in spearheading the production of global box-office success The Little Prince, France's most successful feature-length animation export of all time with 12.5 million global admissions.
Unifrance is also holding its annual conference on January 15, at which it will unveil preliminary figures on the performance of French cinema at the international box office in 2015. For the first time, it will take place at the Ministry of Foreign Affairs at the Quai d'Orsay in the presence of foreign minister Laurent Fabius.