With Knives Out and sequel Glass Onion, Rian Johnson breathes new life into a film genre that had been neglected by Hollywood for decades. He tells Screen why he is still learning from the successful formulas of the past.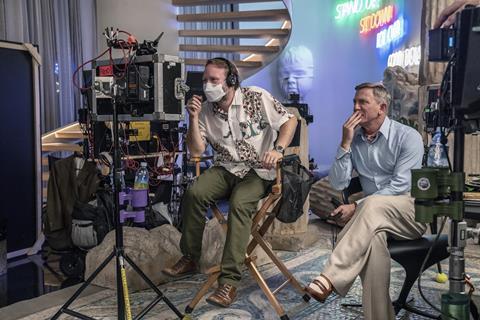 Rian Johnson describes himself as "a who­dunnit junkie". So it feels sweetly appropriate that he should be the filmmaker to bring the genre into the 21st century, with the resounding $313m global box-office success of Knives Out in 2019 and now its acclaimed follow-up Glass Onion: A Knives Out Mystery. Two films that not only plant the genre firmly and satirically in the modern day, but also give us a new eccentric detective in the form of Daniel Craig's Kentucky-fried gentleman sleuth Benoit Blanc.
While shooting Knives Out, Johnson never seriously thought it would launch a franchise. Indeed, his deal with backers Lionsgate and Media Rights Capital (which also has a stake in T-Street, Johnson's company with producing partner Ram Bergman) was only for a single movie. However, Johnson and Craig spent a lot of time between takes discussing how it might be fun to make more Benoit Blanc films — "As a series, as if it's Agatha Christie novels, where each one is a different cast, different setting, different mystery," the amiable 48-year-old tells Screen International. "That seemed most creatively interesting."
Netflix clearly agreed. In March 2021 the streaming titan purchased the rights to two Knives Out follow-ups for an astonishing $450m. "It wasn't a call out of the blue," explains Johnson, who declines to take credit for the deal. "Ram and [CAA partner] Bryan Lourd — who helped work it out with us — made calls, asked around town and got a series of pitches on what different people would do with it.
"In terms of Netflix making the offer, I've heard different things as why that number makes sense, but it's not my department," he admits. "Unlike a lot of successful filmmaker-producers, I do not have a producing side of my brain. I just try to focus on the creative because that's what I'm good at."
It is easy to imagine Johnson treating this plum deal as the perfect excuse to indulge his creativity and expand Blanc's world. After all, where Knives Out was tightly focused on a Massachusetts mansion, Glass Onion jets to the more exotic locale of Spetses in Greece. Blanc arrives to take part in a murder mystery weekend at a tech billionaire's ostentatious retreat, which the production conjured from a luxury villa on Greece's Peloponnese peninsula, while its capacious interiors were built in Belgrade, Serbia. Johnson had already written the script when Netflix was approached, he tells Screen when meeting in London, the day after Glass Onion closed the BFI London Film Festival in October. "So the deal had no bearing on the creative of the script. No matter where we made it, it would have been a bigger movie."
Even so, he insists it would be a mistake to subject this series to what he calls "scale creep". Glass Onion — which lands on Netflix on December 23, a month after its successful one-week cinema run — is not about going bigger. "What makes these things tick is a story element or twist that the audience is going to feel is new and fresh, and that more than making it bigger is what makes it better," he says.
Of course, whichever novel elements were introduced, there was no chance this new instalment would exclude its star investigator. Fortunately, Johnson repaid Craig's openness to returning with a screenplay that hooked him. "I'm sure if he hadn't liked the script, it would have become a conversation," says Johnson. "But he was very into it. And the reality is, we get along really well. That's the main reason these movies are happening. We both want to keep the party going."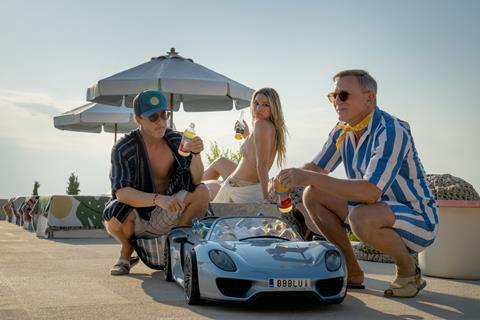 Ring master
One thing that is clear from Johnson's achievement with both Knives Out and Glass Onion (plus his 2017 Star Wars episode The Last Jedi, for that matter) is he sure knows how to craft an ensemble. This film brings together and precipitates comedy chemistry from such diverse talents as Janelle Monáe, Dave Bautista, Kathryn Hahn, Leslie Odom Jr, Edward Norton and Kate Hudson. Yet Johnson never dares to imagine specific actors in any of the roles as he writes.
"I've learned not to over the years because you get your heart broken," he says. "So now I try to just write in a vacuum, then I sit down with our casting director Mary Vernieu and see who's available. It's always a complicated process of figuring out who wants to schlep off to Greece and Belgrade for six months and be part of this circus troupe. In this case, obviously we got tremendously lucky — not just with the calibre of actors, but the fact we got a group that gelled and all got along."
Together with Johnson, they all bore the intense heat of midsummer Greece ("I don't want to complain as it was paradise, but a lot of the actors were wearing costumes that looked very breathable but were actually a little bit like tin-foil tents around a turkey"), before moving to the Rick Heinrich-­designed ultra-­modern-looking sets in Belgrade. While there, the delta variant of Covid-19 surged, which meant cast and crew were "very locked down in the same hotel", Johnson says. To help everyone blow off steam — and channel the film's puzzle-game vibe — he hosted sessions of the social-deduction party game Mafia.
"We'd rent the rooftop bar and the whole cast would get together and play Mafia every weekend," says Johnson. "It felt like drama summer camp a little bit — without the bad kind of drama."
Having revived the whodunnit, Johnson's next project, the Natasha Lyonne-starring crime-comedy TV series Poker Face, represents his attempt to bring back a 'crime-of-the-week' format that has been driven out of fashion by the big-arc shows favoured by streaming. "The whole notion goes back to the type of TV I watched when I was a kid," he explains. "Magnum, P.I., The Rockford Files, Quantum Leap… They told a whole story in one hour. I wanted to do a very well-done version of that with Natasha at the centre of it, and because of the nature of the show, every episode is set in a very different world. But it was crazy the amount of pushback we got — 'Yes, but what's going to be the arc over the entire season?' People forget that for years and years, that wasn't how TV worked."
The time is ripe, he believes, for a turn back in that direction. "I feel like there's a real thirst. You see it in terms of young people being turned on by sitcoms; by the fact Friends is so popular again."
Back on the big screen, with Johnson confirming his mooted return to Star Wars is firmly on the back burner ("Kathy Kennedy and I still talk about it, so it's something I hope to do some day"), his focus is very much on the third Benoit Blanc story. "I'm just starting to have ideas," he says, keeping things enticingly vague. "I have a general thing where I'm like, 'I think it seems most interesting to pull it in this direction for the third one…' But there's many a slip between the cup and the lip. I still have a long way to go."