For its 65th edition, San Sebastian is embracing small-screen content while consolidating its bond with Latin American and European cinema.
Long a rendezvous for film lovers, be they local audiences or industry professionals and stars, San Sebastian Film Festival (September 22-30) is faithful to the formula that has kept its numbers growing: a programme designed to balance mainstream and arthouse cinema, the discovery of new talents and a touch of glamour.
September is a competitive month for international film festivals but San Sebastian's director, Jose Luis Rebordinos, is happy to have found the key to programming his own. "One cannot always go for world premieres if this stops you from getting good films that can, instead, have their European premiere in San Sebastian," he says. "There's room for everybody. The same way that some films shown in Sundance find their way to Berlin, or attend both Telluride and Venice, we complement each other well with Toronto."
This year, San Sebastian will open with Wim Wenders' Submergence, starring Alicia Vikander and James McAvoy, and close with The Wife, directed by Björn Runge (Happy End). The official selection will feature James Franco's The Disaster Artist in competition, alongside up-and-coming filmmakers such as Ivana Mladenovic with the Romania-Serbia-Belgium co-production Soldiers: A Story From Ferentari and Spain's Antonio Mendez Esparza with Life And Nothing More (his debut feature, Aqui y Alla, won the Critics' Week grand prize at Cannes in 2012). In a first for the Basque city's festival, the line-up includes a TV series, The Plague, a Spanish production directed by Alberto Rodriguez (Smoke & Mirrors) and set in 16th-century Seville as the city reels under the epidemic.
In the footsteps of festivals such as Cannes, which also opened its doors to TV productions and VoD powerhouses, San Sebastian is changing with the times. Telefonica's pay-TV channel Mo-vistar Plus is behind both The Plague and Verguenza, a romantic comedy-drama that will have its 10 episodes shown in the festival's Zabaltegi-Tabakalera section. Netflix's Bomb Scared, a feature comedy by Borja Cobeaga (writer of local box-office hit Spanish Affair) dealing with the topic of Basque terrorism, will also be screened.
"VoD is part of our present and future and you cannot ignore it," says Rebordinos. "Both the industry and the different national legal frameworks will work it out, like they have embraced other changes in the past. It's not a black-and-white debate. As a film festival director, I'm only concerned about offering the best films I can."
Don't miss
The 65th edition of San Sebastian will increase the number of masterclasses given by top industry names. This year's guests include Todd Haynes, who will talk with his longtime producer Christine Vachon about their film Wonderstruck, which is playing in the Pearls sidebar. Haynes was president of the San Sebastian official jury in 2013.
Hot picks
The Disaster Artist, directed by, produced by and starring James Franco, is one of the highlights of the competition. The comedy about the production of Tommy Wiseau's 2003 cult classic The Room, which is considered one of the 'best worst films' ever made, puts the cinephile experience firmly in the spotlight. In a different genre, a reflection on film through film will also appear in the competition in the shape of Nobuhiro Suwa's The Lion Sleeps Tonight, featuring veteran French actor Jean-Pierre Léaud.
The strong competitive section also includes A Sort Of Family by Argentinian director Diego Lerman (Refugiado) and C'est La Vie!, a comedy by Intouchables directors Olivier Nakache and Eric Toledano. Out of competition, Sergio G Sanchez, screenwriter of JA Bayona's The Orphanage and The Impossible, makes his directorial debut with Marrowbone, a supernatural thriller starring Anya Taylor-Joy (Split) and Charlie Heaton (Stranger Things).
Mademoiselle Paradis, a drama about a blind pianist by Barbara Albert (The Dead And The Living), is one of the titles directed by women in competition in San Sebastian. The female presence also includes Agnes Varda (with Faces/Places) and Lynne Ramsay, whose You Were Never Really Here screens in Pearls. A discussion about women in the industry will take place during the festival.
Spanish titles in official selection include El Autor by Manuel Martin Cuenca, and Dying by Fernando Franco. Loving Pablo, Fernando Leon de Aranoa's take on Pablo Escobar starring Penelope Cruz and Javier Bardem, will have a special screening at San Sebastian's 3,000-capacity Velodrome. This will be the venue, too, for Operation Golden Shell, a comedy set in the context of — yes — San Sebastian Film Festival.
The Latin connection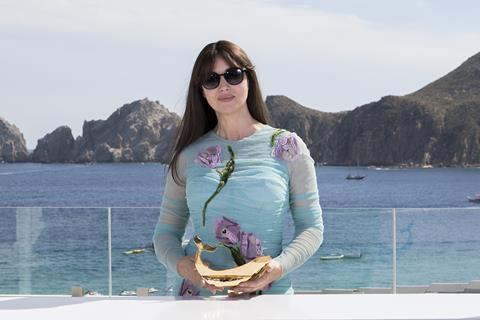 San Sebastian has an established relationship with the Latin American industry. "It's a well-oiled chain that can start with the International Film Students Meeting, carry on to films in the post-production stage and end up in competitive sections of the festival," says Rebordinos.
Films In Progress, the biannual initiative run jointly with Cinélatino Rencontres de Toulouse, will showcase six projects this year: Immersed Family (Argentina-Brazil-Germany) by Maria Al-che; Wanderers (Brazil-US) by Leandro Lara; Wandering Girl (Colombia-France) by Ruben Men-doza; Ferrugem (Brazil) by Aly Muritiba; Kairos (France-Colombia) by Nicolas Buenaventura; and Agosto (Costa Rica-Cuba-France) by Armando Capo Ramos.
In recent editions, festival hits such as Lorenzo Vigas' From Afar and Pepa San Martin's Rara have been fostered at Films In Progress. Another participant, Princess by Chile's Marialy Rivas, will be in the New Directors section.
For films in earlier stages of development, the Europe-Latin America Co-Production Forum has selected 16 projects. New this year is the Eurimages award for co-production development, which bestows $23,500 (€20,000) on the majority European producer of the chosen project.
In addition to titles in the main programmes, San Sebastian has a Latin American section, Horizontes Latinos. Sebastian Lelio's A Fantastic Woman, winner of Berlin's Silver Bear for best screenplay, will open the section, which will also show Cannes titles April's Daughter by Michel Franco and The Desert Bride by Cecilia Atan.
San Sebastian's Latin American flavour will receive a red-carpet boost this year with the presence of Argentinian star Ricardo Darin, recipient of the Donostia lifetime achievement award.
Monica Bellucci and Agnès Varda will also receive Donostia Awards, which recognises "outstanding contributions to the film world of great names who will be part of cinema history forever".