Singapore's Infocomm Media Development Authority brings virtual production to life.
The Infocomm Media Development Authority (IMDA) has launched a $3.7m (s$5m) virtual production innovation fund to strengthen Singapore as an international partner of choice for premium IP creation.
The demand for virtual production in film and TV has accelerated since the Covid outbreak, with Disney's The Mandalorian standing out as a pioneer. This technological advancement has opened endless creative possibilities, providing strong impetus for Singapore's media industry to equip itself with cutting-edge technology.
Singapore as a city-state has limited sites for on-location filming and limited space to build extensive sets. With virtual production, however, photorealistic background environments can be created and displayed on LED walls, with the camera tracking actors and visual effects in real time. Production will no longer be dependent on location-related matters such as road closures, location permits, space rental, set construction and even the weather is no longer a challenge.
"The development of virtual production technology allows us to create visual effects in real-time without physical set production and with that, overcome the limitations of space, scale and complexity," says Justin Ang, IMDA's assistant chief executive for media, innovation, communications and marketing.
The creative process is being revolutionised as storytellers can recreate past and fantastical environments that were previously expensive or unachievable, lifting creativity to the next level. "The impossible can be made 'possible', limited only by the imagination of our filmmakers," adds Ang. "We are excited to see more innovative and compelling stories from the use of virtual production to strengthen Singapore's position as a hub for content and IP creation".
To help the local industry acquire new skills and unlock the potential of virtual production, funding will be made available for short-form content (three to 10 minutes) such as music videos, short films and brand commercials. Proposals can be submitted until February 15, 2023 at go.gov.sg/vpinnovationcall. Selected projects will be funded up to 50% by IMDA.
Training and support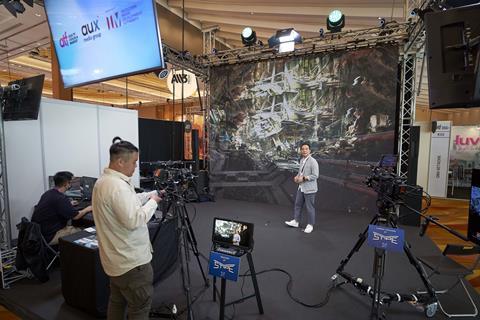 IMDA is also partnering with US-based Epic Games to run an industry challenge from early 2023, aiming to train and support local companies in the use of Unreal Engine for virtual production. Shortlisted teams will receive direct mentorship from Epic Games as well as cash prizes from IMDA to produce their projects.
Unreal Engine was created by Epic Games as an advanced real-time 3D creation tool and powers games such as Fortnite. Such video game engines are often used to power virtual production with photorealistic background scenes displayed on LED walls.
IMDA is also collaborating with the UK's National Film and Television School (NFTS) to tailor the school's Certificate in Virtual Production course to meet the local industry's specific needs. Some 15 media lecturers, trainers and industry professionals have already started the hands-on training at NFTS' virtual production lab in the UK, and will continue with virtual classes until April 2023.
A series of masterclasses and workshops will be conducted in the next 12 months to get local media talent up to speed. First up was an LED display showcase set up by Aux Media at the Asia TV Forum & Market (ATF) in Singapore. Guest speakers from virtual production frontrunners — Kim Young-ro from South Korea's XON Studios, Olaf Sperwer from ROE Visual Europe and Nicholas Chan from Disguise — conducted hands-on demonstrations on how to master and bring virtual production to life.
"We bring in different expertise from overseas and propel Singapore as a hub where regional talents can congregate and collaborate," says Nicholas Tan, head of digital content and virtual production at Aux Media. "Singapore is well-positioned to be the gateway for Asian countries which aim to get involved in virtual production."
The Singapore-based company, which specialises in immersive experiences, is teaming with Thailand, Malaysia, Vietnam and South Korea for virtual production projects.
"Virtual production offers a much more efficient way of shooting by moving some of the post-production time to pre-production," adds Tan. "It goes beyond the traditional storyboard and mood board to lighting and camera angles that produce a longer shot list. The process saves time on the shoot day and can help with talent and crew overrun."
The launch of the virtual production innovation fund was announced by senior minister of state for communications and information Tan Kiat How at the opening of ATF on December 7. ATF is part of the Singapore Media Festival hosted by IMDA, which also comprises the Singapore International Film Festival, Singapore Comic Con and the new CreatorWorld.
For more information visit go.gov.sg/vpinnovationcall

The Infocomm Media Development Authority (IMDA) leads Singapore's digital transformation by developing a vibrant digital economy and an inclusive digital society. As Architects of Singapore's Digital Future, we foster growth in Infocomm Technology and Media sectors in concert with progressive regulations, harnessing frontier technologies, and developing local talent and digital infrastructure ecosystems to establish Singapore as a digital metropolis. For more news and information, visit www.imda.gov.sg or follow IMDA on Facebook (IMDAsg) and Twitter (@IMDAsg).