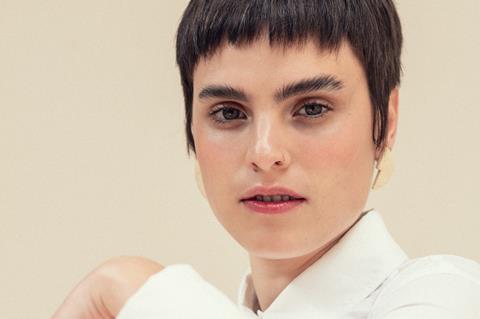 An artist turned performer, Jone Laspiur saw her two first features selected for the San Sebastián film festival in 2020. She then went on to win the Goya award for best new actress in 2021.
Laspiur studied art at the Universidad del Pais Basco, as well as piano and singing. She even started exhibiting her work and never quite thought she would end up being an actress. Singing with a band, she was spotted by the musician Maite Arrotajauregi, who was working on the soundtrack of the feature Akelarre about a witch-hunt in the 17th-century Basque country and suggested she went to the casting.
"It was a very experimental casting, we had to sing and dance, improvise," she recalls.
She got the part and the momentum began to build when she was cast in David Pérez Sañudo's mother-daughter drama Ane. Both films were then selected for the 2020 edition of the San Sebastián Film Festival.
With no formal training, Laspiur instead fully committed to the casting process. "The director of Ane told me he cast me because he saw how I evolved from the first test to the second."
Laspiur has since shot Icíar Bollain's upcoming Maixabel, in which plays the friend of the main character's daughter. The film tells the true story of a woman whose husband was assassinated by the terrorist organisation ETA and years after the murder, one of the men who killed him asks her to meet her.
Laspiur is now studying acting in Madrid. She is enjoying the opportunity to "be other people, to mold characters", a description probably borrowed from her passion for sculpture. Recently she has shot two series pilots Larrugorritan and No Abras Nunca Esas Puertas, both in the Basque country.
She loves French cinema, from Agnes Varda to Leos Carax and the work of actresses such as Juliette Binoche. Laspiur says she has been impressed by titles such as The Tribe by Myroslav Slaboshpytskyi, and Happy As Lazzaro by Alice Rohrwacher. She would love to have the chance to work with collaborators and make intimate stories such as Chloé Zhao'sThe Rider.
"I am hungry to learn and do as much as I can with the time I have when I'm not working," says the ever-committed emerging actress.
Contact: Laura Calabuch, Calabuch