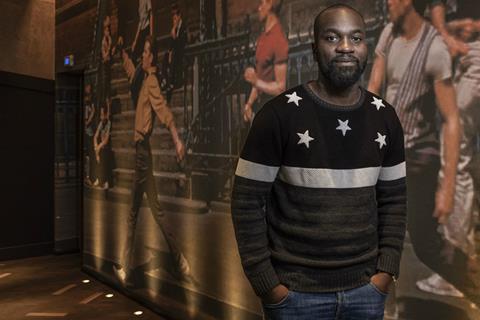 Set in a barbershop, Koby Adom's 2018 short Haircut was made through Film London's London Calling scheme and chosen by director David Yates for the London Calling Plus award.
Adom is at treatment stage and in discussions with Film4 and BBC Films on his debut feature SE28. It is built around a real incident from his youth that scattered his friendship group — "a specific day after which I haven't seen my friends again," he explains. The location in Thamesmead, southeast London is integral to the story. "It's so iconic, more than people think. The reason why this area was even built in the first place ties into the story I'm telling."
An admiring tweet to E.T. The Extra-Terrestrial cinematographer Allen Daviau put the wheels in motion for Adom's career. Invited to a film lighting conference in Los Angeles after his message, he spent all his savings on the trip. It reaped rewards: conversations with Daviau and other luminaries about filmmaking made it clear he "enjoyed this stuff way too much" to pursue anything else.
As a British-Ghanaian, Adom's body of four shorts take in both his African heritage — he was born on the Ivory Coast and lived partly in Ghana — and London upbringing since the age of six. House Girl, Adom's 2016 masters graduation film from London Film School, sees a British-African girl visit Ghana and find a world apart from the European city she has been raised in. Shooting on location in west Africa posed "huge issues every day", but was ultimately an "unforgettable experience" that Adom believes will serve him well: "By putting myself in the deep end, anything I do now is not as intense."
For Adom, his heritage is an essential part of his storytelling. "I want to make timeless films, to start making Africa more renowned in the industry. I have responsibility in the UK, but I have responsibility in Africa too." Further projects alongside SE28 include turning House Girl and Haircut into a series and feature respectively.