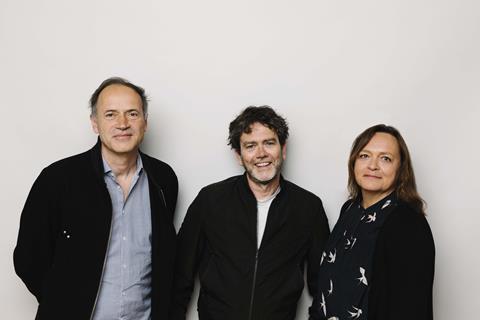 Need to know: This September will see Roman Paul and Gerhard Meixner celebrate 20 years as the heads of Berlin-based outfit Razor Film, whose landmark productions include Hany Abu-Assad's Paradise Now, Ari Folman's Waltz With Bashir, Jasmila Zbanic's Quo Vadis, Aida?, and Haifaa Al Mansour's Wadjda and The Perfect Candidate. While still believing in the future of theatrical releases, the duo also became part of The Creatives production alliance network in 2021 and have started developing more content for broadcasters and streamers. Razor has been producing the highly popular The Nordic Murders procedural for German TV since 2015 and will be pitching two large-scale series to potential partners at Cannes. Meanwhile One Fine Morning, its third collaboration with Mia Hansen-Love, will world premiere in Directors' Fortnight at Cannes.
Key personnel: Gerhard Meixner and Roman Paul, co-CEOs; Christiane Sommer, head of production.
Incoming: Preparations are underway for the company's first co-operation with Les Films de Pierre on Claire Burger's Tandem, about a German-French student exchange. The company's development slate includes interactive theatrical feature Identitti, based on Mithu Sanyal's bestseller, as well as two series projects with Creatives partners: Ori Sivan and Maya Zaydman's My First Family with Haut et Court and Arne Feldhusen's The Flaws with Unité. The company is also developing Ari Folman's limited series The Chosen One — 8 Hours In Life with Poland's Extreme Emotions.
Roman Paul says: "The company's goal is to continue producing relevant audiovisual work and challenge the audience and ourselves. More than ever, it is a big challenge to stay and work independently, which is why we started The Creatives because we are stronger together."
Contact: info@razor-film.de