After two tough years, Toronto International Film Festival is back with a potent line-up and as a fully in-person event. CEO Cameron Bailey tells Screen what's in store.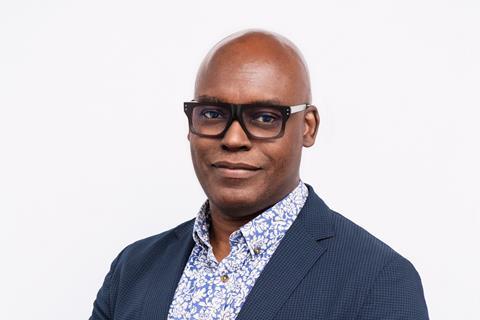 After two years that did no favours to mass public gatherings, Toronto International Film Festival (TIFF) is back and ready to party. The in-person edition showcases 200 features, and a batch of world premieres that are among the most coveted on the fall festival circuit. Despite the stresses of recent times induced by a miserable cycle of Covid-19 surges and variants, Cameron Bailey — the festival's former co-head and artistic director and now CEO following the departure last October of executive director Joana Vicente to run the Sundance Institute — is feeling confident in the run-up to TIFF's 47th edition.
"It is exciting to see our building full of people, buzzing through the [TIFF Bell] Lightbox and getting things ready," Bailey says prior to the September 8 opening-night world premiere of Sally El Hosaini's The Swimmers. "It's just on a different scale than we've been able to do over the last few years so it feels good."
At time of press there are 203 features and 49 shorts in this year's edition — entirely in-person with a Canada-only online selection on TIFF's platform for those who cannot make the event. That is well up on 118 features at last year's hybrid event and 50 from 2020's Covid-­decimated online edition. TIFF used to clock in at 300 films, which many argued was unwieldy, but Bailey does not see it returning to that level. "We don't feel like we have to go back to exactly the way things were before the pandemic," he says, ever the diplomat.
Bringing back a major public-­facing festival is no mean feat. Bailey and his team had an idea of the scale they wanted last autumn, although a lockdown in the ensuing winter months was a nail-biter. After consulting with public health authorities and witnessing the rollout of vaccines and boosters, the sense was that the worst was behind them and by spring the festival was moving ahead. There will be no requirement to show proof of vaccination or wear masks insides venues, although TIFF staff will do so. Entry into Canada will require vaccine proof on the ArriveCAN app.
Bailey is highly encouraged by the number of filmmakers, press and industry who are coming. Commercial partners have stuck with TIFF, including lead sponsor Bell and major sponsors RBC and Visa, while Italian luxury brand Bulgari is a new major sponsor. He notes "tremendous" government pandemic support, adding: "The festival you'll see this year is put on in large part thanks to the support we've got."
Star powers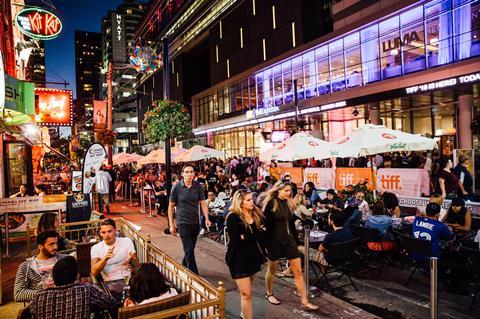 If the calibre of world premieres set to unspool is any indication of the festival's standing among filmmakers, things are looking good. On paper the jewel in the crown is Steven Spielberg's semi-­autobiographical drama The Fabelmans. It is such a coup for TIFF that Venice Film Festival artistic director Alberto Barbera publicly lamented on missing out.
So how did Bailey lure Spielberg to TIFF for the first time? He chuckles. The conversation started months ago and there was a good relationship in place with Universal Pictures marketing gurus Michael Moses and Megan Bendis. And then there was Bailey's heartfelt response to the film.
The London-born festival head has been a lifelong Spielberg fan ever since he moved to Canada from Barbados at the age of eight. His first filmgoing experience in Canada was Jaws at the drive-in. He watched Close Encounters Of The Third Kind five times. After going through "arthouse conversion" at university, he returned to Spielberg's films and found a deeper level of appreciation. "I think he's sometimes underrated, in some circles anyhow," opines Bailey. "He's a master filmmaker."
Bailey says he was "profoundly moved" by The Fabelmans. "I wrote to [Universal] and that went on to Amblin and to Steven," he says. "As an audience festival, where our most important prize is the people's choice award, I think it would be appealing for the most popular filmmaker of all time to launch here. This is one we're going to be talking about for months and years to come."
There are many world premiere gems in selection. Bailey enthuses about true-life Syrian sisters survival story The Swimmers ("powerful, affecting filmmaking — you stand up and cheer at the end"); gay romantic comedy Bros ("one of the funniest movies I've seen this year"); Riceboy Sleeps from Canada's Anthony Shim ("a very powerful story about growing up as an immigrant in British Columbia"); and Clement Virgo's sibling drama Brother, which deals with masculinity and race.
Notable selections that premiered elsewhere this year include harrowing female-led ensemble drama Women Talking from Telluride ("we're always so proud of Sarah Polley"); Rebecca Zlotowski's Venice entry Other People's Children, a "mature romance" that features Benedetta star Virginie Efira and Roschdy Zem; Park Chan-wook's Cannes entry Decision To Leave; and Oliver Hermanus's Living from Sundance.
Bailey and his team cast their net far and wide, welcoming in the streamers. Opening film The Swimmers is a Netflix title while Michael Grandage's My Policeman with Harry Styles hails from Prime Video. "We are agnostic," he says. "Many others in the industry are not, but we want to make sure we find the best films we can from wherever they're being made and bring them to us."
In a bid to fashion a walkable festival with venues anchored around TIFF Bell Lightbox, the Royal Alexandra Theatre on King Street West has joined the TIFF family, while the Elgin And Winter Garden Theatre Centre and Ryerson Theatre further away will not serve as venues this year, although that does not preclude future participation. That said, there will be special screenings of Moonage Daydream and Devotion at Cinesphere Imax, which is a taxi ride away in Ontario Place.
All 14 screens at Cineplex's press and industry hub Scotiabank will be dedicated to TIFF screenings for the first time since September 2019. "It's one of the most convenient venues at any festival I've been to," says Bailey. "If you just want to see press and industry screenings, you can spend your whole stay in that venue."
Festival Street returns for four days (September 8-11), when the stretch of King Street outside the Lightbox will be pedestrianised and accommodate food trucks, activations and free screenings of older films at Pecaut Square by Roy Thomson Hall. "It's our little version of the Plage des Palmes in Cannes," Bailey quips.
The TIFF CEO will interview Mubi founder Efe Cakarel in the Visionaries strand of a vibrant Industry Conference, which includes a talk with Hillary and Chelsea Clinton (see page 16). The in-person fourth TIFF Tribute Awards gala fundraiser takes place on September 11. "To have those things beyond the screenings and premieres is exciting and another sign the festival is back."
Cameron Bailey selects a few of his favourite TIFF hangouts
Mofer Coffee(24 Wellington Street West)
"This is a great coffee shop a block away from TIFF Bell Lightbox. It's run by an Ethiopian family and of course Ethiopia is the birthplace of coffee and that's very much reflected in the decor."
Pai(18 Duncan Street)
"A lunchtime and dinner favourite in the neighbourhood is this Thai restaurant, which a lot of our staffers go to regularly. There's often a line but that's because the food is so good."
Pearl Harbourfront Chinese Cuisine(207 Queen's Quay West #200)
"This is a very good dim sum restaurant on the waterfront, which I don't get to during the festival but really like."
Hotel bars & Soho House Toronto(Bishop's Building, 192 Adelaide Street West)
"The hotel bars and Soho House are where you'll find a lot of the industry and talent hanging out, whether that's the Ritz-Carlton [181 Wellington Street West], the newish The St. Regis Hotel [325 Bay Street] or Shangri-La Toronto [188 University Ave]."