It is early evening on a Friday, and French director Julia Ducournau is sipping a sparkling water as she sits on a Zoom call from a warmly lit, book-lined room. It is an image at odds with the crazy environment and events of her Cannes-winning second feature Titane. "I have a very secluded life," she replies, laughing, to a comment on her choice of water as the weekend draws in.
Ducournau became only the second female director to win Cannes' coveted Palme d'Or at its delayed 2021 edition in July, following in the footsteps of Jane Campion with The Piano in 1993. The fact this is how she will now go down in the annals of the festival's near 75-year history is at once fitting and ironic, given the gender stereotype-smashing intentions at the heart of Titane.
Spanning body horror, a Taran­tino-esque killing spree, a love story and comedy, the exhilaratingly disconcerting work stars Vincent Lindon as a steroid-injecting macho fire captain with a vulnerable side, opposite newcomer Agathe Rousselle as an on-the-run serial killer and car-show erotic dancer masquerading as his long-lost son.
The feature has since been selected as France's 2022 international feature Oscar contender in the face of stiff competition from Audrey Diwan's Venice Golden Lion winner Happening. Titane was lead produced by Jean-Christophe Reymond at Paris-based Kazak and is represented for international sales by Wild Bunch International. Diaphana Distribution released the film in France just days after its Cannes victory, drawing 300,000 admissions for a gross of around $2.2m, while Neon released it in the US in early October, achieving the biggest US opening weekend by a Palme d'Or winner since Fahrenheit 9/11 back in 2004.
Like her Cannes-winning predecessor Campion, Ducournau likes to begin preparing her sets, cast, make-up and props well ahead of time and with meticulous attention to detail. She and Lindon even embedded in a fire station in the small town of Sainte-Genevieve-des‑Bois outside Paris, which receives thanks in the final credits. "We lived there for a few days, doing the night shifts. They were really welcoming, we were part of the team and we learned a lot," reveals Ducournau.
At the director's insistence, Lindon also took up bodybuilding for the year preceding the shoot in the autumn of 2020 to bulk up his physique. "In the screenplay, his character is injecting steroids," explains Ducournau. Muscle mass was necessary for the audience to understand exactly what was being injected, "other­wise it might look like the character had diabetes or some other issue. He did an amazing job and actually enjoyed it, but this is something Vincent and I have in common — our belief that the first way to understand the character is through the body."
Killer instinct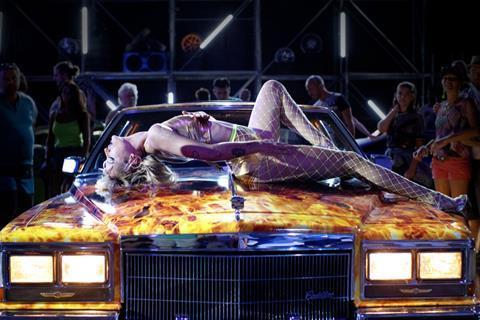 Rousselle's role as a serial killer who has grown up with a titanium plate in her skull, after suffering a childhood head injury in a car crash, held other challenges. "I was looking for a very androgy­nous look," says Ducournau. "To make the story work, I needed to work with a non-professional, someone who was not known by the public. I didn't want anyone to project anything else other than this person in this story, and especially not gender. That was important for me.
"I started casting both male and females. It was just about finding the right look to make my story believable. It was not a question of the gender of my actors or actresses."
Ducournau acknowledges it was a demanding role, for the nudity it involved, its physicality and the hours of prosthetic make-up. "It required someone who was ready to go all in, but in return for that, because this is a lot to ask from someone and especially a new actress, I told her as far as nudity is concerned I will make the set a safe place for you," says Ducournau. "My crew is majority female, so that helps a little bit. I always told her in detail what I was going to shoot and how I'm going to shoot it, and I would never ask her to do something she didn't want to do."
The film was shot sequentially, which meant Rousselle jumped in at the deep end with the film's infamous early scene of her character having sex with a car. "I explained my shots and exactly what I was going to show," recalls Ducournau. "When they read the script, people were imagining crazy porno things and stuff, when that's not the point of the scene at all.
"She was actually relieved when I told her we would not see the full extent of her body. I think she was a bit relieved afterwards, but now it's a scene that she actually likes and one of my favourites of the film."
The choice of the fire station and fireman's barrack and the exaggerated, macho world of firefighters as the main backdrop and milieu of Titane served a double purpose. "I wanted to subvert the archetypes we have in our heads about what masculinity should be. And then, what femininity should be on the other side, with the dancers at the car show. These professions gather a lot of social clichés, social archetypes and constructs that I've tried to deconstruct in my film," she says. "Secondly, I wanted to do something between metal and fire."
The latter ambition in turn grew out of Ducournau's starting point for the film, which is the half-metal, half-human baby in its final scene. "I had the idea of the ending very early on. It was just a scene, nothing else, but I knew I wanted this impression, this emotion. I started asking myself, 'Where does this baby come from? How did she get pregnant?' If the baby is half-metal, then it cannot be something quite human in terms of intercourse — and I went with the car," she explains.
"The car represents an extension of masculinity in our society. I wanted to subvert that, to reverse that for her to actually take over the car in order to please herself. So, this was like a subversion of this kind of cliché about cars."
Ducournau intertwined this with Greek mythology and the story of Gaia, goddess of Earth, who conceived the Titans with her son Uranus, for the title. "In French, 'titan' means both titanium and titan and the title feminises the word with the 'e' at the end," she explains.
Following up 'Raw'
The ease and fluidity with which Ducournau now talks about the creative process behind Titane belies the torturous period of self-doubt she endured trying to conceive this second film, after cannibal tale Raw made her name on the arthouse circuit following its premiere in Critics' Week at Cannes in 2016. She recounts how she would wake up, take a shower, get dressed and then sit in front of the computer with nothing happening, day after day for a year.
"It was incredibly painful. I had fears about my own incapacity to feel love for another film after Raw. I gave so much love to that film that I felt I was dry and wondered if I would be able to love another movie again. Now when I see Titane, I believe 100% of its radicality and the energy stems from that horrible year of vanquishing my fears."