At the second VFX + Animation Summit Dublin, international experts and growing local companies gathered to talk about issues such as global competition, tight schedules and training needs. Wendy Mitchell reports.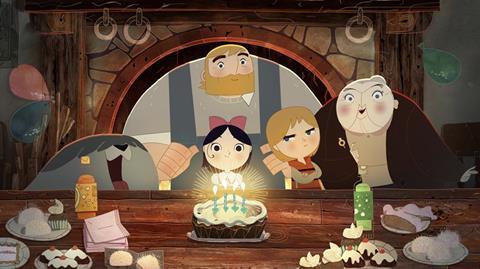 As Ireland's VFX and animation industries continue to grow steadily, international experts have reminded the sector that competing in a global marketplace is not just about skills and technical prowess.
"The role of the VFX industry is to help stories; it's important we embed storytelling from the beginning," said Darren O'Kelly, MD of London-based The Mill, in his keynote address that kicked off the VFX + Animation Summit Dublin (November 29-30). "We must not let VFX and animation become a substitute for great stories."
He continued: "I feel for some of our comrades who worked on projects like John Carter; there were absolutely breathtaking effects but a film like that gets neglected after a poor opening weekend… Unless we're connecting with audiences we're irrelevant."
'Shorter schedules mean less time to play around and make it look good. None of us just presses a button'

Eamonn Butler, Cinesite
Sometimes the effects have to take a back seat to the story. For The Mill's work in the famed Christmas ad for supermarket Sainsbury's, about a First World War truce between British and German soldiers, he said: "Our role was to make you believe it was Christmas Day in 1914." The spot was shot in the summer on a sunny day and was transformed into a snowy landscape in post-production.
O'Kelly cited the need for the best education to train a skilled workforce, warning that, in China, one university is producing 2,000 VFX-trained graduates per year, with access to the same tools and software as in the west. He said The Mill receives 1,000 CVs per week, and the ones that rise to the top "show storytelling ability, not just technical proficiency".

The global marketplace
Eamonn Butler, who runs the animation side of the business for London-headquartered Cinesite, agreed that every company working across animation and VFX had to think globally. "We opened our studio in Montreal to be competitive," he said of the tax breaks there.
"Our competitors are doing it and we've had to get into that game. It's part of the industry and the changing way people bid, but it's making it more complex. You are competing not against local companies, you're competing on a world stage."
Challenges ahead are not just global competition but more demanding schedules. "Clients seem to say, 'I want more stuff, can I have 1,000 robots? Can I have explosions?' And they're giving you less time."
Butler continued: "Shorter schedules mean less time to play around and make it look good. None of us just presses a button."
Echoing O'Kelly's mantra of being story-focused, Butler also spoke about how Cinesite had moved from being just a service business into content creation, with its short film Beans. It was created not for a client brief but "to let the world know what we can do". The short has attracted 11.4 million YouTube views and, more importantly, "it made everyone think of us differently".

From black holes to bear fur
Part of the two-day summit - now in its second year and backed by Enterprise Ireland, the Irish Film Board's Screen Training Ireland and Animation Skillnet - showcased work from across the industry.
Perhaps the most remarkable case study was from Eugénie von Tunzelmann, part of the Double Negative team that worked on Interstellar, showing off the science behind the creative designs in the film's black hole, worm hole and tesseract sequences.
'If we'd produced anything scientifically accurate that was uninteresting to look at or not cinematic, we wouldn't use it'

Eugénie von Tunzelmann, Double Negative, on Interstellar
She explained how throughout the process the team had worked with physicist Kip Thorne, one of the film's executive producers, to be as scientifically accurate as possible.
In one scenario, that meant reversing the usual workflow. "With the tesseract at the end, we did the lighting test and rendering and textures, and then passed all that information to the art department," von Tunzelmann said. "The art department then built a partial set. We did it first and passed it back to them. Normally they'd build it and then we'd do it in CGI."
The team did so much scientific work on the effects that two papers have been submitted to scientific journals. But von Tunzelmann also noted: "If we'd produced anything scientifically accurate that was uninteresting to look at or not cinematic, we wouldn't use it." Her colleague, Andrew Lockley, added: "Chris [Nolan] was very aware it could get too sciencey; he was keen to keep the story a priority, not the science. There is some artistic licence."
Back down to Earth, Paul Young, CEO of local leader Cartoon Saloon, spoke about its new animation production, Song Of The Sea, which showcases the same gorgeous, painterly animation style seen in the company's 2009 Oscar-nominated The Secret Of Kells.
Song Of The Sea, which will start its theatrical run from March, went through five years of financing and two of production. Partners on the production include Superprod Animation (France), Norlum (Denmark), Melusine (Luxembourg) and The Big Farm (Belgium).
"I call it 'Franken-finance'. You have all these little pieces that come together," Young said. After the success of Kells, Cartoon Saloon was offered some studio deals but these were "taking a long time and you have a lot of circular conversations… So we said we'd just get the money ourselves and it helps keep us completely independent," Young said.
The film's classic look sets it apart from slick CGI. "It cost $5.5m to make, so the fact we're so different is good for us. We want to stand out and have our own shelf space," he said. WestEnd Films is handling sales; GKids will release in the US and Canada, as it did with Kells. The film has screened at festivals including Toronto, London and AFI Fest.
Cartoon Saloon is also going international with its next film, The Breadwinner, about a girl in Afghanistan who pretends to be a boy to support her family. The $10m co-production with Canada's Aircraft Pictures is confirming financing now to start production in April.
Laurie Brugger, head of rigging at Framestore, talked about working on Paddington for StudioCanal. She said the team with director Paul King considered Paddington's form as Peggy Fortnum illustrations from the original books, as teddy bears and as a more realistic bear. "We had to figure out how to balance those things to make this character work in a live-action film," she said. The final bear, which is more real bear than teddy bear, also had to be "cute and sweet".
A big challenge was "unifying the fur-look development with the facial development". Another was when Colin Firth dropped out as the voice of Paddington after more than half of the film had been animated and Ben Whishaw joined. Whishaw's ADR sessions clicked. "Ben did such a good job," said Brugger. "It was making a huge difference to making that character believable."
Ireland's growth pattern
It is no coincidence the summit was held in Dublin, as both animation and VFX are showing steady growth in Ireland.
CEO Paul Young pointed out that part of the reason behind Cartoon Saloon's success was the strong local support that allowed the company to connect globally. "The Irish Film Board is just fantastic. It has always been a great supporter of us. We're lucky to have an organisation like that in Ireland; not every country has that support," he said. "Shorts, scripts, production development - we've always been well supported."
Teresa McGrane, deputy CEO of the Irish Film Board (IFB), praised the "resilience" of the animation and VFX companies in Ireland, which she said were fuelled by a spirit of "entrepreneurism".
In addition to IFB funding for specific productions, companies are supported at the corporate level by Enterprise Ireland. Eileen Bell of the government agency says animation and VFX are each "growth sectors that are priorities for Enterprise Ireland. These are not just creative industries, they are building business acumen."
The collective bodies Animation Ireland and VFX Association Ireland (VFXAI) are also making a big difference in banding the communities together for more impact at home and abroad.
Forthcoming changes to Ireland's tax incentive Section 481 from 2015 - expanding the tax break from 28% to 32% with much more flexible conditions - will help both sectors thrive even more. Kavaleer MD Gary Timpson said: "We need to shout from the rooftops about the new tax credit… it will make a big difference to producers."
Dave Quinn, MD of VFX powerhouse Windmill Lane, added that the tax incentive will mean "a new era of opportunity… the tax break is vital, the type of work we're doing is vital, and coming together as VFXAI is vital".
Training schemes and education opportunities - such as those at IADT's National Film School and Ballyfermot College of Further Education - are also important for growth. During the summit, Animation Skillnet and the Irish Film Board announced plans for a new apprenticeship scheme across animation and VFX for 2015.