With just a short time before its global rollout begins on May 4, Doctor Strange In The Multiverse Of Madness has yet to secure a release date in China.
It joins a growing number of titles from the blockbuster Marvel Cinematic Universe (MCU) to not secure a release in the country, a list that includes Black Widow, Shang-Chi And The Legend Of The Ten Rings, Eternals and Spider-Man: No Way Home. The last MCU title to receive a theatrical release in China was 2019's Spider-Man: Far From Home, with a haul of more than $200m taking its worldwide box office total to $1.1bn.
"No official rejections have been received. Technically they are not banned, they just don't get approved," says one China-based executive who asked not to be named. "It's hard to guess exactly why some films are not allowed, but it's been three consecutive years of tight control. After the propaganda department took over in 2018, it needed time to figure out how the film bureau functions. Control started to tighten in 2020."
The 100th anniversary of the Chinese Communist Party (CCP) in 2021 and the upcoming National Congress – the party's most important political event of the decade – are also believed to be influencing factors. Disney distributes MCU films, with the exception of the Spider-­Man series, which is handled by Sony.
"There should be nothing against Disney, which has tried very hard to have a good relationship with China," Screen International's source adds. Disney secured a release for Death On The Nile on February 19 through 20th Century Studios, and animation Encanto on January 7, while streaming service Disney+ will host popular Chinese-language drama series A Lifelong Journey, which premiered on Chinese state-owned broadcaster CCTV and streaming platform iQiyi.
Hollywood blockbusters have historically made a significant contribution to China's box office, but their ticket sales have plummeted from an average of $2.8bn annually between 2017 and 2019 (a 30%-35% market share) to $900m in 2021 (a 12.3% share), according to data from consultancy Artisan Gateway.
In 2021, 26 US titles were released in Chinese cinemas, including 20 revenue-sharing films and six flat-fee films, compared with 30 US releases (24 revenue-sharing of which six were re-releases and six flat-fee) in 2020 and 45 US releases (32 revenue-sharing and 13 flat-fee) in 2019.
"There was an approximate $2bn shortfall for Hollywood films in 2021," says Rance Pow, CEO of Artisan Gateway. "Market closures related to the Covid-19 pandemic, the consequential halt of local and international film distribution, and the impact of CCP anniversaries were significant factors in the under­performance of both Hollywood films and the China theatrical market in general. Successful imports are necessary for China to regain its historical growth trend in the near term."
April was previously a record-breaking month for Holly­wood in China featuring the top three highest-grossing Hollywood imports: Avengers: Endgame, which grossed $664m in 2019; The Fate Of The Furious, which took $417m in 2017; and Furious 7, which made $378m in 2015. Godzilla Vs Kong earned $192m following a March 26, 2021 release, becoming the second highest-grossing Hollywood film in China that year.
But 2022 is another story altogether. The first weekend of April saw sci-fi thriller Moonfall, horror film Escape Room: Tournament Of Champions and animation Hotel Transylvania: Transformania claim the top three spots at the Chinese box office. Their takings, however, were so dismal the overall weekend box office only amounted to $12.6m – not aided by the fact that just 47% of China's cinemas were in operation at that time amid an escalating Covid‑19 outbreak, shutting key markets such as Shanghai and Shenzhen.
Those releases are followed by Fantastic Beasts: The Secrets Of Dumbledore, which Warner Bros opened on April 8 making $9.7m from its first weekend, and Universal Pictures' Ambulance and The Bad Guys on April 22 and April 29 respectively. The sudden surge of Hollywood imports in April is no coincidence – a result of "China's micro-management of its socialist market economy", as another unnamed China-based executive puts it. "The smaller foreign films [except for the latest Fantastic Beasts] were immediately approved for release to fill the gap when local films withdrew."
A quick clearance is possible if the China Film Administration deems it necessary but going through the regulator is a long process, leaving little time for marketing and promotion. Escape Room: Tournament Of Champions was submitted last year, but only received a release date two weeks beforehand.
"When the film bureau gives you a date, you have to take it," the executive adds. "It's not good for relationships if you say no and you wouldn't know the next available date."
Local challenges
If it is any consolation for Hollywood, local films face similar challenges. iQiyi is holding on to its April 15 release date for Hong Kong crime thriller Man On The Edge, despite widespread cinema closures, as it is scheduled to open on the same day in the US, Canada, Australia, New Zealand and Singapore. The gamble has paid off so far, taking $3.9m in China from preview screenings alone.
Meanwhile, Chinese films have returned to pre-pandemic levels, taking $6.2bn in 2021 compared to $6bn in 2019, according to Artisan Gateway. A series of megahit patriotic films such as My People, My Country, which earned $495m, and The Battle At Lake Changjin and its sequel The Battle At Lake Changjin II, which made a combined $1.5bn, have helped to propel the fast recovery of the Chinese box office.
Offering a sliver of hope to Doctor Strange, our source adds: "As long as they are not banned, some of the unreleased Marvel titles may still stand a chance for a delayed release in China, perhaps when Chinese censors need them to fill the gaps."
View from the US: Cultural change hits Hollywood's bottom line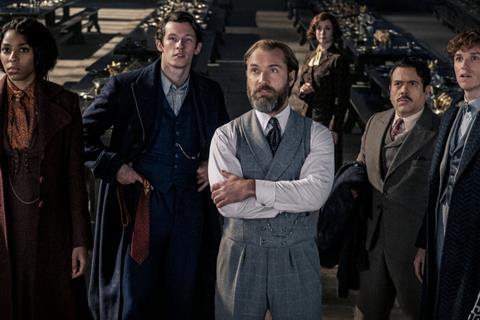 China's vast exhibition infrastructure and film-loving public have worked well for Hollywood in the past, as huge grosses have boosted the bottom line. But geopolitics and the global pandemic have changed all that, resulting in major challenges when getting a US studio film released in China. There is even greater uncertainty over how to read a market whose opaqueness has always been one of its defining features.
Some 54% of China's cinemas are currently closed amid the latest wave of Covid-19. The US-China trade war and tensions in the South Pacific and Ukraine have exacerbated the situation. At time of writing, Warner Bros' The Batman had opened on a lowly $11.7m, while other recent debuts saw Sony's Uncharted gross $10.4m in its first seven days and Roland Emmerich's Moonfall open on $9.7m.
Warner Bros' Fantastic Beasts: The Secrets Of Dumbledore just opened in China on $9.7m, but Sony's Spider-Man: No Way Home looks to fall short of the $2bn mark without China, while Paramount's upcoming summer tentpole Top Gun: Maverick is pending alongside Marvel films and Disney Pixar's animation Lightyear. US studio executives and analysts who spoke to Screen International on the condition of anonymity say competition for slots has become tougher as the quality of Chinese films has grown and they have become more commercial.
"You're seeing a cultural change," says one leading executive. "They have been very open about wanting to be to cinema what the US has been for the last 100 years. They've learned from us."
Studios report having to deliver films to Chinese authorities for approval 10-12 weeks in advance, up from eight to 10 weeks, in order to clear the importation process. Censorship, where sex and violence and China's particular sensitivity to stories involving life after death, remains much the same, although there have been more than the usual number of blackout periods restricting Hollywood imports.
All this means the studios' finance teams are not putting such a large China number against their forecasts, which one analyst described as "worrying". Now studios are dating their films for the rest of the world, submitting to China, and hoping for the best. "China, when it's working, is just phenomenal," notes one executive. "It's one of the tougher times and we're optimistic we will come out at the other side at some point."
Jeremy Kay