Dir: Rajesh Mapuskar. India. 2012. 140mins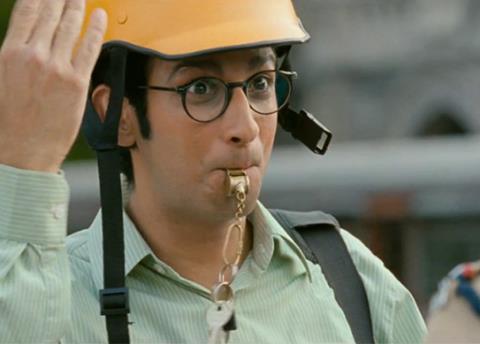 Ferrari Ki Sawaari is a resolutely feel-good family film – pitched as from the makers of Munna Bhai and 3 Idiots – that seems likely to find a welcoming Indian family audience with its blend of cute performances, cricket and a gleaming red Ferrari. It is easy-going cinema at its engaging best, and while never offering anything in the way of real drama or conflict, it delivers its message with simple warmth.
The film is littered with nice support performances.
Director Rajesh Mapuskar had worked as an assistant director on 3 Idiots (amongst others) and is completely at ease with this tale of family love and fulfilling ones dreams, and while the whole cricket sub-plot may baffle non-lovers of the game there is enough genial fun-and-games here to work for audiences of all ages.
Good-natured Rustam (Sharman Joshi) – known to all as Rusy – lives for his family. Since his wife died, he lives in a small flat with cricket-mad son Kayo (Ritwik Sahore) and grumpy granddad Deboo (Boman Irani). When Kayo is invited to attend a prestigious cricket camp at Lords Cricket Ground in London (the home of cricket) Rusy gets involved in a complex scheme to raise the large amount of money needed for the trip.
The complex plot sees the ever-smiling Rusy accidentally 'borrowing' the red Ferrari owned by Indian cricket legend Sachin Tendulkar for a few hours so it can be loaned to a wedding planner who is wrangling a complex wedding ceremony. Naturally this leads to nothing but trouble as various people attempt to track down Rusy and the Ferrari.
Joshi is delightfully genial as the too-honest-to-be-true Rusy, while young Ritwik Sahore brims with sweet kiddie charm, though in truth Boman Irani pretty much steals the film as the grumpy grandfather, whose nicely introduced back-story details his thwarted cricket career and sees him gradually take on a larger part in proceedings as the film develops. Until his role really comes into focus the film is a little one-tone, but he gives it an added drive towards the expected climax.
The film is littered with nice support performances – with Seema Bhargava as the dominating wedding planner especially amusing – and while a couple of musical performances add little to the proceedings (except to reinforce the film's feel-good qualities) they certainly don't detract. The end is a little dragged out as every bit of emotion is wrenched out from the story, but Ferrari Ki Sawaari certainly delivers when it comes to old-fashioned Indian family entertainment.
Production companies: Vinod Chopra Films, Eros International
International sales: Eros International,www.erosplc.com
Producer: Vidhu Vinod Chopra
Screenplay: Rajesh Mapuskar, Vidhu Vinod Chopra, Rajkumar Hirani
Cinematography: Sudheer Palsane
Editor: Deepa Bhatia
Music: Pritam
Website: www.ferrarikisawaarithefilm.com
Main cast: Sharman Joshi, Boman Irani, Ritwik Sahore, Paresh Rawal, Nilesh Divekar, Deepak Shirke, Akash Dhabade, Satyadeep Mishra, Vidya Balan