EXCLUSIVE: Discussions to cover development, financing, exhibition and sustainability, and will include a new distribution market.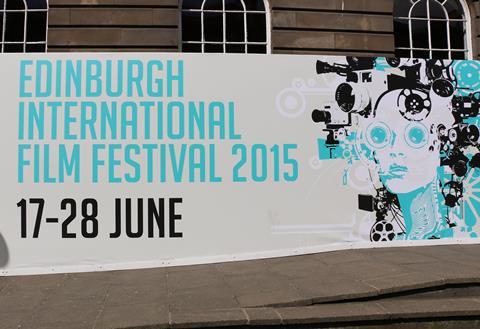 The Edinbugh International Film Festival (EIFF) has unveiled the line-up of industry events set to take place alongside this year's festival.
Nine days of events will be held at the EIFF Delegate Centre at the Traverse Theatre from June 18.
Topics to be discussed will range from development and financing through to exhibition and sustainability.
There will be a number of events aimed at offering support and advice to emerging writers, directors and producers including two sessions hosted by partners of the BFI NET.WORK looking at progressing from shorts to features.
Representatives from Creative England, Film London and the Scottish Film Talent Network will take part in the events including an opportunity for filmmakers to practice their feature pitch to get feedback on making their future applications stronger.
There will be events focussing on areas of interest specifically for producers including a session where Finlay Pretsell of SDI Productions, Tristan Golligher of The Bureau, Jude Goldrei of Lunar Lander and Bekki Wray Rogers of Duck Soup will consider some of the opportunities available for new producers and a discussion about what can be done to support homegrown producing talent.
Two sessions will also be hosted with the Scottish Games Network looking at What Film Can Learn From Games. Representatives from across the games sector will discuss techniques to help filmmakers ensure their film finds a place in a global market.
EIFF will also offer industry delegates the opportunity to sign up for one to one sessions with experts including Gavin Humphries from Creative Skillset; producer Rebecca Mark Lawson; Creative England's Alice Ramsey; casting director Simone Pereira Hind; Jen Moss from Warner Music; Christopher Halliday from BFI Tax Relief and Certification; and Lee Stone, entertainment lawyer at Lee & Thomson.
Distribution market
As previously announced, Distribution Rewired is a new two day focus within the main industry programme which will create a space dedicated to developing collaboration between filmmakers, content creators and emerging distribution methods.
The centre point of the days will be a physical marketplace where selected projects will take one-to-one meetings with platforms, aggregators and other related service providers with the aim of creating new and additional avenues to screen and promote their films.
Companies attending the event include Indiegogo, Coffee & Cigarettes, Curzon, BFI Player, We Are Colony, EuroVOD, The Festival Agency and Under The Milky Way.
Talent Lab
At EIFF's Talent Lab (June 19-22), 30 emerging filmmakers will take part in bespoke events including masterclasses, panel sessions, workshops, roundtables, and individually tailored career and 1-2-1 advice and information sessions with industry insiders, all with the aim of honing skills within a new generation of filmmakers.
Industry guests taking part in the Talent Lab programme this year include representatives from Film4, Metrodome, StudioCanal, Pathe, HanWay Films, The Bureau, British Film Company and Casarotto Ramsay.
Talent Lab Participants 2015:
Writers – Harsha Ahyave, Annelies Bekes, Tim Cunningham, Conan D'Agostino, Lawrie Doran, Rosalie Faithfull, Simon Lord;
Directors – Kate Herron, Sunny Moodie, Luke Rodgers;
Writer/Directors – Alasdair Bayne, Benjamin Bee, Jessica Fox, Ansgar Hoeckh, Shaun Hughes, David Hutchison, Robbie McIntosh, John McPhail, Rob Savage, Bita Shafipour, Wilma Smith, Nicci Thompson, Jasper Warry;
Producers – Miranda Ballesteros, Linda Biney, Alexandra Blue, Anna Griffin, Harry Cherniak, Gerry Maguire, Maeve McMahon.
Animation Lab
EIFF's Animation Lab (June 24-26) will see filmmakers from the world of animation will come together to gain knowledge, advice and inspiration from industry players.
Confirmed guest speakers include Adam Elliot (Ernie Biscuit, Mary & Max); Claire Jennings (Coraline, The Curse of the Were-Rabbit); Eric Goossens, Walking the Dog (The Secret of Kells); Emma Burch (Simon's Cat); and Luke Youngman, Nexus Productions.
Other initiatives taking place in 2015 include EIFF Network, a development and mentoring programme for screenwriters, directors and producers. [Click here for projects]
Script Junction, in partnership with the British Council, is a new screenwriting initiative which will connect UK and Nigerian screenwriters.
There will also be the Wellcome Trust Ideas Lab where screenwriters will develop story ideas by being immersed in the cutting edge research.
The Ideas Lab participants are Johnny Barrington, Tim Barrow (The Inheritance), Gregory Burke ('71), Sam Firth, Scott Graham (Iona), Stephen Greenhorn (Sunshine on Leith), Virginia Heath (From Scotland With Love), Ruth Paxton, Hannah Robinson and Nicole Taylor (BBC's The C Word).