Ewan McGregor, Jane Seymour, Malcolm McDowell and Hong Kong director Johnnie To among the guests set to attend the festival.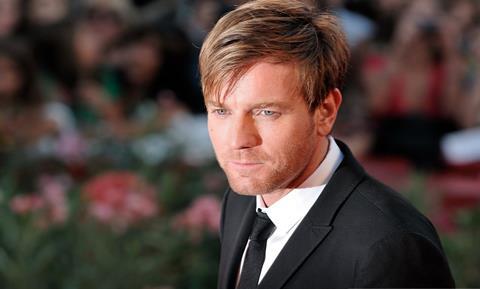 Scroll down for competition titles
The line-up for the 69th Edinburgh International Film Festival (EIFF) has been unveiled this morning by new artistic director Mark Adams.
This year's EIFF (June 17-28) will comprise 164 features from 36 countries, including 24 world premieres, eight international premieres, 16 European premieres and 84 UK premieres.
Highlights including the UK premiere of Asif Kapadia's documentary Amy, about the life of singer Amy Winehouse; the latest Disney-Pixar animation Inside Out; Arnold Schwarzenegger in zombie drama Maggie; comedy The D-Train, starring Jack Black and James Marsden; and a biopic of The Beach Boys' Brian Wilson, Love & Mercy, in which John Cusack and Paul Dano play different aged versions of the musician.
Classic Screenings will include a rare outing for Noel Marshall's Roar, a cult 1981 big cat movie.
Star power
This year's EIFF will present a series of In-Person events, which will see film names interviewed on stage such as Ewan McGregor, who will attend with his new film Last Days In The Desert; Jane Seymour and Malcolm McDowell, both in Edinburgh for their starring roles in Bereave; and cult Hong-Kong director Johnnie To, with his accompanying feature Exiled.
EIFF honorary patron Seamus McGarvey will return with his cinematography 'In Conversation' series with two-time Oscar-winning cinematographer Haskell Wexler (One Flew Over the Cuckoo's Nest).
A special In-Person talk will celebrate the 60th birthday of British animator Barry Purves; while musician, writer and comedian Neil Innes will present A Half of Innes, a live In-conversation event with musical accompaniment.
Michael Powell Award
British films in competition for the Michael Powell Award - for Best British Feature Film and Best Performance in a British Feature Film - include 10 world premieres and three UK Premieres. Among the contenders are:
The Legend Of Barney Thomson, Robert Carlyle (opening film)
Iona, Scott Graham (closing film)


45 Years, Andrew Haigh
Black Mountain Poets, Jamie Adams
Blood Cells, Joseph Bull and Luke Seomore
Brand New-U, Simon Pummell
Hector, Jake Gavin
The Incident, Jane Linfoot
Norfolk, Martin Radich
North v South, Steven Nesbit
The Pyramid Texts, Ludwig and Paul Shammasian
Swung, Colin Kennedy
The Violators, Helen Walsh
International Feature Film Competition
The competitive international competition highlights filmmaking from around the world that EIFF programmers term "imaginative, innovative and deserving of wider recognition". Titles include:
13 Minutes, Oliver Hirschbiegel
600 Miles, Gabriel Ripstein
The Diary Of A Teenage Girl, Marielle Heller
Dope, Rick Famuyiwa
I Stay With You, Artemio Narro
Len And Company, Tim Godsall
Manson Family Vacation, J Davis
Night Shift, Niki Karimi
Out Of Nature, Ole Giæver and Marte Vold
Paradise In Service, Doze Niu Chen-Zer
The Stanford Prison Experiment, Kyle Patrick Alvarez
You're Ugly Too, Mark Noonan.
Best Documentary Feature Film
For the first time, EIFF will include a 'Doc of the Day', with each featured film supported by an associated event. Titles in the Documentary competition include:
Above And Below, Nicolas Steiner
All Of Me, Arturo Gonzalez Villasenor
Amy, Asif Kapadia
Chuck Norris vs Communism, Ilinca Calugareanu
The Closer We Get, Karen Guthrie
The First Film, David Nicholas Wilkinson
Nearby Sky, Nujoom Alghanem
The Newsroom – Off The Record, Mikala Krogh
Prophet's Prey, Amy Berg
Stand By For Tape Back-Up, Ross Sutherland
That Sugar Film, Damon Gameau
The Wolfpack, Crystal Moselle
Other documentary titles playing during EIFF include
Big Gold Dream: Scottish Post-Punk And Infiltrating The Mainstream, Grant McPhee
Drunk Stoned Brilliant Dead: The Story Of The National Lampoon, Douglas Tirola
Future Shock! The Story Of 2000AD, Paul Goodwin
The Iron Ministry, JP Sniadecki
Misery Loves Comedy, Kevin Pollack
Precinct Seven Five, Tiller Russell
Remake, Remix, Rip-Off, Cem Kaya
Sherry & The Mystery Of Palo Cortado, José Luis López-Linares
Sunshine Superman, Marah Strauch
When Elephants Fight, Michael Ramsdell.
Audience Award nominees
EIFF will host the world premiere of the English-language version of Under Milk Wood from Kevin Allen, a film adaptation of Dylan Thomas' classic starring Rhys Ifans and Charlotte Church and a contender for EIFF's Audience Award.
Full Audience Award nominees:
Amy, Asif Kapadia
Big Gold Dream…, Grant McPhee
Cop Car, John Watts
Desert Dancer, Richard Raymond
Learning To Drive, Isabel Coixet
Scottish Mussel, Talulah Riley
The Diary Of A Teenage Girl, Marielle Heller
The Messenger, David Blair
The Overnight, Patrick Brice
The Stanford Prison Experiment, Kyle Patrick Alvarez
Under Milk Wood, Kevin Allen
You're Ugly Too, Mark Noonan
Strands
EIFF's American Dreams strand, focussed on new US indie cinema, includes Gina Prince-Bythewood's musical melodrama Beyond The Lights starring Gugu Mbatha-Raw, Minnie Driver and Danny Glover; and the UK premiere of Franny starring Dakota Fanning, Theo James and Richard Gere as a billionaire philanthropist.
European Premieres include Welcome To Me starring Kristen Wiig as a woman with borderline personality disorder; and Fresno, Jamie Babbit's dark comedy about a sex addict. Other UK premieres include Alex Holdridge and Linnea Saasen's comedy-romance Meet Me In Montenegro; road trip drama The Road Within; and Leslye Headland's comedy Sleeping With Other People.
Directors' Showcase will feature a selection of new works from established directors include David Gordon Green's Manglehorn, with Al Pacino and Holly Hunter; Amy Berg's crime story Every Secret Thing; Peter Bogdanovich's sex comedy She's Funny That Way; Masaharu Take's female boxer drama 100 Yen Love; and Nobuhiro Yamashita's offbeat romantic comedy La La La At Rock Bottom.
The chiller Night Moves strand will include Bruce McDonald's tale of evil trick-or-treaters, Hellions; Corin Hardy's debut The Hallow; Hungarian director Károly Ujj Meszáros' fantasy film Liza, The Fox-Fairy; and the world premiere of Justin Trefgarne's Narcopolis starring Elliot Cowan as a troubled cop.
The New Perspectives strand will include the international premieres of Index Zero by Italian filmmaker Lorenzo Sportiello, about a couple struggling to stay together in a futuristic Europe, and Emily Ting's It's Already Tomorrow In Hong Kong, a Before Sunset-style romance set on the streets of Hong Kong.
UK Premieres include romance Sand Dollars by Laura Amelia Guzmán and Israel Cárdenas; Melbourne, a domestic drama set within a Tehran apartment by Nima Javidi; and boxing drama Koza from Ivan Ostrochovský.
Mexico
A Focus On Mexico, in partnership with the Year of Mexico in the UK, will comrpise 13 feature films including the European premiere of Gabriela Dominguez Ruvalcaba's documentary The Dance Of The Memory; Ernesto Contreras' The Obscure Spring; and The Beginning Of Time by Bernardo Arellano which looks at ageing and survival during economic and social unrest in Mexico.
A selection of Classic Mexican films will also screen as part of the Focus, including Roberto Gavaldón's supernatural drama Macario, the first Mexican film to be nominated for the Oscar for Best Foreign Language Film; and Carlos Enrique Taboada's Poison For The Fairies, a gothic tale of witchcraft, told from a child's point of view.
A TV strand will include a sneak-peek at the second season of comedy series Doll & Em, following real-life friends Emily Mortimer and Dolly Wells; and artist Jake Chapman's The Marriage Of Reason & Squalor starring Rhys Ifans.
Special events taking place during the festival include a screening of documentary 6 Desires: Dh Lawrence And Sardinia, followed by a Q&A with director Mark Cousins; and a 30th anniversary screening of Back To The Future with live accompaniment from the Royal Scottish National Orchestra.