More than 80 documentaries to receive world premieres.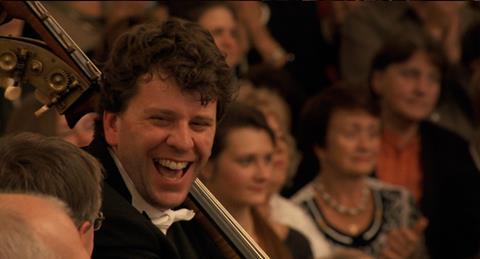 The line-up for the 27th IDFA (International Documentary Festival Amsterdam) has been unveiled.
A total of 298 titles, selected from 3,200 submissions, will be screened from Nov 19-30 in Amsterdam - of which 81 will receive their world premiere.
This year, a special themed programme, titled The Female Gaze, is dedicated to the role of women in documentary.
Another strand, Of Media and Men, will focus on how opinions are shaped within a democracy through the media.
This year's Top 10 is provided by Heddy Honigmann, and a retrospective of her work will also be screening. Her film, Around the World in 50 Concerts, opens this year's IDFA and also plays in Competition.
IDFA and EYE, the Netherlands national museum for film, will be present a joint themed programme concentrating on hybrid film: Framing Reality.
The festival's main locations will once again be Pathé Tuschinski, Pathé de Munt, EYE and De Brakke Grond, but the festival heart is relocating from Rembrandtplein square to Café de Jaren and Café Swych on Nieuwe Doelenstraat.
As regular IDFA locations the Compagnietheater and Arti et Amicitiae are close by, IDFA will now bemainly clustered along the Amstel river.
The winners of the various competition programmes will be announced on Friday, 28 November.
IDFA Competition for Feature-Length Documentary
A total of 15 films this year compete in the competition programme for feature-length documentary.
The jury, made up of Anne Aghion (US), Talal Derki (Syria), Sandra den Hamer (Netherlands), Joshua Oppenheimer (Denmark) and Alina Rudnitskaya (Russia) will present the VPRO IDFA Award for Best Feature-Length Documentary, with a cash prize of €12,500.
The jury may also grant a Special Jury Award.
35 Cows and a Kalashnikov by Oswald Richthofen (Germany)
Triptych about warrior-farmers, colourful dandies and voodoo wrestlers in Ethiopia, Congo-Brazzaville and Congo-Kinshasa.
Around The World in 50 Concerts by Heddy Honigmann (the Netherlands)
Honigmann toured the world with the Royal Concertgebouw Orchestra, speaking to music lovers about the role of music in their lives.
Chameleon by Ryan Mullins (Canada)
Ghanaian investigative journalist Anas Aremeyaw Anas' appearance and unorthodox methods of bringing crimes to light are simultaneously famous and infamous.
Democrats by Camilla Nielsson (Denmark)
Intriguing look at an authoritarian state on the verge of democratization: how Zimbabwe got a new constitution.
The Forecaster by Marcus Vetter (Germany)
The story of Martin Armstrong, who amazed friend and foe alike with highly accurate forecasts of the global economy based on a model he designed.
Franco's Promise by Marc Weymuller (France/Spain)
The ruins of Belchite are a symbol of the collective amnesia that gripped Spain after the Civil War (1936-1939). Can you simply turn your back on the past?
Of Men and War by Laurent Bécue-Renard (France/Switzerland)
The stories of a group of American Iraq veterans with PTSS grow into a anti-war protest.
The Queen of Silence by Agnieszka Zwiefka (Germany/Poland)
As a deaf mute Roma unwelcome in Poland, ten-year-old Denisa is excluded everywhere. She expresses her feelings by dancing like a Bollywood princess.
Somboon by Krisda Tipchaimeta (Thailand)
Love is not expressed through big words, but in the day-to-day care - shown in minute detail - of grandpa Somboon for his beloved, ailing wife.
Something Better to Come by Hanna Polak (Denmark/Poland)
For ten years, award-winning documentary maker Hanna Polak followed teenage girl Yula and her companions, who live on the biggest refuse tip in Europe.
That Sugar Film by Damon Gameau (UK/Australia)
Damon Gameau wants to experience first-hand the effects of sugar, so for 60 days he takes the amount consumed daily by the average Australian: 40 teaspoons.
Those Who Feel the Fire Burning by Morgan Knibbe (the Netherlands)
Experimental, poetic documentary about a serious social problem: the many refugees who reach the borders of Europe in a hopeless situation.
Those Who Said No by Nima Sarvestani (Sweden)
From Sweden, a survivor of Iranian state terror follows the Iran Tribunal. He dreams of confronting the perpetrators with their crimes.
Uyghurs, Prisoners of the Absurd by Patricio Henriquez (Canada)
The story of a group of Uyghurs, who spent years in Guantánamo Bay despite being innocent.
Wind on the Moon by Seung-Jun Yi (South Korea)
Yeji (19) was born deaf and blind. She has a deep bond with her mother, who helps her make the most of life.
Other Competitions and Awards
IDFA Competition for Mid-Length Documentary
Some 15 documentaries between 30-60 minutes compete for the NTR IDFA Award for Best Mid-Length Documentary.
The jury is made up of Niels Pagh Andersen (Denmark), Martichka Bozhilova (Bulgaria), Jihan El-Tahri (South Africa), Serge Gordey (France) and Kristi Jacobson (USA). The winner will receive €10,000.
IDFA Competition for First Appearance
Five debut films compete for the IDFA Award for Best First Appearance.
The jury consists of Alan Berliner (US), Leendert de Jong (Netherlands), Petra Lataster-Czisch (Netherlands), Rasha Salti (Canada) and Jean Tsien (US). The best debut documentary will receive €5,000.
In addition, the jury will present the Peter Wintonick Award, an incentive award given in memory of Canadian filmmaker Peter Wintonick, who died last year. The award consists of €4,000 made available by Films Transit and EyeSteelFilm.
IDFA Competition for Dutch Documentary
Worth €5,000, this award is presented to the best Dutch documentary, with 15 films eligible for the award.
The jury consists of Joe Berlinger (US), Rinki Roy Bhattacharya (India), Claas Danielsen (Germany), Madelyn Most (France) and Ulla Simonen (Finland).
IDFA DocLab Competition for Digital Storytelling
DocLab projects that use digital technology in a creative, effective way to tell a documentary story are eligible for the IDFA DocLab Award for Digital Storytelling (€2,500).
The jury comprises Annika Gustafson (Sweden), Jenny Smets (the Netherlands) and Jason Spingarn-Koff (US).
IDFA Competition for Student Documentary
A total of 13 films by students at international film academies compete for the IDFA Award for Best Student Documentary, worth €2,500.
The jury is made up of Martha Orozco (Mexico), Katayoon Shahabi (Iran) and Chalida Uabumrungjit (Thailand).
A special selection from the IDFA film program for young people aged 15+ is judged by a youth jury, which then presents the IDFA DOC U Award, worth €2,500.
All competition films, as well as films from the other programme sections made this year, compete for the BankGiro Loterij IDFA Audience Award, worth € 5,000.
Regular programmes
Click the links for full line-ups
Best of Fests
Documentaries that have made an impact at international festivals during the past year.

Masters
The latest films from documentary greats, including Albert Maysles, Nick Broomfield, Joshua Oppenheimer, Frederick Wiseman, Julien Temple, Wim Wenders and Hubert Sauper.

Panorama
Documentaries on urgent issues of social relevance.

Paradocs
The programme that puts the experimental centre stage. Visual artist Aernout Mik is the principal guest at Paradocs this year.
Paradocs asked Aernout Mik to select documentaries on the way opinions are formed within the context of the Of Media and Men program: Curated by Aernout Mik. The starting point for his selection for IDFA is his own video installation Raw Footage (2006), which can be seen in De Brakke Grond during IDFA.
For the second year, Paradocs is working with Amsterdam Art Weekend, when Amsterdam galleries open their doors to the public. IDFA will also be one of the exhibition locations during the last weekend of the festival: Amsterdam Art Weekend at IDFA.
For the third time, IDFA and the Stedelijk Museum are working together.

DocLab: Immersive Reality
This year, IDFA DocLab and De Brakke Grond present a themed programme under the title 'Immersive Reality', on interactive documentary and the digital revolution.
Central to this will be an international conference on Nov 23, featuring media artists and NFB Interactive. There will also be interactive installations, live cinema events and a lab for talent from the Netherlands and Flanders.
Top 10
This year compiled by Heddy Honigmann.
Heddy Honigmann Retrospective
Overview of the work of Heddy Honigmann.

The Female Gaze
A themed program on the role of women in documentary. Fifteen leading international female directors, including Pirjo Honkasalo, Barbara Kopple and Kim Longinotto, have put together a programme containing old and new documentaries both by themselves and by other familiar or less well-known female directors.
In addition, IDFA will investigate the share of female directors in its own selection during the past ten years, and attention will be paid to the question of how women are represented in documentaries.
IDFA is organising an Industry Talk in De Brakke Grond on the role of women in the documentary industry on Nov 22.
To mark this occasion, The Alliance of Women Film Journalists' EDA Award for Best Female-Directed Documentary will be presented to a film from the entire IDFA 2014 selection by a female director.
The jury consists of Leba Hertz (US); Katherine McLaughlin (UK); Wendy Mitchell (UK); Susan Wlosczcyna (US); Dorothy Woodend (Canada) and jury chair Jennifer Merin (US).
De Award consists of a certificate and will be presented during the announcement of the nominations of the other competitions on Nov 26.
Of Media and Men
IDFA is devoting attention to how the media work and how opinions are shaped in democracies. The starting point for this themed programme is an examination of the interaction between peoples and governments, both through traditional and new media.
Six recent documentaries have been selected for IDFA's main programme that investigate the way the media work across the spectrum.
A central element of this part will be the special presentation on Nov 23 of Laura Poitras's Citizenfour, the long-anticipated third part of Poitras' trilogy, following on from My Country, My Country (2006) and The Oath (2010), dealing with post-9/11 America.
Citizenfour examines the worldwide mass surveillance practices revealed by Edward Snowden through Poitras and Guardian columnist Glenn Greenwald in 2013. Poitras will be attending IDFA and will be interviewed at length after the screening on Nov 23.
An extended Q&A will also take place following the screening of Silenced by James Spione with the two main characters from the film, Jesselyn Radack and Thomas Drake.
Of Media and Men also covers two other programme sections: visual artist Aernout Mik will guest curate a Paradocs program including his own installation Raw Footage, and IDFA DocLab will be selecting a number of new media projects within this themed program.
Framing Reality
The meaning of this specific approach to reality will be investigated and analysed using the example of ten old and new documentaries.
Most of the films in the Framing Reality programme are concerned with real people both being and playing themselves in front of the camera.
Framing Reality continues on from the 2013 themed programme Based on the Same Story, which dealt with the essence of documentary film in a study of feature films and documentaries on the same subjects.
The program consists of ten hybrid films, followed by in-depth conversations with the likes of Joshua Oppenheimer, Robert Greene, Lonnie van Brummelen & Siebren de Haan and Jon Bang Carlsen.
Lebanese artist Rabih Mroue, who with Catherine Deneuve plays the lead role in I Want to See, will also be attending IDFA.
Kids & Docs
The 15 best documentaries for children aged 9-13. The second edition of IDFA Junior will take place in EYE on Nov 30, featuring stories for and about children during a day-long programme of youth documentaries, special guests and activities.

Music Documentary
IDFA's regular Music Documentary programme includes 15 films, selected in cooperation with concert venue the Melkweg. These music documentaries compete for the IDFA Music Audience Award, worth €2,500.

IDFA is also organising a small-scale tour to accompany the music documentary The Possibilities Are Endless, about Scottish singer Edwyn Collins. The film's premiere on Nov 22 in the Melkweg's Rabozaal will be followed by a performance by Edwyn Collins, who will then go on to play on Nov 23 in het Patronaat in Haarlem, on Nov 24 in LUX, Nijmegen and finally on Nov 25 in 013 in Tilburg.