The 19th Tallinn Black Nights Film Festival reeled out its inaugural black carpet on Friday (Nov 13) for its opening night, which included a screening of silent comedy My Grandmother (1929).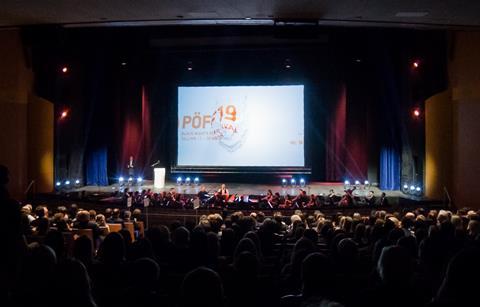 Banned in its time for denunciating bureaucracy, the satirical film was directed by Georgian actor, director and cartoonist Kote Miqaberidze.
The Georgian Philharmonic Orchestra enhanced the evening with a live accompaniment led by conductor Nikoloz Rachveli who is both the principal conductor of the Georgia National Symphony Orchestra and head of the Georgia National Music Center.
Rachveli also led the orchestra to an original piece played over excerpts of notable Georgian films (to be showcased in a retrospective at the festival), winning a standing ovation from the audience at the Nordea Concert Hall.
Mikheil Giorgadze, Georgian Minister of Culture and Monument Protectorate of Georgia, was in attendance and said: "Today, at this great platform, you will witness filmmakers works that have been prohibited and censored by the Soviet regime for years.
"A masterpiece of silent film, My Grandmother, has the honour of opening the festival. Produced in 1929, the film was prohibited for almost half a century in Soviet Union, and the young author thereof was deprived of the right to hold activity in cinematography."
After the opening night wrapped on Friday, the festival was - along with the rest of the world - shocked to hear of the terrorist attacks in Paris in which more than 130 people were killed and 350 injured. Click here for Tallinn's statement.
Lifetime Achievement Award
With 2015 deemed Estonia's 'Year of Music', the evening appropriately awarded renowned Estonian composers - Arvo Part and Veljo Tormis - with the Lifetime Achievement Award.
Part has contributed to film scores including Heaven, The Great Beauty, There Will Be Blood, Avengers: Age of Ultron, Foxcatcher, The Thin Red Line, and American Gambit, which he scored.
His teacher, Tormis, is known as one of the greatest living choral composers with Curse of the Iron (Raua Needmine) being a staple for professional choirs all over the world. His other musical scores include Sügis, Indrek and Uhe Katuse All.
"These great masters both made a lot of film music in the 50s and 60s for Estonian features and created the basis for Estonian film music. And now, you hear their music in new international films," said festival director Tiina Lokk.
Bruno O-Ya Tip.Off Award
Artistic director and NUKU Theatre actor Taavi Tonisson (V.O.I.T.K.A. – Forest Brothers), as well as Sergo Vares, currently featuring in the National Theatre production of Hamlet starring Benedict Cumberbatch, won the Bruno O-Ya Tip.Off Award for actors.
Talent in attendance
Film guests in attendance included Finding Babel director David Novack and editor Alexis Zoullas; 3 Houses/ Tangerines director Zaza Urushadze; Zero director Nemes Guyla; Loev director Sudhanshu Saria and producer Arfi Lamba.