The world premiere of Czech fiction film-maker Alice Nellis' documentary Auditioning For Parenthood will open the 18th Jihlava International Documentary Film Festival tonight (Oct 23).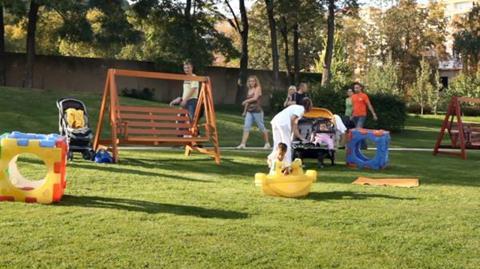 The programme of more than 200 films from 42 countries includes world premieres of such titles as Martin Kohout's The Czech Way, Jaroslav Kratochvil's Long Live Hunting!, and Veronika Liškova's story of paedophilia in Daniel's World.
Other world premieres include French film-maker Caroline Troubetzkoy's personal view of the Russian independent music scene Rock On Bones, Bartosz Staszewski's Pill Junkies, Aleksandar Nikolić's German-UK-Serbian co-production The Serbian Lawyer, and Anna Roussillon's I Am The People.
Jihlava will have international premieres of Brazilian director Tiago Tambelli's 20 Cents, Romanian Daniel Nicolae Djamo's A Last Year in 114 Minutes, Swiss film-maker Fernand Melgar's The Shelter (which premiered in Locarno and will travel on to DOK Leipzig next week), and Colombian Juan Camilo Olmos Feris' Chasing After The Wind.
Ukrainian film-maker Roman Bondarchuk and colleagues will be at the leading Czech film event with the European premiere of Euromaidan: Rough Cut.
Other highlights
Apart from the competition sections, the festival's other highlights include a retrospective to the "father of Filipino independent film", the director, actor, screenwriter and producer Kidlat Tahimik; a homage to one of the forgotten figures of Czech cinema, Jiři Polak; as well as a tribute to the late French film-maker Alain Resnais and the presentation of the festival'sContribution to World Cinema Award to Godfrey Reggio.
An innovation this year will be the Eastern European premiere of audiovisual "letters" exchanged between five pairs of world famous directors such as Naomi Kawase, Lisandro Alonso, Jonas Mekas, Wang Bing and Albert Serra.
The Complete Letters exhibition was established by the Centre for Contemporary Culture in Barcelona with partners in Mexico City and Madrid.
Industry programme
The festival's parallel Industry Programme will be held for the 14th year, as festival director Marek Hovorka explains, "to create an environment that is open and that emphasizes the courage or sensitivity of directors whom a system based on money would force into a corner."
Czech producer Radovan Sibrt is among 18 Emerging Producers selected from across Europe and one visiting country (Colombia in 2014) to achieve a better overview of the film market and explore the potential for co-production.
This year's line-up of up-and-coming documentary producers includes the UK's Dionne Walker, Belgium's Frederic Nicolai, Denmark's Mille Haynes, Germany's Eva Blondiau and Russia's Irina Shatalova, with Colombia represented by Josephine Landertinger.
In addition, 10 directors from around the world have been chosen to participate in the fourth edition of the Inspiration Forum which will be led this year by former US soldier Ethan McCord, Russian conceptual artist and activist Petr Pavlensky and the Chinese politicial activist Joseph Cheng.
French director Nicolas Philibert and Polish director/DoP Wojciech Staroń will have master classes during the Ex Oriente training workshop held in Jihlava, while UK-based sales agent Xavier Henry-Rashid of Film Republic, Belgian sales agent Iva Tkalec of Invisible Film, and Emilie Bujes of Switzerland's Visions du Réel festival are among the members of an international jury deciding on the winners of the Silver Eye Award.
The Silver Eye Award's three prizes for best documentary in the short, medium-length, and feature-length film categories are decided from 33 titles whittled down from the submissions to this year's East Silver Market.
International buyers, festival programmers and other accredited guests will have the chance to see more than 270 documentaries from Central and Eastern Europe in the Market's digital videotheque organised during the festival.