Finnish documentary expert Leena Pasanen has been appointed as the first non-German in the almost 60-year history of DOK Leipzig to succeed Claas Danielsen as its festival director.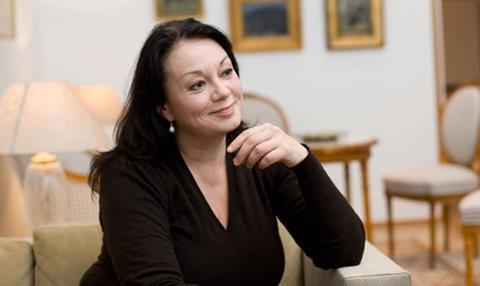 Pasanen previously worked in documentary programming at public broadcaster YLE and as the director of the European Documentary Network in Copenhagen, among others.
She will take up her post on January 1, 2015 with an initial five-year contract .
Claas Danielsen, who has headed DOK Leipzig as festival director for the past ten years, will open his swansong edition on Oct 27 with Citizenfour, the final part of Laura Poitras' 9/11 trilogy, centred on NSA whistleblower Edward Snowden.
Sergei Loznitsa's Maidan and Ulrich Seidl's Im Keller are among 12 titles selected for the International Competition for Feature Documentaries to compete for the €10,000 Golden Dove.
Other films in this competitive section include Fernand Melgar's The Shelter, which premiered at Locarno in August; Zuzanna Solakiewicz's 15 Corners Of The World; Giovanni Donfrancesco's The Stone River; and Jorge Pelicano's Suddenly My Thoughts Halt.
German and Young Cinema Competitions
In the German Documentary Competition, selectors have chosen films by established film-makers including Andrei Schwartz (Outside), Gerd Kroske (Drawing A Line), and Thomas Heise (Städtebewohner) as well as from newcomers Maurizius Staerkle-Drux (Concrete Love) and Lia Jaspers (Match Me!).
The Young Cinema Competition will feature new documentary productions from the Democratic Republic of Congo (National Diploma), Indonesia (Jalanan), Syria (From My Syrian Room), and Ukraine (All Things Ablaze), among others.
DOK Leipzig goes Oscar
A total of 40 productions from 32 countries will screen in the International Programme by such film-makers as Pavel Kostomarov, Edward Owles, Floor van der Meulen, Uli Kick and Peter Bendix.
This year will see the winner of the Golden Dove in the International Short Documentary Competition qualifying for the first time for consideration for an Academy Award.
DOK Leipzig is now one of the 'qualifying' festivals in the Documentary Short Subject category.
Industry programme: Co-production to Tribeca
DOK Leipzig's 57th edition (Oct 27 – Nov 2) will include 67 events at 19 venues as part of its DOK Industry programme.
These range from its 10th Co-Production Meeting of 33 projects from 22 countries to the first staging of the Tribeca Hacks <DOK> workshop on interactive non-fiction storytelling as a collaboration with the Tribeca Film Institute.
Programmers sifted through more than 200 submissions to decide on the Co-Production Meeting's line-up, which includes such projects as Close Relations (Germany/Russia), The Love Commandos (UK), The Pioneers (Georgia) and L'Oreal. A Family Business (France).
A special focus will be placed on co-productions with Catalonia and projects will be featured from such partners as the Balkan Documentary Centre, the Institute of Documentary Film in Prague, and Pitching Doc Montevideo.
The Leipzig Screenings will show four new German documentary productions not in the official programme to international buyers and festival programmers, ranging from Manuel Fenn's Countdown Afghanistan to Ulrike Franke and Michael Loeken's Divine Location.
The third edition of DOK.Incubator, Europe's first and only rough-cut training programme, will present excerpts of nine 'works in progress' from such productions as Gábor Hörcher's Drifter, Andrea Culková's Sugar Blues, and Diedie Weng's The Beekeeper And His Son.
There will also be sessions with case studies of three co-productions with broadcaster ARTE – From My Syrian Room, Domino Effect, and The Mittal Empire: A Modern Tragedy -, the animadocs Rocks In My Pockets, Cuentos de Viejos, and Last Hijack, and the transmedia projects Cosmic Top Secret and The Vikings.
Furthemore, masterclasses are being lined up with leading Danish sound designer and composer Kristian E. Andersen (Blood In The Mobile), and film-makers Jean-Gabriel Périot and Jon Bang Carlsen.
A total of 368 films from 62 countries will be screened in this year's DOK Leipzig programme whose retrospective is dedicated to the work of cinematographers in documentaries, with a focus on the former East Germany's DEFA.